A little bit of everything for a special cause
The International Association of Lions Clubs - District 306 A 1, will hold a musical show titled
" A Little Bit of Everything" featuring the popular "Marians & Friends" on Sunday, October 4 at the BMICH. The show will also feature many guest artistes.
This is a fund raising project in aid of the Camilla School for Mentally Retarded Children which is the signature project of the Lions movement through which it provides shelter to over 50 mentally handicapped children who live as a family. Funds will also be utilised to provide assistance to disabled soldiers.
The Lions Clubs International - District 306 A 1, appeals to all public spirited individuals and socially responsible corporate citizens to support this worthy cause by generously contributing in the form of sponsorships, souvenir advertisements and by buying tickets for this show.
An open seminar on Akasa Kusum
An open seminar on Prasanna Vithanage's "Akasa Kusum' organized by the Swarna Sanka Foundation will be held on September 22 at 4 p.m. at the Mahaweli Centre, No. 96, Ananda Coomaraswamy Mawatha, Colombo. It will be chaired by Prof. Sucharitha Gamlath. Upul Shantha Sannasgala, Thusitha Jayasundara, and Sunethra Rajakarunanayake will talk on the film.
A father's appeal for son
The little son of H.A. Suminda Jayalath of Arawwala, Pannipitiya of the Sri Lanka Army is suffering from a craniofacial anomaly of 'Treacher Collins' syndrome. Consultant plastic surgeon Dr. Purnima Aiyer of the Apollo Hospital, Colombo has recommended four operations to correct the condition that would cost around Rs. 5 lakhs.
As the child's father is unable to meet this cost, he is appealing to kind donors to help- any contributions could be sent to a bank account opened in his son's name at the Bank of Ceylon, Maharagama branch- H.M.A. Deeshan- A/C No. 2976966.
Ashanthi graduates in Film and Video Production
Ashanthi Dunuwille formerly of Hillwood College, Kandy, recently graduated from Santa Monica University of Fine Arts in Los Angeles, California with a Bachelor of Science in Film and Video Production.
She is the daughter of Anjalie and Merril Dunuwille. Merril was a popular cricketer during the 70's and an Old Antonian.
Ashanthi is the grand daughter of L.B. Aluwihare (Mayor of Kandy) and late Mrs. Thelma Aluwihare and also the grand daughter of late W.A. Goonathilaka (former Municipal Commissioner of Kandy).
Nattukkari once again
Namel Weeramuni's highly acclained Nattukkari will go on the boards again at the Punchi Theatre, Borella on September 26.
A bridge to the future
The Moratuwa-Piliyandala District Branch affiliated to the Sri Lanka Scout Association celebrates its "Golden Jubilee" under the theme 'A bridge to the future' this year.
The 44th Annual District Camp & Rally they have organized is now on at Sri Sunandopananda Maha Vidyalaya Grounds, Egodauyana, Moratuwa. The Deputy Minister of Justice, V. Puthrasigamani, M.P., an ex-scout himself will be the chief guest at the awards ceremony today at 4 p.m.
Heart screening at Nawaloka Hospital
In recognition of International Heart Week, Nawaloka Hospitals is offering patients heart screenings at a discounted rate of Rs.1000. This will include a fasting blood sugar test, lipid profile, ECG, blood pressure testing and Body Mass Index (BMI) test. The programme will begin on the September 21.
There will be a lifestyle fair with heart healthy products and general services open to the public on that same day, and a few consultant cardiologists have been recruited to deliver lectures as well. The Heart Week will end with a walk on the 27th at the hospital premises.
Anula Vidyalaya holds Medical Camp
The medical and nutrition subcommittee of the Past Pupils Association of Anula Vidyalaya, Nugegoda has organized the annual medical camp of Past and Present teachers of Anula Vidyalaya, to be held on September 25 at the school main hall from 2.30 p.m. onwards.
The association invites all past teachers, present teachers and old Anulians who are medical officers to participate to make this event a success.
Peoples Movement for the Rights of Patients AGM
The Annual General Meeting of the Peoples Movement for the Rights of Patients (PMRP) will be held on Saturday September 26 from 9 a.m. to noon at the CSR hall (Fatima Church premises) 281 Deans Road, Maradana.
The keynote talk will be given by Dr. K. Balasubramaniam, Asia Pacific Coordinator for Health Action International and a patron of the PMRP. He will focus on how to obtain quality drugs and nutritious foods at affordable prices. Professor Carlo Fonseka, former Dean of the Medical Faculty and another patron of the movement will also speak.
Monthly lecture series
The National Trust of Sri Lanka presents another in its monthly lecture series on Thursday, September 24 when K. Kanag-Iswaran, PC talks on 'Performers, Broadcasters, Producers and Copyright' at the auditorium of the Post-Graduate Institute of Archaeological Research, 407, Bauddhaloka Mawatha, Colombo 7 at 6.30 p.m.
'Mahinda Family Day'
'Mahinda Family Day' will be held at Aqua Pearl Hotel, Gorakana, Moratuwa today (September 20). Mahinda Club, the old boys' organization of Mahinda College, Galle, invites all old boys to participate.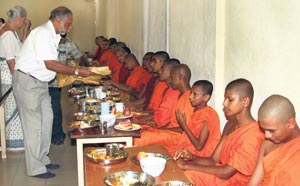 The Anagarika Dharmapala Trust held an alms-giving for 50 monks in memory of the Anagarika Dharmapala at the Maligakanda Pirivena, Sri Lanka's first monastic college to mark the national leader's 145th birth anniversary that fell on September 17. Family members were present at the alms-giving. Dharmapala Trustee Sudhammika Hewavitarne, Managing Director of H. Don Carolis & Sons is seen presenting pirikara to the monks.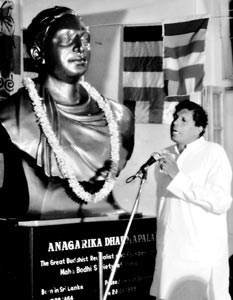 Prasanna Jayasuriya was elected President of the Maha Bodhi Society of India at a meeting of its governing body held on August 29 at its headquarters in Kolkata. His name was proposed by Sri S.K. Mohapatra and seconded by Dr. Prasanta Kumar Mishra, both Life Members of the Society.
The Maha Bodhi Society of India is the successor to the original Maha Bodhi Society Buddhagaya which was established in 1891 with the Ven. Hikkaduwe Sri Sumangala Maha Thera as the President and the Anagarika Dharmapala as Secretary.
Mr. Jayasuriya, the son of former Agriculture and Health Minister Gamani Jayasuriya who was one-time President of the Maha Bodhi Society of Sri Lanka and Chairman of the Angarika Dharmapala Trust, is a great grand-nephew of the Anagarika Dharmapala. Picture shows Mr. Jayasuriya addressing the members after his election as President of the Maha Bodhi Society of India.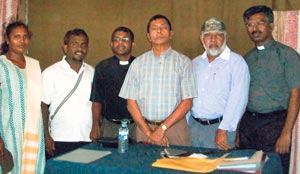 The Christian Reformed Church of Sri Lanka visited the internally displaced people in Vavuniya and distributed 600 maternity packs to pregnant women. This is the Reformed Church's second donation, having supplied food items to the value of Rs. 181,407 earlier to the IDPs.