At least one survivor of the old brigade is still in action! Dramatist Namel Weeramuni continues to write scripts, direct plays and act as well. He has been busy in the past few weeks reviving one of his earliest productions 'Nattukkari'. The play is a translation of leading French dramatist Jean Anouilh's 'Colombe', acclaimed as a 'pieces brillantes' among his productions. The new production will go on the boards at the Namel-Malini Punchi Theatre from August 14 – 16.

Namel: Still a live wire in the theatre scene
In a way it has been a new experience for Namel. "I got a taste of what it is to work with the new generation. The oldies are either no more or have given up acting. So I picked some new faces – new to me but they are well known among teledrama audiences," Namel says.
Namel has retained two players who acted in the original play – his wife Malini and the evergreen Daya Tennakoon. Malini plays the role of Madame Alexandra, a famous actress, originally played by Somalatha Subasinghe. Daya retains his earlier role as Surette, Madame Alexandra 's secretary.
Other key roles are played by Ruwan Wickremasinghe (Julian, originally played by versatile Upali Attanayake) and Surangi Kosala (Colombe, then portrayed by the highly acclaimed actress Prema Ganegoda). Janak Mawella (Paul), Seneth Dikkumbura (Robinet), Anil Wijesinghe (Lagarde), Visakha Jayaweera and Anusha Dissanayake (Madame Georges) and Seneviratne Bandara (Desfornettes). These characters were earlier played by Wickrama Bogoda, Wimal Kumar de Costa, Jayantha Karunaratne, Malini Weeramuni and G. T. Wickremasinghe.
Jayatissa Alahakoon is handling the music in the new production. When Nattukkari was first staged in 1970, the music was composed and directed by the late maestro Premasiri Khemadasa. Back then explaining his approach to composing the music for the play, Khemadasa said, that since it was a translation of a French original, he tried to derive inspiration from French music since a translated play should depict the originality in music too without restricting it to the backdrops, names and costumes only. "The original flavour should be there," he insisted.
I asked Namel why he went back to a play he created over three decades ago. "I found there is still a demand for old dramas. They can still run. The accent today is on more light stuff. Yet, there are theatre goers who want to enjoy a serious play," Namel says, giving reasons for picking a tragi-comedy like Nattukkari.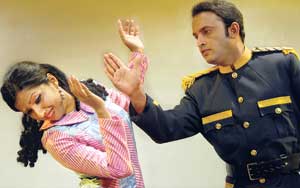 Different scenes from the play.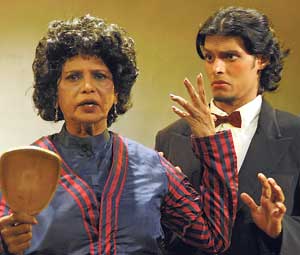 How did he find working with newcomers? "I am in a way disappointed with the attitude of many. They are not a disciplined lot. They don't believe in being punctual. Some do, and they make it a point to be present at rehearsals at the given time. Others take it for granted and trickle in whenever they like. I am not used to that type of indiscipline. Our training was different."
Namel was so disappointed, that he wanted to even cancel the play several times. "It's for the sake of the few who showed dedication and commitment that I decided to carry on. And, of course, I couldn't disappoint Malini who continues to be so devoted to theatre and was so keen about this production."
When I asked Namel what were the reasons behind this kind of indiscipline, he said he feels because most of them have become popular overnight.
They are in demand. So they take on several assignments and find that they can't manage the time. "They have too many in their bowls," Namel said.
The veteran hailing from the Sarachchandra Era, (he first acted in Rattaran in 1958 followed by Elova Gihin Melova Ava in 1959 during his Peradeniya days), Namel, had been involved in theatre one way or another. Even during his sojourn abroad he never forgot drama, though he was practicing as a solicitor. His return to Sri Lanka in 2002, after nearly three decades, saw him looking for means to support drama.
When Namel found there wasn't a proper theatre, he spent the money he had, in building the Punchi Theatre at Borella hoping theatre-people would patronize it. "Sad to say they don't seem to appreciate my effort. They simply refuse to bring their plays here."
The fully equipped theatre with a seating capacity of 230 has become a popular venue for book launches, seminars, muhurats and occasional screening of films. In fact, Namel is discussing with the State Film Corporation on having regular screenings of selected films for a limited audience just like at the cosy little cinema hall at Union Place, where the Film Society used to screen films on weekends.
Namel has also been producing several plays in the past few years. He did two original plays – 'Hataraweni Tattuva' (based on Dodampe Mudalali's story) and 'Maadyavediyekuge Adhipatha' and two adaptations – 'Kavudo Saturo' and 'Ginnayi Aadarayai'. The latter was based on ' Hedda Gabler' by the Norwegian dramatist Henrik Ibsen generally regarded as the father of modern theatre. The cast comprised lawyers. "They were a disciplined lot," he chips in. The play was produced to mark the Ibsen Centenary. The play was invited for the centenary festival held in Lahore where ten countries participated and it won the award for the best production.
Namel also revived 'Golu Birinda' that he produced in 1960 and followed it up with an English version of 'Kora saha Andhaya' first produced by Dhamma Jagoda. Titled 'The Lame & the Blind', the play featured the husband-wife duo Namel and Malini.
Although things have not worked out the way he thought they would, particularly in the field of drama, Namel has no regrets in returning to Sri Lanka. "After all it's our country. We are indebted to it," he says.