"My father was only allowed to come with me to Venlo, the border of Holland," says Anne Ranasinghe. "from there I was alone. All the way to the ship, then to the English port of Harwich, from there again by train to Liverpool Station in London where I met my aunt. I had never seen her before. It was winter and the sea was rough. My father told some nuns to look after me but I ended up looking after them. I was the only one who was not seasick."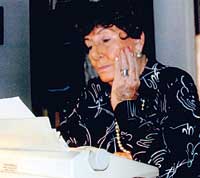 Anne Ranasinghe, photo by Richard Lang.
Anne Ranasinghe, then Anneliese Katz, never saw her father again after he left her on the train at the German-Dutch border on January 26, 1939. Ranasinghe's last image of her mother is of her standing at the front door of their home that morning, watching her only child leave. The German Government allowed her one suitcase and 10 Marks. She says, "I had to take my clothes, and I took a few of my favourite books, which I still have. I wanted to take a doll, I was 13 and I still liked to play, but there was no room. I had some jewellery but they took that away at the border."
Since the '70s Ranasinghe has been documenting her personal experiences of the Holocaust – a horrifying historical event – its aftermath and her response to the world after that. And by doing so, leaves valuable material for the inevitable process of historical review and revisionism. Her book A Long Hot Day, for instance, contains her essays, poems and two detailed papers by Klaus Harpprecht and Professor Leonard Mars where Ranasinghe's accounts are authenticated by the two scholars through the meticulous research of one and the literary analysis of the other.
Yet, in 1986 a group of students in a school in Cologne, Germany, asked Ranasinghe, why she wants "to talk about the past." To them the purpose of recounting and preserving personal accounts as a means of remembering in order to prevent another holocaust had lost its purpose as they had only experienced life in a society that seemed both far-removed from the event as well as incapable of allowing its re-occurrence. A reporter from Essen, the city Ranasinghe fled in 1939, asked her in 1986 why her father and the other Jews did not "defend themselves."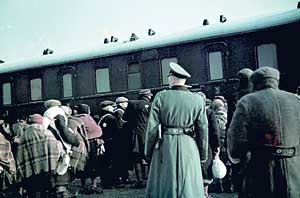 Deportation of Jews from the Lodz ghetto to the Chelmno death camp in April 1942. Ranasinghe's parents were imprisoned for two and a half years at Lodz ghetto before they were taken to Chelmno and gassed. Photographer: Walter Genewein. Credit: USHMM, courtesy of Robert Abrams. Copyright: USHMM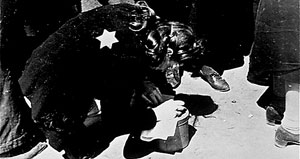 A young Jewish women writes her last letter at Lodz before boarding the deportation train to Chelmno. Photographer: Mendel Grosman . Credit: USHMM
Ranasinghe says that their questions display an ignorance of the most important aspect of the Nazi regime; that it was a rule legitimised by the German Parliament. In 1933 a mysterious fire burnt down the Reichstag, the German Parliament, and Hitler persuaded the aging President, Hindenburg, to sign the Reichstag Fire Decree by convincing him that the fire was the beginning of a Communist uprising. The Decree abolished all constitutional rights, established the death penalty and enabled Hitler to bring the state police under Nazi control. He soon consolidated his powers by using the Decree to pass the Enabling Act which gave him the right to pass laws without Parliament. In 1935, he proclaimed the Race Laws which classified Germans as those of German descent with four German grandparents, and Jews as those of Jewish descent with four Jewish grandparents. The Laws also deprived Jews of all their rights as citizens, their professions and jobs and prohibited marriage between Germans and Jews. The Jews living in Germany realised the implications of the Laws as they began to experience discrimination and harassment. By 1935, for instance, the Nazis had taken over the elementary school that Ranasinghe attended and allocated the Jewish children to a different "school."
Ranasinghe has an acute awareness of the role of policy and legislature in historical events, particularly regulations that in the end change the course of private lives, those that offer choices to some and ensure annihilation to others. Ranasinghe's parents had been trying to leave Germany for sometime. Yet many Jews that had been trying to leave Germany, couldn't. Britain eased its immigration laws in November 1938, but banned immigration from all Nazi controlled states when the war broke out, seven months after Ranasinghe escaped to England. "Britain had strict sponsorship rules," says Ranasinghe. "My aunt in England had to pay 50 Pounds to the British Government and agree to look after me and my schooling. So they sponsored me. But my parents were not included." Her aunt lived close to Bournemouth in the South of England which had been declared a restricted area as it was under threat of attack by Hitler. Ranasinghe had to go to court to obtain permission to remain in the area because she was a German citizen. Her cousin, Hans, joined the British forces during the war "and was of great use to them" she says "because he spoke German."
Ranasinghe received her last communication from her mother in 1940. Her letters to her parents, and from them to her, had taken the circuitous route of travelling from London to the Netherlands, from where a friend of her father's sent the letters back and forth. Then Germany invaded the Netherlands in 1940 and soon after, her father's friend was taken to a concentration camp where he died. "I still have the letters that I got from my parents and some photographs and a few things my mother sent me;" among them, her mother had typed out and included a play that Ranasinghe had written when she was 10, and a photograph of the cast. By 1941 the Nazi administration had started deporting Jews to concentration camps. "There is a woman in Germany," says Anne, "who is researching the Düsseldorf deportations and my parents and my grandmother's names are on the lists."
Ranasinghe's parents were taken to the ghetto of Lodz and from there, two and a half years later, to Chelmno and gassed. The Nazis killed over 400,000 men, women and children in Chelmno, a polish village, by engine exhaust in lorries specially built for the purpose in Berlin. The speed of the killing depended on the way the drivers controlled the engines. Many of the people imprisoned in the lorries had not completely suffocated by the time the driver reached the Rzuchow forest where they were thrown into pits and burnt.
Altogether the Nazis annihilated over 6 million people, the real number is possibly far higher. Among them were not only Jews but prisoners of war, gay men, Romanians and the disabled and mentally ill. The regimen gave preposterous and unbelievable justifications for the killings, as in the reason for gassing the ill – the cost to the state.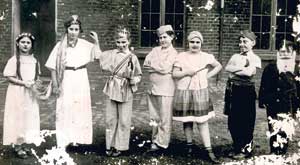 The cast of the Purim Play written by Anne Ranasinghe. She is second from left. The cast stand outside the "school" that had been allocated to them by the Nazis after the Nazis took over their elementary school. Approx. 1935.
As Australian Historian Henry Reynolds, whose work focuses on European settlement of Australia and its impact on Aboriginal Australians, writes "Victims of torture and oppression, like members of Australia's stolen generation, are often insistent that what they want above all is an investigation which establishes the truth about what happened to them both in order to come to terms with their suffering and to ensure that it will never be forgotten."
As a writer living in Sri Lanka, Ranasinghe "insists" on saying what should be said. In the course of living here for almost 60 years, she has watched one political decision after another drag this "paradisiacal island" into decades of civil war, several insurgencies and horrendous political violence, leaving her with a set of experiences and perceptions that will never have a parallel in the life of another Holocaust survivor. She is the only Jew with Sri Lankan citizenship. The combination of these two experiences, two unusual identities, has created in her an awareness that the "dark point" at which legitimate societies breakdown in chaos and spiral into violence, inhumanness or genocide, is always very close at hand. She also possesses a remarkable ability to feel the pulse of the moment, the essence of which she can then describe perfectly in poetry or in a passing conversation, at times, in phrases that capture this society and its dynamics to a comic T. Once, talking about the moment when she made up her mind to step out of a particular organization, she told me that it was the "kusu kusu" that finally did it!
When Ranasinghe returned in the mid 80s to ZÜschen, her ancestral home in Hessen, she found that a man had taken over her grandparent's house which had been in her family for seven generations. Ranasinghe has no documents to claim ownership of the house.
A woman who had been in the neighborhood from Ranasinghe's childhood, recognizing Ranasinghe for who she was, had come up to her and asked her whether she had returned to avenge her past. The outcry from a new generation of Germans or from many societies recovering from war, impatient to move on, that it is time to leave behind memories of the past is perhaps an indication of a genuine desire to reconcile and begin anew.
But with some, such as in the case of the woman encountered by Ranasinghe, the urgency to forget is driven by far more questionable motives. The woman's vehement desire to forget the Holocaust, her response to a victim, undoubtedly amounts to collusion with the regime that committed the crimes – an endorsement of its actions.
The "past" has left Ranasinghe with its burden: the knowledge that a human being is capable of inflicting unimaginable cruelties upon another, especially when a person is allowed to drop her own moral compass because collective feeling or social mores or religion or national policy validates the act of cruelty. This knowledge is always present in every encounter she has and simmers on the surface of her writing. On a traditional-New Year's day, while buying "mangoes, a pineapple and kolikuttu plantains" at the market, she watches the meat sellers unload a lorry-load of slaughtered carcasses and says:
…and though I averted my eyes
From the fixed stare of those skinless bodies,
Their voiceless bleating
Pierced the mind, which remembered
Other lorries and other bodies on meathooks-
Not under a tropical sun, but
In the knife-sharp cold of a cemented cellar. A silly comparison, I told myself, pull yourself together
And wish the butcher a Happy New Year.

To Ranasinghe therefore the need to document, the need to consolidate the past and the present is essential; it is an obligation she owes to her very act of survival. She says, "It is in forgetting, that we can live our daily lives, but we must survive in order to remember."
In 1993, the U. S. Holocaust Memorial Museum in Washington D.C., opened a permanent exhibition called, "Remember the Children: Daniel's Story." The exhibition presented the Holocaust to children in a way they could understand it. Among the exhibits is the photograph that Ranasinghe's mother sent to her in England of Ranasinghe in the cast of the play she wrote as a 10-year old. In it she stands as the Jewish Queen Esther, and next to her stand her King and Haman, the King's wicked advisor, who wanted the Jews annihilated. "I was a head taller than my King," she chuckles, "but can you believe it, I met Haman again at a conference in Israel in 1985. He came up to me and said: "You are Anneliese Katz."
A Long Hot Day, by Anne Ranasinghe. Reprinted 2009. Price: Rs. 500