The Diversity of Sri Lankan Wildlife, by Jayantha Jayewardena, is now on the shelves. This book gives an interesting insight to some of the major groups of animals in the country and their habitats. Complete with line drawings of the different species and some colour plates, the book provides valuable information on Sri Lanka's wildlife.
Commenting on the book modestly in his prologue, Jayantha says, "This book does not in any way cover all the facts about our wildlife. It is in no way comprehensive and does not pretend to be so. It is only an 'aperitif' if you may, of the whole 'buffet' of wildlife, in its different forms, spread across the country.
The 'dessert' is the spectrum of knowledge that is available on our natural environment. However, it will, I am sure, whet the appetite of those interested in wildlife and also somewhat enhance their knowledge". He also adds, "If this book helps, even in a small way, to stimulate an interest in the reader in our wildlife or further encourage those who are already interested, it would have served its purpose."
Jayantha is an experienced and dedicated naturalist in the country. His interest in wildlife goes back to his schooldays at Trinity College Kandy. His father bred fishing cats, jackals and exotic birds, which first stimulated his interest. As a member of the Trinity College Natural History Society, he observed birds and butterflies in Udawattekele, the forest in the heart of Kandy. His initial interest in birds and reptiles soon extended to mammals, especially elephants, which he studied in great detail. During his career as a tea planter, he spent his periods of leave camping out in various parts of the country, which gave him the opportunity to observe wildlife in many forms.
He says the book includes his personal experiences and observations on wildlife over the past 50 years, of which he has kept copious notes. These observations have been put together with scientific facts and accurate figures. "It has been a very interesting experience compiling this book," says Jayantha.
After 18 years in planting, Jayantha joined the Mahaweli Development Project as a Resident Project Manager moving up to become General Manager and finally Managing Director of the Mahaweli Economic Agency. "When I worked at the Mahaweli Project, elephants were creating problems when the jungles were being cleared," said Jayantha. "I then started studying about elephants covering all aspects."
A long-standing member of the IUCN Asian Elephant Specialist Group, he is also editor of its bi-annual journal. He has served on several wildlife conservation bodies. As the Managing Trustee of the Biodiversity & Elephant Conservation Trust, he now carries out an extensive awareness programme on wildlife, the environment and elephants, in 150 rural schools each year. Jayantha was a regular contributor to wildlife and nature journals as well as newspapers. He has also presented papers at many international meetings and symposia on agriculture, wildlife and elephants.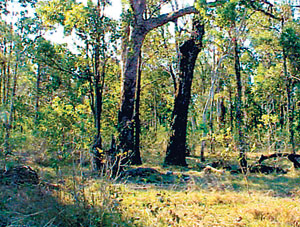 Dry zone forest: Pix courtesy The Diversity of Sri Lankan Wildlife
"Having read the book I think that the book goes way beyond Jayantha's expectations," says Dr. Devaka Weerakoon, of the Faculty of Zoology, University of Colombo.
"The book not only provides an aperitif but lots of food for thought to any wildlife enthusiast and arms them with a wealth of knowledge on a number of very important aspects of Sri Lanka's wildlife.
It not only manages to whet the appetite of a wildlife enthusiast that craves for information but provides a bellyful of facts about a variety of topics ranging from butterflies to elephants, invasive species to endemic species and the diverse ecosystems found in Sri Lanka," he says.
"The book carries detailed descriptions of mammals and birds of Sri Lanka, the most visible part of wildlife one is bound to encounter when visiting natural areas of Sri Lanka".
Dr. Weerakoon adds that he would have appreciated a more detailed treatment of lower vertebrates and invertebrates which the author has failed to elaborate at length or the plants that have been ignored at large. "But then again it is a major challenge to capture the diversity of wildlife of Sri Lanka in a single book. This is the very reason why I think that he should follow this up with another book focusing on the aspects that have not been dealt with at length in this book. I cannot think of a better person who could achieve this feat."
Dr. Weerakoon concludes that this book measures up to the high standards Jayantha has maintained in his literary works in the past. "In short I found this book provides a wealth of information on Sri Lanka's wildlife in a simple and understandable manner. I am sure any wildlife lover would find it interesting and informative as I found it."
The book priced at Rs. 4,000 is available at Vijitha Yapa Bookshops, Barefoot and Odel. For more information, please contact romalijj@eureka.lk