I first saw this barrel alongside the road when I was a child. Workers boiling tar… I was happy because roads were being constructed and roads reduced the distance between relatives and friends.
I don't believe in war and terror. I think it is organised crime.
With the war (the barrel) was camouflaged with paint, colourfully. These barrels became a part of the landscape.
Excerpt from a story by Chandraguptha Thenuwara
Chandraguptha Thenuwara is a skilled artist who crafts a vital message through his art. After studying under the master, Tahir Salakhov, at the Moscow State Art Institute, Thenuwara often recalls the tough curricula and teaching methods helping instil a discipline that earned him the title of 'Sri Lanka's best portrait artist' for his portrait of the late Prime Minister Sirimavo Bandaranaike, belonging to the Parliamentary collection.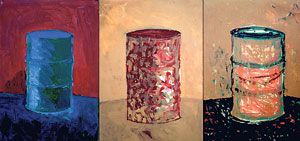 Thenuwara's first exhibition of 'Barrelism', titled 'In Dependence' took place in October 1997. He is not an artist who finds inspiration away from the experience of contemporaneous realities or stays silent about his views on the past and current state of Sri Lanka. His work has purpose and meaning. He returned home after receiving his MFA with honours. Between 1997 and 2009 he held numerous solo exhibitions in Sri Lanka and Russia. His works belong to the permanent collections of the Fukuoka Art Museum, Queensland Art Gallery, John Moore's University Collection and Fine Art Museum of Udmurtia, Russia.
What then is 'Barrelism'?
It is a lens that captures and helps us understand the evolution of a young Sri Lankan portrait artist to a leading contemporary abstract painter. It is the transformation of a culture, a period in Sri Lanka's history, a moment. It is a lifestyle we recognise, rendered skilfully into art that questions it. It as a form of Social Realism in art, "a style of painting in which the scenes depicted typically convey a message of social or political protest edged with satire".
The barrel itself which is at the core of Barrelism is symbolic of the change in a culture, a city-scape etched against violence and a way of life. Barrelism expands our imagination through subtle forms of camouflage, transforming upon closer observation the surreal into recognisable artefacts that frame our lives and mental landscape.

Chandragupta
Thenuwara
From portraits to abstract contemporary art, this retrospective looks at the career of an artist who unflinchingly interrogates our reality and in the process, asks us to engage with what his art depicts and is based on.
The skill in rendering the hidden and communicating beauty through simplicity are hallmarks of Thenuwara. Through Barrelism, we see this artist at his best and most provocative.
The exhibition, Chandragupta Thenuwara: A retrospective is now on at the Saskia Fernando Gallery, 61, Dharmapala Mawatha, Colombo 7, running parallel to his annual exhibition at the Lionel Wendt Art Gallery titled, 'Erasing the Camouflage'. It concludes on August 16.
The Saskia Fernando Gallery is open Wednesday to Friday from 10 a.m. to 7 p.m. and on Saturday and Sunday from 10 a.m. to 5 p.m.