PUTTALAM -- At the Deyata Kirula exhibition in Colombo early this year, visitors peered curiously at a group of Africans sitting in a stall.
"They thought we were foreigners," laughs 51-year-old Peter Louis, a Sri Lankan of African origin whose ancestors came from Mozambique. Asked by inquisitive visitors whether they could speak a language, Louis jokingly put his tongue out and gestured with his hands to indicate 'No' but later spoke perfect Sinhala – much to their surprise.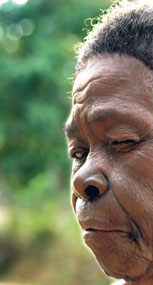 Lazares Ignatius:Probably the oldest living Kaffir.
Many visitors were seeing for the first time Sri Lanka's small community of people of African origin known as Ceylon Kaffirs who mostly live in Puttalam and Trincomalee.
A proud moment for Louis and his band of Kaffirs came when they led a procession of members of different Sri Lankan communities, dressed in colourful costumes, at the exhibition and also when President Mahinda Rajapaksa walked into their stall and briefly spoke to them asking whether they were from Puttalam.
"I wish we can have a longer audience with the President. I wish he will give us some time to explain our problems…. our worries… our concerns, just like his regular meetings with the Veddah community," lamented Louis sitting in the verandah of his humblehome, amidst a mix of cadjan-thatched and brick houses at Sirambiyadi village, a few km from Puttalam.
The Kaffir community of more than 50 families, struggling to eke out a living for decades, are an angry lot and often wary of visitors to their village.
"Look at this magazine," says Mary Janet, Louis's sister, showing a travel magazine with her picture on the cover. "It is selling at Rs. 400. They come and take our pictures and make money out of us. We are sold but we get no benefit; nothing," she said angrily, reluctant at first to speak to us but calming down after a while when she sees the Sunday Times local correspondent Hiran Priyanka Jayasinghe. "This mahattaya has helped us. We trust him," she says, smiling at Hiran who with the help of a politician and NGO had organized a gift of 12 houses, each costing Rs. 400,000, to the community.
Dozens of local and foreign journalists have come to the village, interviewed the Kaffirs, taken pictures and splashed stories all over but the plight of the Kaffirs hasn't changed with the best jobs they have had so far being a police sub-inspector or a grama sevaka. "No one cares for us," says Louis, who has done odd jobs throughout his life. Most of the Kaffir community do menial jobs as labourers and struggle without the basic amenities.
The Kaffirs were brought to Ceylon by the Portuguese, to be used as workmen. Some of them remained to marry Sinhalese girls while others left.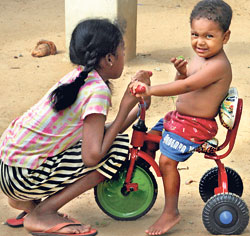 Members of the younger generation.
Much has been written about this impoverished community, their lifestyles and fun-loving culture of song and dance but little about their daily struggle to maintain their families, retain jobs and sustain a dying culture. "How can we sustain our culture when we don't have proper jobs, homes and basic needs," says Louis, who is generally regarded as the unofficial leader of the Kaffir community in Puttalam.
"We want to develop and maintain some part of our culture. Otherwise our community will lose its roots," he says, hoping against hope that the President, whom he says is "a kind man", will read this article and "give us a hearing".
"We don't want handouts but some kind of small industry that would provide jobs and a decent lifestyle for our children," he says. Schools don't have enough of good teachers, he says, adding, "we want our children to do well". Mary chips in, saying, "A few homes have water and electricity but sometimes the water bill is more than the electricity bill. How can that happen?"
Louis recalls how as a child he was ridiculed by the locals for his distinct African features of curly hair and thick lips. "They called us all kinds of names like KAAPIRI which was insulting and embarrassing but now we have been accepted by everyone."
The Kaffirs' unofficial leader cites housing, water and electricity and jobs as some of the main needs of the community. Each family has about ¼ acre of Swarnaboomi land but water is a problem which is an issue if they are to grow vegetables or fruits for a living. As labourers, the men get between Rs. 400 to Rs. 500 per day and work is not available everyday.
When we cruised into Sirambiyadi, most of the men were at home while some – not all – of the children had gone to school. "There is no money to buy their books," one resident says. Yet, despite their daily worries, the Kaffirs have not lost their fun-loving nature.
Sixty-year-old Solomon Justin Xavier, a mason who says he is a 6th generation Kaffir, recalls the "good old days" of going to church on a Sunday and then having a "good drink laced with music and song".
"We used to have a good bajaw (singsong) with arrack for company," he says, looking up in reflection. For good measure, two women - Juliet Josephine and Lina Regina – sit down in Xavier's verandah and sing a song in Portuguese about the sea, with Regina tapping two coconut shells on the floor to provide a rhythmic beat.
| | |
| --- | --- |
| | |
| Peter Louis | Mary Janet |
They are part of a 12-member band of Kaffirs who occasionally perform at functions and events like the recent musical evening at the Barefoot where their community was profiled through dance and song.
The biggest fear of the Kaffirs is that their culture is dying and very soon will be of a bygone era. "Most are married to Sinhalese and in time, over a few decades, our physical features will be more local than African," Louis says.
On a lighter note, he says they are proud that a black American has become President of the most powerful nation in the world. "Some people say now that Barack Obama is the US President, we can get some benefit," he laughs.
Lazares Ignatius at 82 is probably the oldest living Kaffir here and recalls the time she was able to communicate with her grandmother with a smattering of Portuguese. "I can speak a few words still," she says, speaking in Sinhala with a Tamil accent. Ignatius befriended a Tamil man working in Puttalam and later the two were married.