KHOST, Afghanistan, Saturday (AFP) - Seven suicide bombers tried to storm state targets in a city in eastern Afghanistan, killing one civilian in the third Taliban commando raid in a week, authorities said.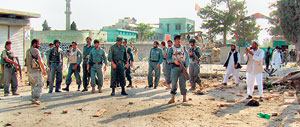 Afghan police stand at the site of a battle with Taliban fighters in Khost city. AFP
Part of a worsening Taliban insurgency, the attacks underscored the vulnerability of the Western-backed government less than four weeks before landmark elections and raised concerns for the security of the polls.
Officials said most of the attackers blew themselves up before reaching their targets in different parts of the eastern city of Khost, close to the border with Pakistan, where Islamist militants have carved out safe havens. "All of the bombers who had suicide vests on their bodies were identified and fired at by our brave police before they reached their targets," it said.
The ministry said that one group of militants approached the city police headquarters, while other individuals tried to storm a police post, a police rapid reaction unit in an old hospital, and another location near a bank. It was unclear which attackers were shot dead by security forces and how many actually managed to detonate their vests. The NATO-led force here said some insurgents were killed when a car packed with explosives blew up.
Hamidullah Qalandarzai, Khost provincial governor, said the attackers were dressed as members of an Afghan militia that works with foreign forces. "The bodies of six suicide bombers have been recovered. There could be more bombers ... One civilian was killed," he told AFP. Some of the attackers were armed with machine guns and rocket launchers and exchanged fire with security forces before detonating their explosive-laden vests, defence ministry spokesman General Mohammad Zahir Azimi.
"We have three military people wounded and 14 civilians," he said. A doctor at Khost hospital said the wounded included an eight-year-old girl. The NATO-led International Security Assistance Force said that Afghan forces had "thwarted the attack", describing how some of militants tried to drive a car bomb into the old Afghan military hospital now housing a police unit.
"The vehicle exploded, injuring two Afghan National Policemen and two civilians -- the ANSF (Afghan National Security Forces) saved lives today,"Lieutenant Colonel Stephan Smith said in a statement.
It did not mention the civilian killed.
Zabihullah Mujahed, a Taliban spokesman, called AFP from an undisclosed location and said the insurgent Islamist group was behind the attacks.