Vowing to return home, ousted President Manuel Zelaya took a few symbolic steps inside Honduras on Friday but backed away from a confrontation with Honduran security forces waiting to arrest him.
In a move described as "reckless" by U.S. Secretary of State Hillary Clinton, the ousted leader in his trademark cowboy hat crossed briefly into Honduras in the small town of Las Manos on the border with Nicaragua.
Pausing to give live telephone interviews and surrounded by a pack of journalists, Zelaya approached the chain dividing the two Central American nations, stepped over the border and held the chain over his head in triumph for a moment.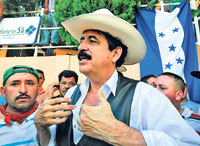 President Manuel Zelaya
He then touched a sign that said: "Welcome to Honduras," but with troops and police standing just yards (metres) away, he said he did not want to proceed farther out of "respect for the principles" of the military. He then crossed back into Nicaragua but an aide said Zelaya might return to Las Manos on Saturday to try again to enter Honduras, a coffee exporter and one of the poorest countries in Latin America. Zelaya was toppled and sent into exile in a June 28 coup after angering critics over his alliance with Venezuelan President Hugo Chavez, a fierce critic of the United States. The de facto government that replaced him insists he was removed legally because he was trying to extend presidential term limits, and that he will face charges if he returns.
Interim President Roberto Micheletti said Zelaya was "an irresponsible demagogue who puts the lives of others at risk in pursuit of his own personal agenda," and that Hondurans were disgusted by the "media circus" surrounding Zelaya's attempt to return on Friday.
Washington has condemned the coup and called for Zelaya's reinstatement, but it also advised him not to enter Honduras without a political deal in place. Clinton urged all sides to reach a negotiated, peaceful solution.
"We have consistently urged all parties to avoid any provocative action that could lead to violence. President Zelaya's effort to reach the border is reckless," Clinton said. "It does not contribute to the broader effort to restore democratic and constitutional order in the Honduras crisis." Zelaya remained determined, vowing to return and saying he had helicopters and planes at his disposal and could return via other neighboring countries if necessary.
TALKS STALLED
The Honduran power struggle is Central America's worst political crisis in two decades and talks held in Costa Rica this week collapsed over the interim government's refusal to accept Zelaya's return.
When Zelaya tried to fly home earlier this month, troops blocked the runway and one of his supporters was killed in clashes near the airport.
On Friday, police in riot gear waited a short distance over the border and a helicopter flew overhead as he approached. Several hundred Hondurans trying to reach the border to greet Zelaya, a logging magnate who draws support from unions and leftists, were kept several miles (km) back near the coffee town of El Paraiso.
Some threw rocks, and troops tried to disperse them with teargas and sporadic shots in the air. A Reuters photographer saw one police officer wounded in the head by a rock. The United States and Latin American governments have demanded Zelaya's reinstatement, but Micheletti insists he will be detained by police if he returns.
In an address on state television, Micheletti said he was committed to negotiation. "We are doing everything possible to avoid the spilling of Honduran blood," he said. Honduras' Congress will meet on Monday to discuss a proposal by Costa Rican President Oscar Arias to end the crisis. It is likely to reject it because it calls for the reinstatement of Zelaya, mistrusted by the ruling elite that accuses him of trying to extend presidential term limits.
Zelaya told Reuters Television the talks had failed since Micheletti's side did not accept the Arias plan. "The Costa Rican thing is over now, it's finished," he said. The coup poses a challenge to U.S. President Barack Obama, who has condemned it, cut $16.5 million in military aid and threatened to slash economic aid, but has not yet taken measures directly against the coup leaders.
State Department spokesman P.J. Crowley said Zelaya was expected in Washington on Tuesday.
(Additional reporting by Marco Aquino, Edgar Garrido and Esteban Israel in Honduras and Sue Pleming in Washington, Writing by Claudia Parsons; Editing by Kieran Murray and Todd Eastham)