Spain, Saturday (AFP) - Extreme weather has killed and injured dozens of people across Europe, with Spain, France and Italy hit by summer wild fires and parts of central Europe deluged by storms, officials said Friday.
While the deadly fires spread in Spain, France, Italy and Greece, violent storms slammed central Europe. Nine people were killed and dozens injured as the storms felled trees and electricity poles, ripped off roofs and caused local flooding.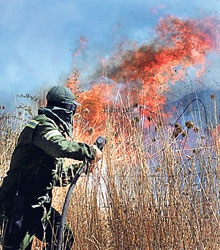 Italian firefighters try to extinguish a fire near Nuoro in the centre of Sardinia Island. AFP
Western and south-western Poland were hardest hit, with hurricane-force winds reaching 130-kilometres-per-hour (80 miles-per-hour) in some areas. "Seven people died in all, while 82 sustained serious injuries requiring medical attention," Poland's national fire brigade spokesman Pawel Fratczak told AFP. Most deaths were caused by falling trees, he said.
High winds also claimed two lives and injured dozens in the neighbouring Czech Republic. According to Poland's IMiGW state weather service, the unusually violent storms were caused when hot air masses from north Africa clashed with cooler air systems moving in from western Europe. In Austria, hail pounded 60,000 hectares (148,000 acres) of crops Thursday, causing estimated damage of 20 million euros (28.4 million dollars), according to the Osterreichische Hagelversicherung insurance company.
Storms were still battering parts of Poland Friday, but forecasts suggested they would not be as violent as those of the previous night. Meanwhile, at least eight people were known to have died in the fires sweeping across several European countries in the past three days.
A badly burned firefighter died in a Barcelona hospital on Friday, a hospital spokesman said, taking to six the number of firefighters killed since wildfires broke out across Spain earlier in the week. The 31-year-old firefighter suffered burns to more than half his body when he was caught out by a sudden change of wind direction while fighting an inferno at Horta de Sant Joan, in the south of Catalonia, on Tuesday.
Four of his comrades were killed almost instantly at the scene, while one was still in hospital on Friday with burns to 75 percent of his body. The driver of a firefighters' truck was killed in the province on Thursday after his vehicle fell into a ravine as it avoided flames.
Helicopters and civil protection boats plucked about 120 people to safety from a beach at Capo Pecora in the southwest of Sardinia on Thursday night after they became trapped by flames. Near Cagliari, the island's main city, inmates from a prison spent the night on a beach because fire threatened the penitentiary.
Some 10,000 hectares (25,000 acres) of forest and brush have been destroyed by six separate fires on Sardinia. Hundreds of firefighters backed by Canadair water planes tried to bring them under control Friday.
On Thursday, a 58-year-old shepherd died as he attempted to rescue his flock. A farmer died of a heart attack as he tried to escape the fires. Five French firemen were injured battling blazes that have destroyed more than 4,000 hectares (10,000 acres) of forest and brush on the island of Corsica. Ten houses and about 50 cars have been destroyed.
A fire service officer said one fire had been brought under control, but two others, including one near the main city of Ajaccio, were still spreading. One of the blazes was tearing through pristine forest in the Valle Mala, northeast of Sartene.
"It's huge. The fire is moving so fast that the undergrowth is burnt while the treetops are still green," said fire chief Pierre Salinesi. Jean-Jacques Panuzzi, head of the Corsican regional council, said seven or eight of the 12 fires reported Thursday were "criminal".
On the French mainland, the French army faced criticism after tracer fire used in a military exercise sparked a wildfire on the outskirts of Marseille. Several fires broke out in Greece, mainly in the southern Peloponnese and on the island of Evia, destroying forests and farms.
In Turkey, more than 200 firefighters battled through the night to control a blaze which started on a dump but spread to a wood in the resort of Bodrum, the Anatolia news agency said.