On Wednesday, 200 Buddhist monks took to the streets in a ' pindapaatha chaarika' from Dehiwala to Angulana, bowl in hand, collecting dry rations, clothes and other essentials for the displaced in the North.
The pindapatha chaarika was organized by the Maha Sangha from the temples within the Dehiwela- Mount Lavinia area under the guidance of Ven. Professor Bellanwila Wimalarathana Anunayaka Thera. Participating in the march was Ven. Kirama Vimalajothi Thera who told The Sunday Times that this was a good opportunity to promote peace and unity between the communities and show the world that Sri Lankans can put aside ethnic and religious differences and come together to extend brotherhood to those in need.
The public response to the humanitarian crisis in the north has been heartening. Nanda Liyanage of Dehiwela who was among a large number of donors who gathered along the streets, said she felt happy to have given her contribution of soap and sugar for this worthy cause.
"We in Colombo do not realize how blessed we are in contrast to the hardships that people in North and East undergo. Since we cannot go there, we should at least lend a helping hand to those suffering masses in every possible way," she said.
Meanwhile, the Muslim Council of Sri Lanka (MCSL) together with the Mosque in Vavuniya launched a meal donation campaign for the IDPs. MCSL aims to prepare and distribute 10,000 meal packets a day. According to MCSL president N.M Ameen, following their campaign which was initiated on April 27, some 3000-4000 parcels have been cooked and distributed each day.
A collection centre has been established at the All Ceylon YMMA Conference, No 53 Dematagoda Road Colombo 9. In addition public donations can be channelled to any mosque islandwide. More details can be obtained on 0772612288 or 0777766833, the MCSL said.
At the BMICH, the Staff Welfare Association together with the Presidential Secretariat has set up a collection point for dry rations, clothes, medicine, etc. at the Sirimavo Bandaranaike Hall. Individuals, companies and various organizations have been donating in large numbers, Nimal Ranjith and Nelum Dissanayake, BMICH staffers told The Sunday Times.
"So far we have sent about six lorries. The items are sent to the Security Forces who in turn transport them to the camps in the North," said Mr. Ranjith. Among the donations were three lorries which arrived from Lunugamvehera with 9000 kg of rice from the farmers of the area.
Ponnasamy Rajeshwari and her sister Mekala had come from Kolonnawa to hand over some clothes. "We have some t-shirts, sarongs, skirts and soap here. We have to help them in their hour of need," said Rajeshwari. The BMICH will continue to be open for donations, said Mr. Ranjith, adding that they could be contacted on their hotline 0602168112.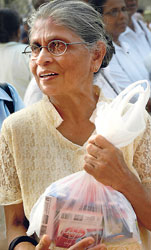 Doing her bit: Ms. Nanda Liyanage of Dehiwala
The World Wide Web is a powerful tool in organising mass support for a particular cause and a group of youngsters have set up a blog called Save Vanni.
"For the people of Sri Lanka...By the people of Sri Lanka... An attempt to collaborate all aid work carried out to IDPs in Vanni, Sri Lanka. Mail us with details of your aid work to: savevanni@gmail.com," says the header of the website set up by a group of young people from the youth movement known as Beyond Borders.
Deane Jayamanne, one of the administrators of the blog, said he and his colleagues realised that the IDP situation in the north was similar to the tsunami, but the response was different. "We just didn't see the same kind of response. We're doing this because we want to help," he said.
E-mails are also being circulated online urging internet users to contribute in whatever way they can – savevanni.blogspot.com.
Most schools in Colombo and companies too have been collecting items from students and employees.
Bus owners too rallied around. The All Ceylon Private Bus Owners' Association Federation and the Route No. 144 (Narahenpita-Wellawatta) Private Bus Owners' Association held a two-day donation campaign at the Gunasinghe-pura Bus Stand in Pettah and at Narahenpita respectively where they collected goods and cash donations for IDPs.