When Martin Davidson first visited Sri Lanka, it was 28 years ago on his honeymoon. This week, Davidson was back - this time as the Chief Executive of the British Council as the organisation marked its 60th anniversary here.
Mr. Davidson took up the role as Chief Executive of the British Council in April 2007. Prior to this, (from September 2005), he had been Deputy Director General. On a short stopover, Mr. Davidson's packed programme included a discussion session he held with 'young leaders' at the British Council in Colombo. "I got some interesting ideas from the discussions," he said.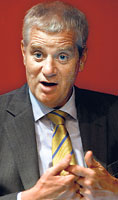 Martin Davidson
"During my visit I have had the opportunity to see the work being done at the British Council," he said. The British Council is a major English language provider and he hopes to expand on the method of direct teaching. "We plan to work with the Sri Lankan education authorities and also with school teachers so that our services will not just be aimed at those who can afford to come to the British Council."
As an organisation the British Council focuses on intercultural dialogue, education as well as arts and creativity. Mr. Davidson noted that the creative industry in Sri Lanka can help foster intercultural development. Industries like textiles and garments provide great opportunities and he also focused on the importance on entrepreneurship.
The British Council worldwide gets a significant portion of its funds from the British Government, therefore the current global economic recession means that expenditure will be cut. "We will have to face a few challenges as a result," Mr. Davidson said, adding "We will have to reduce our budgets and tap into our reserves to keep some of our existing programmes going," however mentioning that the changes will be mainly in Western Europe.
Mr. Davidson touched on the new chapter Sri Lanka will be going into in terms of a post conflict situation and says along with it, will come business opportunities. However, a lot of work will have to be done in terms of dealing with trauma, he pointed out. "We need to find Sri Lankan partners who are willing to work with us and we will work where we are welcome" he said adding that the experience of Northern Ireland will be of good use in helping to deal with this new chapter Sri Lanka will be opening up to.
Mr. Davidson has had a strong commitment to international relationships throughout his career. Born in Lowestoft in 1955, he graduated with an honours MA in English Language and Literature from St. Andrew's University.
As a young English graduate he went to Hong Kong as Administrative Officer, where he took high-level decisions on running a town with a population of one million.
Over the years he has held a number of posts in the British Council's Geographical Directorate with responsibilities which have included South East Europe, as well as the Middle East, East Asia and the Americas.
When he joined the British Council as Assistant Representative in Beijing in 1984, they operated with just six people in a converted bicycle shed at the British Embassy. He speaks Cantonese and Mandarin and has played a vital part in building British Council China to its present strength of more than 230 people in four state-of-the-art offices. He was responsible for opening the South China office in Guangzhou and returned to Beijing in 1995 as Director.
In Colombo, he opened "Cultural Crossroads", a photo-exhibit that traces key events and people of the British Council from 1949 to date, highlighting the council's history and achievements over the past 60 years.