A.R. Gurney's Pulitzer Prize nominated play "Love Letters" and "The Waiting Room" by John Bowen go on the boards of the British School Auditorium from May 14-17 as a double-billing titled "Encounters".
Having read "Love Letters" myself many years ago and toyed with the idea of directing it for many months, it was indeed joyous news to me that Adam had decided to produce this play. "Love Letters" is one of Gurney's finest works and I suspect that I am not the only theatre director who wanted to direct this play in Sri Lanka.
It seems a simple enough play, but underneath its simplicity it carries a poignant and touching love story. The plot revolves around Melissa Gardner and Andrew Makepeace Ladd III, childhood friends whose enduring and all encompassing friendship spans almost 60 years of writing letters, notes and messages to each other. From childhood birthday parties to the awkward teens and beyond, their friendship evolves and survives. Melissa and Andrew seem interlinked to each other and always seem to at least be honest to each other about themselves. Their friendship gets complicated by their awkward attempts to date each other and survives their marriages to different people and the very different paths their lives, careers and loves take them.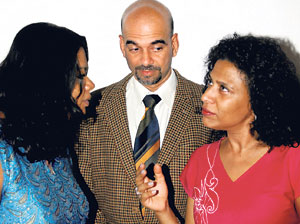 The players: Tracy, Adam and Ranmali
Through their letters to each other Melissa and Andrew take you on a journey - a journey through their emotions and to a time when people still wrote and posted letters and waited for a reply to arrive. In today's age of instant communication, social networking and short messaging we truly seem to have lost the spirit, style and romance of letter-writing, of taking the trouble to truly communicate. As e-mails, blackberrys and mobile devices dictate our lives we honestly need to exert very little effort to communicate with the people who matter. Yet sadly we do not. Even this effort has become tiresome and tedious! So we simply limit our communiqués to lol, rotfl, cya, brb, omg, and gdn8, and in the process have misplaced the art of reaching out to someone by the written word. If anything, Love Letters takes you back to a wonderful time when friends were important enough to sit and write a letter to. Meeting up and hanging out didn't define a friend, how friends really communicated with one another did.
Love Letters is also a powerful reminder of how we strive to have at least one person in our lives with whom we can truly be ourself - devoid of all pretence and disguise; the one person to whom we can reveal the truth about our actions, motives and intentions and know that we will not be judged by them, and that our friendship will endure them. Melissa and Andy enjoy a friendship just like that. Their letters are funny, poignant, touching. The play itself makes you long for such a friend in your life too.
Completing the double-bill for the evening is John Bowen's clever and short suspense play "The Waiting Room", first produced in London in 1970 under the direction of the playwright himself. Harriet is ushered into a waiting room. It seems a typical room in a government building. As she whiles away the time, Paul is also ushered into the same room. The two of them seem from two completely different worlds. Their attitudes and viewpoints on almost everything seem to be poles apart. Yet they are drawn together by one common factor. It is a play which creeps up on you in quite an unexpected and amazing way. The attitudes of Harriet and Paul and their perceptions of each other change dramatically when they actually start to communicate with each other.
So essentially then, Encounters is an evening of theatre which focuses on one of the most powerful of human traits – our ability to communicate. The plays are performed by Mohamed Adamaly who plays both Andy in Love Letters and Paul in The Waiting Room, Tracy Holsinger who plays Melissa and Ranmali Mirchandani who plays Harriet.
Encounters promises to be an evening of riveting and enjoyable theatre. Both plays have a myriad of emotions and with such a talented cast you are guaranteed a stunning performance.