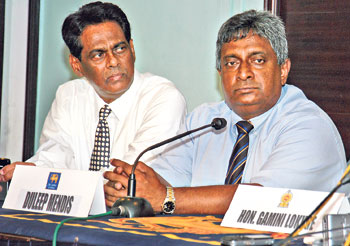 D.S. de Silva the new SLC Interim Committee Chairman select and CEO Duleep Mendis at a recent press conference – Picture by Ranjith Perera
The to-be-announced Sri Lanka Cricket Interim Committee is still in labour. From last Thursday, a plethora of names were bartered but, now it seem that an SLC paid employee – D.S. de Silva – former Sri Lanka leg spinner and now a presidential advisor on cricket is beating the rest to the post.
The week began with the names of former SLC heads and brothers Jayantha and Upali Dharmadasa who are close allies of President Mahinda Rajapaksa being tossed up. Former SLC Interim Committee secretary K. Mathivanan was also being mentioned from time to time. However by Friday afternoon things got pretty hot with D.S. de Silva suddenly entering the fray with the just ousted SLC President Arjuna Ranatunga's brother Nishantha to be named as the new secretary.

It is also learnt that the list of committee members in this new IC will be close to a cricket team and will consist of ten persons. Some of the names that are hinted to be included in the new IC are – former members Lalith Wickremasinghe, Sidath Wettimuny, K. Mathivanan, Pramodya Wickremasinghe who is also the president of the Players' Association, former national wicket keepers Romesh Kaluwitharana and Mahesh Gunatilleke, and IOC head Hemasiri Fernando along with a school principal. However, it is reported that some of these people may not accept the positions if offered as they are not pleased with the appointment of D.S. de Silva as the head of the cricketing institution. At the same time it is said that some of the SLC employees are also not happy with the new move which they say is being orchestrated by a disgruntled former SLC chief.

A cricket analyst told The Sunday Times that an Interim Committee should comprise eminent persons who can contribute towards the game and the best such committee was the one headed by Vijaya Malalasekera and had people of the calibre of Michael Tissera, Asantha de Mel. Sidath Wettimuny and Kushil Gunasekera.

Sports Minister Gamini Lokuge also confirmed the appointment of de Silva and said "There is a move to appoint D.S. de Silva to the hot seat of cricket. But there is a slight delay as there is a legal problem. Once we overcome that snag early next week, the appointment will be made".