As every year now, March is regarded as the "month celebrating the French language" all over the world, Sri Lanka joins it with its 6th successful film festival of French speaking countries 'Bonjour Cinema-2009' in Colombo.
With a fantastic selection of recently released and award winning 10 movies from Belgium, Canada, France, Romania, Switzerland, the festival will be held from March 21 to 25 at the BMICH cinema hall at 2.30 pm, 4.30 pm and 7.00 pm.
This annual event offers to the Sri Lankan public a collection of films that represent the richness and the diversity of the cinema industries of the French speaking countries represented in Sri Lanka. "This festival is also aiming to create a platform to exchange knowledge and a place for dialogue on cinematographic topics between professionals and movie-goers in Sri Lanka," said Isabelle Ryckebusch of the French Embassy.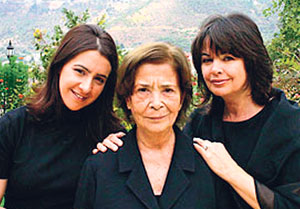 A scene from 'From my window, without a home'
In collaboration with the festival a special partnership with the new magazine Cineist and their group of critics Colombo Film Circle (CFC), would allow the film-goers to read critics and to comment on the movies at www.colombofilm.com.
As a new addition, Bonjour Cinéma 2009 comes up with a special program with a selection of 5 animated films for children. The films that represent Canada are De Ma Fenêtre Sans Maison... (From my window, without a home) directed by Maryanne Zehil will be screened on Sunday March 22 at 4.30 pm.
A discourse on cultural identity, self and sense of belonging, the film revolves around Sana (Louise Portal), a Lebanese woman who leaves her four-year-old daughter with her mother and emigrates to Montreal to escape the pressures of the traditional life style.
The other film from Canada 'LA BRUNANTE' (Twilight) directed by Fernand Dansereau will be screened on Tuesday March 24 at 7.00 pm. It is the story of Madeleine, 73 years old and recently diagnosed with Alzheimer's disease, is now approaching the end of her days. She has decided to end her life, but before doing so, Madeleine wants to revisit the sites and places that were important to her.
The French film in the festival 'QUI M'AIME ME SUIVE' (If You Love Me Follow Me) directed by Benoît Cohen will be screened on Saturday March 21 at 7 pm. The film, a cinematic roller-coaster ride discusses how far would someone go to pursue a dream? What should he give up to bet on a dream that may not even work out? This film looks into that, in an entertaining way is yet thought-provoking way. A doctor in his 30's gives up a successful career to start a rock band.
Other selection 'LES TEMOINS' (The Witnesses) directed by André Téchiné will be screened on Monday March 23 at 4.30 pm. Presented at the 2006 Berlin Film Festival it is a master filmmaker's exploration of fidelity, isolation and love.
Fredéric Choffat's 'LA VRAIE VIE EST AILLEURS (Real life is elsewhere) will be the Swiss representation for the Bonjour Cinema-2009. Revolving around three stories and three journeys that evoke a road movie, the film will be screened on Wednesday March 25 at 7.00 pm.
UNE JOURNEE (A Day) directed by Jacob Berger shows a day in the life of a family. People meet and leave, and wonder, will they find themselves again?
The film will be shown on Saturday March 21 at 4.30 pm. Belgium film ' Hop' directed by Dominique Standaert will be screened on March 24 at 4.30 pm.
All Justin and his father want to do is sit down and enjoy a soccer game together. This simple act between father and son sparks a chain of events leading to Justin's father's deportation.
'TOTO LE HÉROS' which also from Belgium tells the story of Thomas and Alfred who were born around the same time : a fire in the nursery had nurses scrambling to save the newborns. Directed by Jaco Van Dormael, the film will be screened on Sunday March 22 at 7 pm.
Rumanian adult film 'DUPA EA (Following her) Directed by Cristina Ionescu will be screened on Monday March 23 at 7 pm.
The other Rumanian film 'LOGODNICII DIN AMERICA' (American financées) revolves around Seven characters, five adults and two teenagers, seem to be spending a peaceful weekend in the holiday house of Rodica and Radu Pana. Directed by Nicolae Margineanu it will be screened on March 25 at 4.30 pm.
All films are subtitled in English and the entrance will be free of charge.