The Institute of Bankers of Sri Lanka (IBSL) is incorporated by an Act of Parliament and offers qualifications in banking and finance in association with the Chartered Institute of Bankers UK (know referred to as ifs School of Finance UK). The IBSL qualifications are certified and jointly awarded with 'ifs' which makes it a highly recognized qualification for banking, non-banking financial institutions and other leading employers. Through IBSL's partnership with Northumbria University, IBSL provides degree pathways towards Bachelor's and Master's Degrees. This has become a unique opportunity for IBSL students to obtain dual, professional and academic qualifications with international recognition. The Sunday Educational Times spoke to Mr. W.A. Wijewardena, Deputy Governor, Central Bank of Sri Lanka and Chairman of IBSL to find out more about their latest programmes on offer.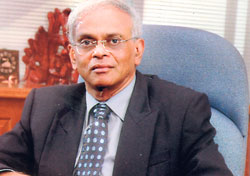 W.A. Wijewardena, Deputy Governor, Central Bank of Sri Lanka and Chairman of IBSL
"Through this partnership IBSL offers students the opportunity to obtain an honours degree in Leadership and Management from the Northumbria University, in Sri Lanka. The University has recognized our Advanced Certificate in Banking and Finance or four core subject passes in Diploma in Banking and Finance as equivalent to a three year study period in their honours degree programme. So, the students have to spend only the final year to earn their degree. This unique degree programmes will commence from the 30th of March 2009. Northumbria University in the UK maintains a reputation as one of Britain's best modern universities and takes pride in the quality of teaching. This partnership, therefore, will greatly benefit Sri Lankan students as it is an ideal cost effective method of study which will only cost them 2500 sterling pounds or Rs 400,000. This will definitely be an ideal opportunity for our IBSL students who within a year will have the ability to sit for their final degree in Sri Lanka and obtain a highly recognized international qualification", says Mr. Wijewardena.
The BA (Hons) in Leadership and Management completion award is an innovative undergraduate degree programmes delivered over a one year period in Sri Lanka and which is supported by individual guidance and induction by Northumbria University staff.
"In addition to this, we will also be offering a Master's degree programmes in finance in March which will be offered through the University of Leicester UK. The University of Leicester has been ranked as the 12th best university in the UK in the annual survey of British universities by the newspaper, the Independent, and is included within the best 200 universities in the world. In the future, we plan on moving into other Master's degree programmes, offered through the University of Leicester which will include the areas of economics, money and banking and banking and finance. The main advantage of following these degree programmes for students is the fact that they do not have to leave the country in order to obtain these qualifications, allowing them to obtain their qualification whilst also being employed in Sri Lanka. The total cost of the master's degree will amount to 5,500 sterling pounds or Rs 9, 00,000. Again this will also be a cost economical method of attaining an international qualification for Sri Lankan students", further stated Mr. Wijewardena.
The Master's degree programme in finance offered by the University of Leicester will be an online study system which will therefore be moving away from the traditional face to face method of learning. The difficulties and constraints with regards to the traditional classroom method of learning include space accommodation and infrastructure problems, the limited availability of lecturers, non flexibility of lecture times etc. Online learning therefore offers students the ability to learn at their own pace and in addition to this also has the advantage of reaching out to a larger number of students.
IBSL through its courses offers student a unique opportunity to gain accredited international qualifications in a cost effective manner. The institute continuously strives to nurture and educate students whilst providing great learning experiences that will benefit students to attain greater heights and make their career dreams a reality.
"So, join the IBSL and earn a British degree", says Mr. Wijewardena.