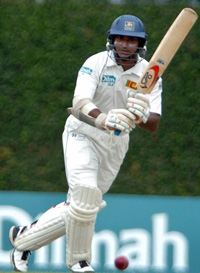 Sangakkara --heir apparent but let him do his job
As a being who is passionately in love with the game of cricket, especially when it comes within the context of 'Made in Sri Lanka', usually the barometer of my happiness changes along with it.
The past few moons have been mostly 'blue', as it seems to have changed hands from Mutt to Jeff. The whole of 2008, Lankan cricket was running backwards as if it was in a mighty hurry to fall over the cliff and then once a 'may-be' life line was thrown it has begun to float on like a rudderless ship. In administration, it was a competent authority whose knowledge in cricket was as alien as the dialect of the people of Jupiter's moon Europa – if there were any. Then in cricket, the best ever captain that Sri Lanka produced – Mahela Jayawardena was hounded to tender his resignation thus plunging the in-field activities into darkness thereafter. In reality it was a very frightful timeline.
Since the tail end of the last week it seems that things are once again beginning to fall into its correct perspective and sanity is beginning to prevail. Mid last week while having my customary chat with a guy in the cricket inner-circle I hear the first good news. In my mood of frustration I beckoned to him and queried "What's keeping them from appointing Sanga (Kumar Sangakkara) as captain and I think it should go to him in toto and not in bits and pieces." Being a wisecrack in the fray and having had many more experiences of this nature my friend was unruffled. And now it was his turn to throw the poser at me. "What made you think that there was a wedge between Sanga's appointment?" Then before I could come out with an answer or something similar to that he voluntarily said "Yes, it will be Sangakkara who will lead Sri Lanka in all three forms of the game and it will be officially announced when the team for the Zimbabwe series is announced."
The very next day I received a telephone call from another friend of mine. He took on the other subject that kept bugging me for sometime now. He said "Be ready, the next cricket administration also will be an interim committee and there will be some familiar faces occupying seats once again." I was a bit satisfied, but, the formation of another interim committee would thus bring and end to this speculative period.
At this point I began to hatch my theories. If Sangakkara is going to take over the reins from next month to the aftermath of the 2011 World Cup he has a very heavy work load carved out for him in the international calendar.
Once taking over for the series against Zimbabwe, it is hoped that this will not be such a gross affair as what Sri Lanka experienced in Southern Africa a few months ago. Thereafter the bunch would disintegrate into individuals to do their IPL duties and then re-group to participate in the World Cup T20s. This second World Cup T20 is going to be a huge smacker as most participants at this spectacle will be fresh from a prolonged stint of cricket on the same agenda in India.
Upon their return from the English summer, the then Sangakkara's men will have no respite. They will then go into two home series against Pakistan and New Zealand where they will play six Tests and ten ODIs against the two visiting teams.
Then at the tail end of 2009, once again it will be another tussle against the marauding Indians – this time in their own den. The challenge thrown at Sangakkara here is to win a Test in India and be the first Sri Lankan skipper to do so since gaining Test status in 1982.
Once the Indian tour is over the Lankan cricketers will gradually change gear to get more acclimatized to the 50-over version of the game. So much so that in 2010 the Lankan team still will only be billed to play three Test matches.
This is where the administration could step in and get more cricket either into this country or else play in some one else's backyard so that Lankan cricketers would get the much needed exposure under their new captain.
In early 2010 the lads will be engaged against Bangladesh in a limited overs series and according to the ICC Future Tours Programme, their next exercise will come in mid year in a tri series that is going to involve India and New Zealand. Then after another slight hic-cup they will engage themselves yet again in an ODI, this time against the Australians where they will play 8-10 ODIs. Thereafter the Lankan cricket team will fly back to their own backyard to welcome the rest of the planet's cricketing gentry at the 2011 World Cup which is billed to be played in the Indian Sub continent.
Then comes the next real poser. After being so successful still Mahela Jayewardene had to abdicate his throne in mid-flight. We at this end have to hear the reason for Mahela giving up his captaincy which was an issue that he couldn't step away from. He had the powers to make decisions in the middle, but some of the real decisions that he would have liked to take akin to his future aspirations for the country that he led could not be taken for some reasons which were bigger than the game itself.
This is our worry too. Sangakkara may take over the reins, but will the powers within let him do his job without undue interference? That worry nearly took away Mahela Jayewardene's career until he decided to step down. Will they do the same to Sangakkara too? Cricket is a game that is full of hard cash. And for cash some men would do anything. Watch out!