Singapore Informatics has over the years introduced many innovative programmes to Sri Lanka. As the pioneer in network security education in Sri Lanka Singapore Informatics has launched the Certified Ethical Hacker (CEH) version 6, from USA. Hacking originally evolved as an ethical practice, where in which it was used to identify problems associated with computer operating systems.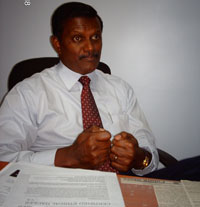 Lakshitha Reginald, Senior Manager Business Development
Later on however hackers used this method to exploit, steal information and even sabotage. The Sunday Times spoke to Mr. Mahen Jayalath, Director and Mr. Lakshitha Reginald Senior Manager Business Development of Singapore Informatics on the CEH as well as PMP courses that will be included in their short term programme list commencing in March 2009.
"Hacking is used even today for ethical and legal purposes such as penetration testing. With the introduction of the CEH programme participants will get the opportunity to learn many different ways of hacking, which can thereafter be used for the benefit of their own organizations.
Today some well-known multinational organizations have had to deal with certain intruders who have invaded their computer systems. Through CEH we offer our participants the knowledge and expertise to think like a hacker in order to protect their computer systems from possible hackers. The skills taught in this programme are that of sophisticated hacking so that, in order to ensure what we teach is used ethically and legally the participants of this programme have to sign a letter of agreement ensuring that they will not use this knowledge for any unlawful activities", says Mr. Jayalath.
The CEH programme will immerse students into an interactive environment where they will not only be shown how to scan, test hack and secure their own systems they will also be trained hands on. Students will begin by understanding how perimeter defenses work and then be lead into scanning and attacking their own networks.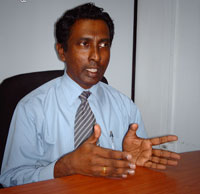 Mahen Jayalath,Director
They will also learn how intruders escalate and what systems must be developed to secure a system and much more. This course will significantly benefit IT executives, IT managers, systems administrators, network security specialists, auditors, security professionals and site administrators who need to keep their critical digital asset safe.
Commenting on the CEH programme, Mr. Reginald said, "In order to fully understand the real concepts associated with hacking one must be able to gain an in-depth insight into the mindset of a hacker. This is the type of training that is provided through this programme. The CEH training is currently regarded to be the topmost network security certification that is accepted world over.
Presently we have over 100 CEH professionals in Sri Lanka, where over 90% of them have qualified through Singapore Informatics. CEH is a specific skill that is sought after by many companies worldwide. Singapore Informatics offers this programme to students under the guidance of one of the most qualified CEH professionals from overseas. Today with areas of concern such as cyber terrorism on the rise it is not only network administrators that are in demand globally, but network administrators that have the ability to secure a network, and this is what we are producing through our CEH programme. CEH is the first of its kind to be introduced in Sri Lanka under the area of professional and skills development by Singapore Informatics.
The institute will also be commencing its higher education programmes for its undergraduate students in March this year. The March intake will therefore include the foundation programmes as well as the diplomas. The foundation programme can be followed by students with ordinary level qualifications and will also enable them to directly gain eligibility to enter the degree programmes. Students with Advanced Level qualifications can however directly enter the diploma programmes.
Singapore Informatics offers four types of diplomas which include the areas of computing, business administration, engineering and networks and cyber security. All diplomas offered through the institute are equivalent to the first year of a degree; the advanced diploma is equivalent to the second year of a degree enabling students who have completed their advanced diplomas the opportunity to directly enter the final year of the degree programmes. Due to the fact that the three year degree programmes offered at Singapore Informatics have multiple exit points which awards, students who wish to discontinue there studies at each exit point a qualification, this will be beneficial for him when seeking employment.
"Another benefit of having multiple exit points is to offer better articulation from other foreign universities. By having our degree programmes divided into three stages the students also are entitled to multiple entry options, which also enables them to be eligible for certain exemptions. In addition to this we also offer very attractive payment schemes for students", said Mr. Jayalath .
In addition to CEH the institute will also be offering the Project Management Professional (PMP) course in the month of March. Singapore Informatics up to this date is the only registered education provider in Sri Lanka to offer the PMP certification. The PMP is an interactive programme which will take students through the global standards of Project Management from the basic project management principles to the advanced project management principles and practices.
Singapore Informatics is also the first to offer the latest version (version 4) of the project management certification, PMP today has become a necessity to follow and be certified in by all individuals who are involved in the area of project management. The Singapore Informatics Professional and Skills Development Centre which is a member of Informatics Education Ltd. Singapore is the only registered education provider in Sri Lankan for Project Management Institute USA, which is the largest project Management body in the world with over 200,000 members.
With such a diverse list of programmes short term as well as undergraduate and postgraduate, Singapore Informatics continues to mould the future professionals in the IT industry as well as in the other industries.