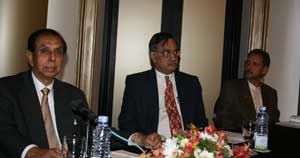 IEL Sri Lanka organized a Press Conference on Global MBA, recently here at Taj Samudra, Colombo. Mr. K.V. Iyer, Head, ICFAI International Division, India, addressed the Media and explained the Global Management programme & the career opportunities available in a globalized business environment. He added that companies today need to employ people with a deep understanding of different world markets to compete with the growing competitions.
The emerging Sri Lankan multinationals too need "multinational" employees. However, there are very few MBA Programmes in Sri Lanka that provide such a global orientation. Therefore, to acquire these strengths, many students from Sri Lanka choose to pursue their management education at business schools outside Sri Lanka. For such students, the International campuses of IBS offer two years Global MBA Programme with the advantage of international exposure and a degree from an international Participating University in addition to that from IBS.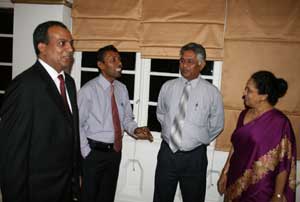 A one year Global Executive MBA Programme is also offered.. IBS International has established campuses at four centers of business and commerce, Adelaide in Australia, Luton near London, in the United Kingdom, Neuchatel, near Geneva in Switzerland and Ras Al Khaimah in the United Arab Emirates. The participating universities are University of Southern Australia, University of Bedfordshire (Luton), University of Neuchatel and University of Wollongong in Dubai respectively.
Additional information can be had from Ms Ranjani Goonathilaka, Dean, Management Studies [0777701737] or Mr. Sarath Kumarsri, Marketing Manager, [0714279279] ICFAI.
Education Lanka, Colombo.
ICFAI Education Lanka
Habitat House, 113, Dutugemunu Street,
Kohuwala, Colombo.
Tel: 5553237, 5522999.