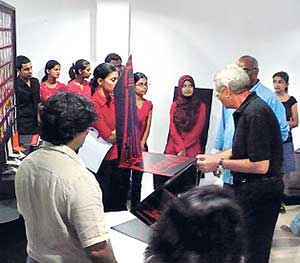 Interior Design students presenting work
The Academy of Design prepares young aspiring interior designers to join one of design's most exciting and important professions, the profession of Interior Design. Today, the value of educational credentials to the interior design community is greater than ever before and The Academy is the only full accredited institute in Sri Lanka that has programs of international repute totally dedicated to interior design and can offer students facilities, equipment, faculty from around the world, and staff devoted to the education and practice of interior design and that of several related fields. What's more, the Academy is now offering a full BA program in Interior Design that can be fully completed in Sri Lanka.
The scope of work in interior has expanded tremendously. As the built environment of the present day has grown in complexity and diversity, the realm of the interior has become a profession in its own right. While an interior designer works alongside other consultants such as architects, engineers and construction managers, in many cases today projects are handled independently by this new breed of professionals: interior designers.
They are not only creative professionals who plan and design public, commercial, recreational, institutional and residential spaces but are also responsible for and qualified in the management of the implementation of such projects. At the Academy students receive a broad education that covers everything from the fundamentals of colour and spatial relationships to the most sophisticated computer-aided design.
The Interior Design program at the Academy has been a success and the Academy of Design (AOD) graduates are sought after for jobs and every student who has left the corridors of AOD has left either with a job offer or an offer to study abroad. Being the pioneer in Design education in the country and considering the high quality education the students receive, AOD enjoys an enviable reputation.
As it enters its ninth year as a school of Design, AOD is proud of its success and the evolution of its programs and what it has grown to become. Today it offers undergraduate programs in many design disciplines such as Fashion, Interior and Graphic Design with the option of students obtaining a full Bachelors Degree and obtaining a UK design degree right here in Sri Lanka for these disciplines. Its newest addition is a Jewellery Design program one which is much needed by the industry here.
AOD has much to offer: first-rate international teaching faculty, a comprehensive and challenging academic program, a central facility amidst art galleries, cafes, cultural centres all of which combine to make it the best place to study design in the country. Its unique position enables its students to achieve incomparable focus in the classroom and subsequent success in an ever expanding and competitive workplace. We hope that having read this, you will share our enthusiasm the study of design. We look forward to welcoming you to AOD and all that it offers.
For further information contact: The Academy of Design (AOD), No 33 1/1 Queens Road, Colombo 3. Tel: 5742480, 5742490, 5867772 - 3, 2502850, www.aod.lk
"The core of Interior design is creating emotional spaces. A good designer understands their clientele, responds to their needs, and creates a world of spaces in which they can work, play, and live better"