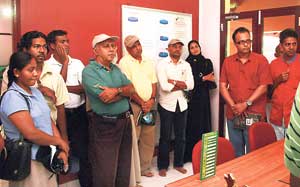 The visiting group
The first educational tour organized recently by CIC Agri Businesses (Pvt) Ltd to its farms got off to a good start with a group that included elite businessmen, company directors, planters and estate owners – providing a new world experience for Sri Lanka's elite.
One may have wondered as to how it could be an educational tour with such high ranking personnel but it turned out to be an eco-tourism excursion, and relaxing plus spending a comfortable weekend.
At the Pelvehera CIC Seed Farm at Dambulla, the guests were ushered to its auditorium and were first treated to a fruit juice drink of CIC Juiceez fame. Priyantha Dematawa, Assistant General Manager, CIC Agri Businesses with the help of slides, explained the entire gamut of activities of the farms in Pelvehera and Hingurakgoda. He explained as to how farming is done.
Every participant showed deep interest in the almost one hour long instructive lecture given by Mr Dematawa. The participants queried and clarified and many were found taking down notes.
Once part of the ICI International chain, CIC (Chemical Industries Ceylon) is now a fully Sri Lankan quoted company. CIC in 1993 floated CIC Fertilizer wih the acquisition of CTC (Ceylon Tobacco Co) Pohora. CIC ventured into farming in 1998 with the leasing of a 1,500 acre government farm in Hingurakgoda. Two years later, CIC leased the Pelvehera Government farm.
Now both the farms are well nurtured using modern technology to the maximum. The Pelvehera farm consists of Mango Germ Plasm Collection, Agri Technology Part, Agribusiness Centre, Juiceez, Planting Material Display Centre, Desert Plant Greenhouse, Green House Cultivation, Herbal garden, Commercial Vegetable garden, Fruit Garden Banana Mother Plant Orchard, Mango Mother Plant Orchard and the Citrus Garden among others.
Around 1,300 acres of the Hingurakgoda Farm, several kilometres from Dambulla, is under paddy cultivation and is also focused at Agro Tourism while the Windsor Park holiday chalets takes the centre place of agro tourism. It includes Mango cultivation, Vegetable Garden, Machinery Yard, Seed Processing Unit, Banana Cultivation, Plant Nursery, Home Garden, Compost Production, Livestock Production and the Agri Holiday Resorts.
Equipped to the teeth in agriculture over the years, CIC Agri not only lifted up their farms to modern levels to be model farms where they obtained highest yields and ran them profitable and brought up their farms to the most modern level, but they also offer every possible assistance and share the successful experiences with the farmers and any other person interested in farming.
Mr Dematawa said that the experience they have with the farmers is that most of the farmers are confined to only cultivation, i.e. if one cultivates paddy, he continues with it and if another farmer is involved with vegetables then he only cultivates vegetable. Thus their income and returns are very low. CIC Agri has found the total solution for farmers to obtain additional income.
The company provides advice on poultry farming, cattle rearing, piggery, compost fertilizer manufacture, fresh water prawn and fish farming, etc.
The two-day educational tour is also a part of this extension work where it eventually attracts other business people to agriculture so that there would be more food crop cultivation which in turn would increase the country's food production, which would then automatically contribute even in a small way to the world food production.
B.R.L.Fernando, Chairman, CIC Group, mastermind behind this novel educational tour idea, told The Sunday FT that there are lot of people who do not have a perspective that agriculture is rewarding, that it has its merits. It may not give profits like trading consistently, but it brings cultivators a superb lifestyle and could contribute to produce surplus food, he said. He said that everyone is not likely to get into agriculture but there are people who like to get into different lifestyles and all what CIC Agri does is to provide, for those willing to take up agriculture, some exposure to the finer areas of cultivation. He said that he had the confidence of winning the hearts of most of Sri Lankans to get involved in agriculture, specially those who have sufficient funds.
He said that farmers getting the benefit of modern technology would take them out of the frustration and once they adopt the total solution their income would be double.
"We give them better quality seeds and expertise on how to manage water better and how to balance fertilizer according to soil conditions."
Mr Fernando said he grows his own gotukola, kankung and chillies all in pots. "We are giving this knowledge, exposure and knowhow so that at least one meal could be supplied by themselves to the country's food programme," he said.
Once the lecture of Mr Dematawa at Pelvehera was over, the visitors were taken round the entire farm and at each point the person in-charge of the unit explained in minute details as to how that section operates.
Hingurakgoda is a larger farm where is a large buffalo section milk processing centre, Yoghurt processing unit, fish and prawn farms, compost fertilizer making, piggery and the seed paddy processing plant.
At Hingurakgoda there were two interesting activities - the Agricultural Machinery Yard where CIC Agri adapt combine-harvesters and other implements imported to suit local conditions. These harvesters are very useful to farmers as large areas could be harvested in double quick time, than using the manual labour.
The second interesting activity is the 50-acre banana plantation where banana is planted under strict international conditions and the processing of bananas which are exported.
Among the visitors was a young couple Priyantha Wijebandara and his wife Savumya Ranatunge. They have a large estate and also a 10-acre land. They joined the educational tour to get an idea as to how they could put their 10 acres to best use.
Mrs Wijebandara, who often took down notes like many others in the group on the information that was liberally dished out, told The Sunday Times FT that they would immediately go for banana cultivation using the CIC Agri highbred banana seedlings propagated through tissue culture. Mr Wijebandara said that they will introduce banana cultivation to parts of the 50 acre estate they are managing.
Fouzul Hameed, Managing Director, Hameedia and his wife Nuha were also in the group. Mrs Hameed said she used to process jams, chutneys, etc and buys fruits and vegetable from the Pettah Market. She said that she will make arrangements to buy her entire requirement from CIC Agri.
In the same manner all the 18 members of the group picked up something – either for them to introduce for the existing cultivations or to commence new cultivations, and how scientifically to carry out animal husbandry etc.
N.Q.L.M. Mubarak owns a farm at Seeduwa. With various other cultivations there is also animal husbandry. Three of his workers too accompanied him in the tour. He said that they have got abundance of information and they could be used to improve his farm. CIC Agri's task of re-orienting Sri Lankans towards agriculture and their newest attempt is set to open a new world of agriculture, specially for the elite.
There are several other corporate entities, like the Cargills Group, involved in extensive agriculture in Sri Lanka and they have all proved to be very successful.