KUCHING (Sarawak, Malaysia): Swinburne University of Technology Sarawak Campus recently opened its expanded campus, giving its students access to more technologically advanced facilities. Jointly owned by Swinburne University Australia and the Sarawak Government, the city campus was established in Kuching, capital of the Malaysian state of Sarawak, in 2000.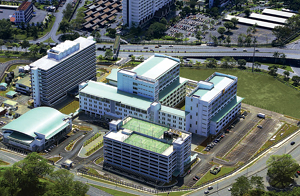 International students at Swinburne Sarawak hail from more than 30 countries.
Funded entirely by the Sarawak Government, the expansion of the Sarawak Campus started in late 2005 and was completed in July this year. "Completion of the expansion project gives the university state-of-the-art classroom, laboratories, computer facilities as well as recreational facilities," said Professor Helmut Lueckenhausen, the Pro Vice-Chancellor.
Eight new buildings have been added: the Chancellery block; Business, IT and Science block; engineering block; lecture theatre; female and male hostels; a multi-purpose hall with sports facilities; and a seven-storey car park facility. Equipped with the latest audio-visual technology and sound-proofed walls, its impressive 10, 244 sq ft-lecture theatre seats 350.
Its new library accommodates 700 students, and provides learning resources and services to support the university's teaching, learning and research programmes. Its services and facilities have been specially designed to integrate modern digital technology with traditional information resources.
Also new are 83 laboratories for engineering, research and science as well 37 tutorial rooms. More than RM10 million in sciences and engineering equipment are being put in place.
Computer laboratories are equipped with the latest desktop PCs, and cutting-edge software allows students to create professional video productions such as short films, commercials and music videos.
Two blocks of fully furnished WiFi-enabled on-campus hostels offer 430 students all the conveniences of home, with a kitchen and washing machines on each floor.
Students have access to a gym, badminton, basketball and squash courts at the multipurpose hall with spectator seats while tennis courts sit atop its seven-storey car park. The new facilities will enable Swinburne Sarawak, the only international branch campus of Swinburne Australia, to have up to 5,000 students on campus and offer additional courses. The university's current student population is more than 2,500, and international students hail from more than 30 countries.
From foundation to postgraduate studies, the campus offers courses in engineering, science, business, computing and design.