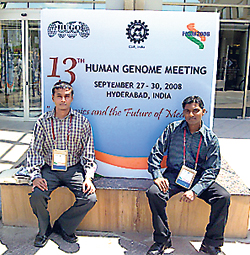 Shanjievan & Shoban Babu Govindasamy
Biotechnology has proved to be a promising field of science in the country, with Spectrum Institute for Science and Technology pioneering the way. Spectrum Institute established in 2001 is affiliated with the Mysore University and is the only stepping stone in the country for students wishing to pursue a career in Biotechnology, be it the foundation courses or masters with the main objective of providing cutting edge technology training.
An example of Spectrum's success story is Pubudu Saneth Samarakoon who graduated from Spectrum after completing his masters in Bioinfomatics at the campus here. He found a placement as a coordinator and tutor in bio informatics (M.sc) and is also a researcher at the Human Genome unit at the Post graduate institute of medicine, University of Colombo.
But that's not all, due to the excellence of the education he received here at Spectrum, Pubudu was able to take it a step further to make a presentation at the prestigious annual Human Genome Meeting held in Hyderabad India, in September this year. The next annual meeting is expected to be held in Singapore. "Studying at spectrum has been instrumental in my research work as well as pursuing various research projects and taking part at such international events." he said.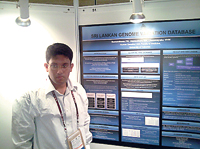 Pubudu Saneeth Samarakoon
Along with Pubudu on the tour to India was also Shanjievan Kuggatharan, who is from the 4th batch of graduates of Spectrum Institute for Science and Technology. Shanjievan joined spectrum to obtain a B.sc in Bioinfomatics. Soon after completing this study, he found work as a bioinfomatician at the University of Colombo Medical Faculty.
"Learning at Spectrum was an experience by itself. The tutors who were very well experienced were also approachable and eveready to help any student in need with his/her studies," he said. "The skills that we inculcated and the research that we conducted have proved to be invaluable to this day." Shanjievan added that Spectrum has an air of a social atmosphere many other places lack. Professionalism and high standards practiced by the tutors along with gaining skills like team work, analysis and presentation have proved to be immeasurable.
Shobanbabu Govindasamy is yet another graduate of Spectrum Institute of Science and Technology. Shobanbabu graduated this year after his completing a B.sc in Biotechnology. Since then he's been working at the Asiri Surgical Hospital at the Genome and Reproductive Medicine unit. Shobanbabu was also part of the team from Sri Lanka at the Human Genome Meeting held earlier this year.