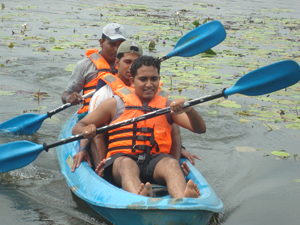 It was indeed a different experience altogether - the inaugural Wild Drift Adventure Day concluded on a very high note on Saturday, 6th December, at the Medagama River Retreat in Bolgoda, garnering many requests to host similar events in the future.
Participants from many corporates, including Sampath Bank, Aviva, AMW, Lion Brewery, Astra Zenica, DFCC, Manzel, GSK, etc. tested their skills on High Ropes, Flat Water Rafting, Canoeing, Tactical Action Game [ Paint Ball ] and Wild Drift's latest management game "Corporate Pittu"(Corporate Power In Tactical Utilization).
The feedback from the participants was excellent, for example Asiri Muthuthantri's (24) said "this was a awesome experience. I never expected this to be so fun and adventurous, at the same time I am walking out with good memories and with a great learning experience which will help me to stretch my limits in my life." Participants were divided into teams who participated in activities that were conducted in parallel, keeping them busy the whole day. Round-the-clock-music was played to keep the tempo up and at the end of the day, it was party time for all the participants as they went on dancing to the beat provided by DJ Nadee.
"From beginning to the end, the response for the program was extremely positive" recalls Anuruddha Bandara, the CEO of Wild Drift, and continued "We have a line-up of events and competitions that we will be introducing to the market in the near future. We take pride in our innovative approach, and we're confident that participants will receive an once-in-a-lifetime experience."