The Lao National Tourism Administration (LNTA), the ministry in charge of tourism development in Laos which comes under the Prime Minister's office in Lao PDR, recently entered into an agreement with Sri Lanka Eco Tours, the ecotourism business promotion arm of Sri Lanka Ecotourism Foundation (SLEF), the pioneer national ecotourism organization.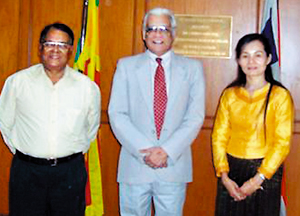 Seen here is Palitha Gurusinghe, President, Sri Lanka Ecotourism Foundation (SLEF) and Ms.Sengsoda Vanthanouvong, Director Tourism Promotions and Marketing, Lao National Tourism Administration (LNTA) with Prof. J.B. Dissanayake, Ambassador to Thailand, Laos and Cambodia at the Sri Lanka Mission in Bangkok.
Under this programme, two ecotourism professionals from LNTA arrived in Sri Lanka last month and are working with SLEF/SLET and two tourism professionals from Sri Lanka are already working with LNTA in Laos. This ecotourism development programme between Laos and Sri Lanka is being supported by the Fredskorpset (FK), Norway. This is the first ever ecotourism exchange programme implemented by Laos and Sri Lanka with public and private sector participation.
The Sri Lanka-Lao Ecotourism Programme will run for next 12 months, the SLEF said. Under the agreement, the SLEF/SLET and LNTA have agreed to position Sri Lanka and Laos as the prime destinations for Ecotourism in South, South East Asia and Pacific Region; be the leader in networking with ecotourism organizations in South Asia, South East Asia & Pacific region; be the models in academic and research activities in Ecotourism, among other things.