The runway, the models and most importantly the chance to witness the newest trends, creations and finally the creators themselves as Sri Lankan designers take centre-stage.
It's the fourth Graduation Fashion Show organized by The University of Moratuwa in collaboration with the London College of Fashion and the University of Arts on November 4 at the Galle Face Hotel at 7 p.m. For the students following the fashion and design degree course at the University of Moratuwa this is their opportunity to show off their talents and let the public view their designs and creations. The show promises an exciting range, with around 20 participants displaying six outfits each. Their collections will include evening wear, day wear, office wear, summer wear and winter wear.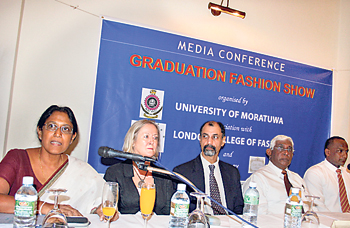 A news conference held to announce the fashion show
The panel of judges stand out in the fashion world not only in their respective countries but internationally. They are Manish Arora, an Indian designer who has just celebrated 10 years in the business and won the accolade of Best Indian Designer, Colin McDowell who has worked in the fashion industry for nearly 30 years, as designer, stylist, editor, journalist and biographer, contributing to the Sunday Times Style UK, and who is founder and creative director of Fashion Fringe and Otara Gunewardane, MD of Odel Unlimited.
Not only do they stand out as being some of the best in the field of fashion and design, they bring with them experience and knowledge that the students can definitely benefit from.
Besides the above show, 'In conversation' - Listen to the fashion of the future – is another very special event that will be held on November 5th, at Galle Face Hotel at 2.30 p.m. where Arora, McDowell and Otara Gunewardena will engage in an open discussion on fashioning the future.
Tickets priced at Rs. 2000 will be available at the Galle Face hotel. Tickets for the graduation show priced at Rs. 4000 will be sold at all Barista outlets, Pizza Hut and the Galle Face Hotel.