Melamine is an organic base and a trimer of cyanamide, with a 1,3,5- triazine skeleton. Like cyanamide, it contains 66% nitrogen by mass and if mixed with resins, has fire retardant properties due to its release of nitrogen gas when burned or charred, and has several other industrial uses. Melamine is also a metabolite of cyromazine which is a pesticide.
It is formed in the body of mammals that have ingested cyromazine. It has been reported that cyromazine can also be converted to melamine in plants.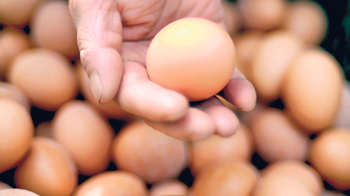 A customer holds an egg on sale in a supermarket in Beijing on Wednesday. Eggs suspected of being tainted with the industrial chemical melamine have been pulled from shelves of major retailers in China, state press reported with the discovery raising concerns about contamination spreading through China's food chain. AFP
Melamine combines with cyanuric acid in a ratio of 1:1 to form melamine cyanurate. It is also known as melamine-cyanuric acid adduct or melamine-cyanuric acid complex. Melamine cyanurate forms spoke-like crystals from aqueous solutions and has been implicated as a causative agent for toxicity seen in the Chinese protein export contaminations and the 2007 pet food recall. Melamine cyanurate is commonly used as a fire retardant.
Melamine is a German word coined by combining the names of two chemical products: Melam (a distillation derivative of ammonium thiocyanate) and Amin.
Synthesis
Melamine was first synthesized by the German chemist Justus von Liebig in 1834. In early production, first calcium cyanamide is converted into dicyandiamide, and then heated above its melting temperature to produce melamine. However, today most industrial manufacturers use urea in the following reaction to produce melamine.
6 (NH2)2 CO- C3H6N6 + 6NH3 + 3 CO2. The above reaction can be carried out by either of two methods: catalyzed gas-phase production or high pressure liquid-phase production. Ammonia and carbon dioxide in the off-gas are separated from the melamine-containing slurry. The slurry is further concentrated and crystallized to yield melamine.
The off-gas contains large amounts of ammonia. Therefore melamine production is often integrated into urea production which uses ammonia as feedstock.
China is the world's largest exporter of melamine, while its domestic consumption still grows by 10% per year. Surplus melamine has been a popular adulterant for feedstock and baby formula in mainland China for several years as it can make diluted or poor quality materials appear to be higher in protein content by elevating the total nitrogen content detected by some simple protein tests.
Uses of melamine
Melamine is often combined with formaldehyde to produce melamine resin, a synthetic polymer which is fire resistant and heat tolerant and melamine foam, a polymeric cleaning product. Melamine resin is a very versatile material with a highly stable structure. Uses for melamine include whiteboards (dry erase boards), floor tiles, glues, kitchenware, countertops, fire retardant fabrics, and commercial filters. Melamine is one of the major components in Pigment Yellow 150, a colourant in inks and plastics. Melamine can be easily moulded while warm, but will set into a fixed form. This property makes it ideally suited to certain industrial applications.
Melamine resin is also known as a thermo set plastic, because the plastic is fixed after moulding. If exposed to enough heat, melamine will melt. For this reason, melamine dishware should not be exposed to high temperatures like those in the oven and microwave. However, the plastic is able to withstand higher temperatures than other plastics. Because it is a thermo set plastic, melamine resin is difficult to recycle.
Melamine can be made into a foam product. Melamine foam has a distinctive structure composed of stacked bubble shapes, which are extremely hard and therefore can easily clean a wide variety of substances. Melamine foam is marketed under a variety of commercial names including Magic Eraser, a cleaning tool well known for removing scuffs and dirt from a wide range of surfaces. Melamine resin is used in Formica and similar construction products made from composite materials. Formica is made using melamine resin, which is used to coat the fibres in the upper layer of the construction product. The melamine resin makes the end result heat resistant, so that hot objects can be set on the counter without concern. The surface of the material is designed to be easily wiped and cleaned, creating a long lived household product.
Melamine also plays a role in a wide range of flame resistant materials. These include textiles used in upholstery and the uniforms worn by fireman. Thermal liners, heat resistant gloves, and aprons to protect from splash back of hot substances are made using melamine. Melamine will protect a wearer from heat hazards, and will help to resist the spread of fire in aircraft and buses by providing a fire blocker.
Melamine is also used in the manufacture of some filters. The material is porous and will admit substances to pass through, but can be used to filter out particles of a particular size. Melamine filters are capable of handling a high capacity and can be used in hot environments due to the heat resistance of melamine.
Melamine also enters the fabrication of melamine poly-sulfonate used as super plasticizer for making high-resistance concrete. Sulfonated melamine formaldehyde is a polymer used as cement admixture to reduce the water content in concrete while increasing the fluidity and the workability of the mix during its handling and pouring. It results in concrete with a lower porosity and a higher mechanical strength exhibiting an improved resistance to aggressive environments and a longer life-time.
The use of melamine as fertilizer for crops had been envisaged during the 1850s and 1960s because of its high nitrogen content. However, the hydrolysis reactions of melamine leading to the nitrogen mineralization in soils are very slow, preventing a broad use of melamine as fertilizing agent.
The use of melamine as non-protein nitrogen (NPN) for cattle was patented in 1958. However, in 1978, a study concluded that melamine would not be an acceptable non-protein N source for ruminants because its hydrolysis in cattle is slower and less complete than other nitrogen sources such as cottonseed meal and urea. Melamine is sometimes illegally added to food products in order to increase the apparent protein content. Standard tests such as the Kjeldhal and Dumas tests estimate protein levels by measurin-rich compounds such as melamine.
Aside from commercial uses, melamine became a hot topic of much discussion in early 2007, when veterinary scientists determined it to be the cause of hundreds of pet deaths, because of pet food contamination. Prior to these reports, melamine had been regarded as non-toxic or minimally toxic. However, because of the unexplained presence of melamine in wheat gluten added to mass-produced dog and cat foods, it is the most likely cause. Pet owners report symptoms that are commonly associated with renal failure, which could be explained by the ammonia that may result from the digestion of the melamine.
Toxicity
Melamine by itself, is nontoxic in low doses, but when combined with cyanuric acid it can cause fatal kidney stones due to the formation of an insoluble melamine cyanurate. Melamine is described as harmful if swallowed, inhaled or absorbed through the skin. Melamine is not metabolized and is rapidly eliminated in the urine with a half life in plasma of around 3 hours. Chronic exposure may cause cancer and reproductive problems. It also causes eye, skin and respiratory irritation.
However, the toxic dose is on a par with common table salt with an LD50 of more than 3 grams per kilogram of bodyweight. US Food and Drug Administration (FDA) scientists have explained that when melamine and cyanuric acid are absorbed into the bloodstream, they concentrate and interact in the urine-filled renal microtubules, then crystallize and form large numbers of round, yellow crystals, which in turn block and damage the renal cells that line the tubes, causing the kidneys to malfunction.
In September 2008, several companies were implicated in a scandal involving milk and infant formula which had been adulterated with melamine, leading to kidney stones and other renal failure, especially among young children. By September 22 nearly 53,000 people had become ill, with more than 12,800 hospitalizations and four infant deaths.
Melamine may have been added to deceive government protein content tests after water was added to fraudulently dilute the milk. Because of high nitrogen content (66% by mass versus approximately 10-12% for typical protein) of melamine it can cause the protein content of food to appear higher than the true value. Officials in China have found out that about 20 percent of the dairy companies tested in China sell products tainted with melamine.
Regulation
The Food Safety and Inspection Service (FSIS) of the United States Department of Agirculture provides a test method for analyzing cyromazine and melamine in animal tissues in its Chemistry Laboratory Guidebook which contains test methods used by FSIS Laboratories to support the Agency's inspection programme ensuring that meat, poultry, dairy and egg products are safe, wholesome and accurately labelled. In 1999, in a proposed rule published in the Federal Register regarding cyromazine residue, the United States Environmental Protection Agency (EPA) proposed removing melamine, a metabolite of cyromazine from the tolerance expression since it is no longer considered a residue of concern.
Melamine, classified a controlled substance in China, has been illegally used in the recent baby milk scandal case which led to the death of at least four infants.
Melamine at ppm level (1 part per million) in food and beverage has been reported due to migration from melamine-containing resins which is often used in food packaging and tableware. Small amounts of melamine have also been reported in foodstuffs as a metabolite product of cyromazine, an insecticide used crops.
On October 3, 2008, the U.S.Food and Drug Administration said that up to 2.5 parts per million of melamine was safe for adults, but declined to set a standard for children. However, anything less than zero tolerance would not protect consumers.
(The writer is lecturer, Rajarata University of Sri Lanka)