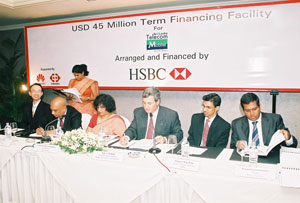 The agreement being signed
HSBC said this week it arranged a US$ 45million, Chinese Export Credit Agency (ECA) – Sinosure-backed loan facility to Mobitel (Pvt) Ltd.
The Bank said in a statement that Huawei and Mobitel jointly selected HSBC as the arranger for the Buyer Financing Facility, partly in support of Mobitel's GSM stage IV expansion project carried out by Huawei Technologies Co., Ltd.
HSBC will act as the Mandated Arranger, Facility Lender, Agent and the Export Credit Agency Agent. HSBC was selected as the sole arranger of this financing package based on the Bank's strong capabilities in arranging the Sinosure backed export credit facilities. Further, HSBC's strong network and previous experience with Sinosure ensured that the transaction would be closed in record time.
The statement said the facility will be used to finance a major portion of the current expansion carried out by Huawei and Mobitel.