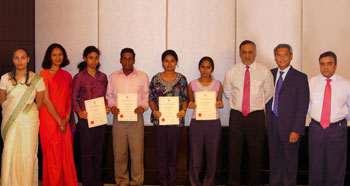 Pic shows the scholars displaying their scholarship certificates, flanked by (from left to right): Wasanthi Stephen – Director HR, Trans Asia, Dilani Alagaratnam – President HR and Legal, Susantha Ratnayake, Chairman – John Keells Group, Neroy Marso – General Manager, Trans Asia Hotel and Sunimal Senanayake – Head of HR and Business Expansion, Leisure Group.
The John Keells Group recently awarded four scholarships to children of employees under the John Keells Holdings University Scholarship Scheme, an initiative undertaken by the Group.
Launched in 1991, the scheme seeks to assist children of the Group's non-executive permanent employees who have gained entrance into local universities. It recognizes their outstanding achievements at the GCE Advanced Level examination and rewards them for their efforts through substantial scholarships. Since its inception, the scheme has benefited 28 individuals, the Group said in a press release.
The four individuals who received scholarships recently are:
Miss. P.K.N. Subhashini, daughter of Mr. P.K. Ariyarathna of Ceylon Cold Stores Ltd, and is registered at the Faculty of Medical Sciences, University of Sri Jayawardenepura; Miss M.K. Pramodani Perera – daughter of Mr. M.S. Perera of Trans Asia Hotels Security Division, and registered at the University of Colombo; Miss. P.D. Roshani Perera – daughter of Mr. P.W. Perera of Trans Asia Hotels Security division, and registered at the University of Moratuwa; and Mr. M.A.L. Anuranga Madamperuma, son of Mr. M.A.U.P. Madamperuma of Trans Asia Hotels Kitchen Department, and registered at the Uva Wellassa University, Badulla.