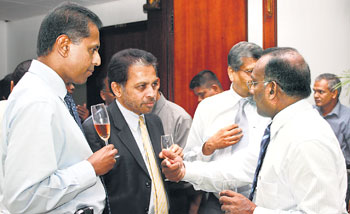 Picture shows Hiran Cooray (left), Palitha Kohona (centre) and Srilal Miththapala.
The consensus among hoteliers at the recent Annual General Meeting of the Tourist Hotels Association of Sri Lanka (THASL) is that the present volatile situation in the country has seriously affected the travel and tourism industry of Sri Lanka compounded by travel advisories issued by various countries, and the latest concern is an imminent travel advisory by Japan.
Hiran Cooray, Deputy Chairman, Jetwing Hotels Ltd who was at the helm of THASL as its President for the last three years, stepped down and was replaced by Srilal Miththapala, CEO, Serendib Hotel as the new President.
In an overview of the tourism industry, it was pointed out that travel advisories issued by major tourist originating countries including the UK, Germany, Australia, Italy and France were a detriment to the progress of the tourism industry of the tourism industry. These advisories together with the uncertain security situation were reflected in the decline in arrivals from all the major markets except the UK, the Maldives and Russia.
Mr Miththapala making his address as the new President said that the tourism industry in its best form would beat even the garment industry in the country. He said that though garments is said to be the highest foreign exchange earner, most of its raw material is imported and when the import costs are reduced from the income, the balance would be a meagre sum. He said that whereas in the travel industry the entire income would be left in the country.
He said that the travel industry is a very vibrant industry as out of the 90 travel trade graduates passed out recently, already 87 have been booked for employment. "We have waited enough, and still nothing came out, therefore we have to seek a solution to this problem immediately," he said. Foreign Secretary Palitha Kohona conceded that the country is going through a very difficult period and expressed doubts that things would be settled in the coming months.
He said that in the national economy earlier, tourism was a trailblazer adding that the tourism industry was established in the country long before its competitors with necessary infrastructure and the correct attitudes. He said yet, "It is a matter of disappointment that this vital industry cannot come up. So we need to take a hard and long look."
Referring to the LTTE and its destruction of the economy, he said that the LTTE's main aim is the country's economy and its action is purposely focused at the travel industry and they launch their attacks at vital times that not only destroy the industry here, but gives them an opportunity to launch false propaganda in foreign media. Several others also spoke including Tourism Secretary George Michael.