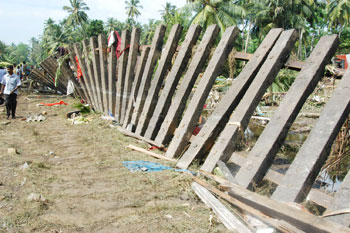 Telwatte rail track after the Tsunami
Typhoon Fengshen
As a regular visitor to Manila, Philippines, I was naturally saddened to learn that well over 700 people may have died in a ferry, which capsized off the Philippines in heavy seas, in the wake of Typhoon Fengshen.
Initially a rescue ship that finally managed to reach the Princess of the Stars ferry had reported no sign of life except for four known survivors. Officials hoped others might have managed to swim to safety.
A passenger who was on the top deck had said that, about 30 minutes after a crew member ordered passengers to put on life jackets, the ship tilted and elderly people and children slipped on the rain-soaked deck.

President Arroyo Demands Answers
Philippine President, Gloria Arroyo, has demanded explanation as to why the ferry was allowed to leave port on Friday despite warnings that a typhoon was about to hit. "Why did you allow it to sail and why was there no ample warning? I want answers," she told civil defence and coast guard authorities during a briefing on the accident. Relatives were gathering outside the ferry's offices. Grief, anger and calls for heads to roll have emerged in the wake of the sinking.
A number of politicians have called for the permanent scrapping of the company's operating licence as well as the sacking of the head of the coastguard. A government taskforce is now being formed to investigate the sinking, while the fleet of the ferry's owner Sulpicio Lines, which has had other vessels involved in previous maritime disasters, has been grounded pending the results of the investigation.
Transport undersecretary Elena Bautista said the shipping line must be held responsible for the tragedy.
Sulpicio Lines says it will co-operate in any probe but has insisted the ferry was seaworthy, and that it had a permit to sail when it left Manila on Friday night. It pointed out that an unforeseen change in the typhoon's track put the ferry in harm's way as it traveled south. AFP quoted a relative of a passenger as saying.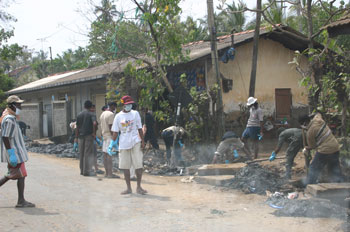 A future Disaster Management Strategy and institutions resourced with skilled and experienced technocrats is now a necessity not a luxury. Picture shows volunteers clearing the debris left behind by the Tsunami.
"We knew it was signal number 1 [the first stage of typhoon alerts] at the time, but we were not really worried because it was not raining here at all." "But the ship should not have been allowed to leave," she said.
The storm, which was packing gusts of up to 93mph (150 km/h) at its peak, had changed course on Sunday, hitting the capital Manila with heavy rainfall at dawn.
Thousands of people across the country were evacuated from their homes. Many roads were blocked and there were widespread power cuts. Manila was not spared the wrath of the storm that has killed many people. With winds of about 170 km/h (106mph), the storm caused widespread disruption.
Philippines' Worst Ferry Disasters
Philippines has a history of ferry disasters. In 1987, more than 4,300 people died when the Dona Paz ferry collided with an oil tanker off Mindoro Island - the world's worst peacetime shipping disaster and in 1988, Dona Paz's sister ship, Dona Marilyn, sank off Leyte province, killing 250-300 people. In 1994, about 140 people died when a freighter hit the Cebu City ferry in Manila Bay in 1998. The Princess of the Orient ferry sank near Batangas province, leaving 150-200 people dead; in 2004, a fire aboard the Super ferry 14 vessel killed 116 people, near Manila Bay.
US's NTSB & CPSC
During the course of following a compulsory course on Public Affairs and Social Policy in the University of Pittsburgh, Pennsylvania, in the United States many years ago, the many aspects of transportation, and product and service safety enlightened me.
The Thought Leadership Forum is an "Awareness Enhancement Initiative" launched in the Daily Mirror FT by Ranel Wijesinha in November 2005. He launched this initiative in memory of his father, late E.G. Wijesinha, Attorney at Law, Tangalle, in the Hambantota District, whose 6th death anniversary was on July 3, 2008. This column is now being re-launched.
The activities of the National Transportation Safety Board (NTSB) an independent Federal agency charged by Congress with investigating every civil aviation accident in the United States and significant accidents in the other modes of transportation such as railroad, highway, marine and pipeline, and issuing safety recommendations aimed at preventing future accidents is one good example.
The other is the Consumer Product Safety Commission (CPSC). With regard to product safety, it was interesting that during that very week years ago, a news item in the Wall Street Journal, referred to a ship laden with toys for the US which was refused permission to unload its cargo since officials who inspected samples of items manufactured in Hong Kong, found unsafe toys.
The U.S. Consumer Product Safety Commission is charged with protecting the public from unreasonable risks of serious injury or death from tens of thousands of consumer products under the agency's jurisdiction.
There are many real life examples of unsafe toys and related products, which I have experienced while overseas and here in Sri Lanka, which space does not enable me to describe. However, let me describe an attempt on my part, to make a change.
Consumer Affairs Authority Act
Many years after my return to Sri Lanka, when the Consumer Affairs Authority Act was being drafted, the Ceylon Chamber of Commerce was considering the draft provisions for comment somewhere in the year 2000. As a member of the Main Committee then, I suggested inclusion of new provisions on product and service safety, from a consumer perspective.
The Sri Lanka Standards Institute legislation, which the draft Consumer Affairs Authority Act referred to, I thought was at that time, despite the good work being done by them in certain areas, perhaps inadequate.
However the focus of almost all on the committee was on legislation that was perceived to constrain the private sector and instead, sections which would have prevented monopolies, were lobbied against and removed.
As a proponent of the market economy, but with necessary and desirable regulation of all forms, I found this "less than objective", private sector anxiety. At the expense of digressing from "safety" issues, which is the focus of this article, let me complete my comment on monopolies.
In 2003 or so when the act was finally passed and I was invited to serve on the first Consumer Affairs Council, I requested freedom from the then Minister of Commerce and Consumer Affairs to re-canvass the need for amendments to bring back provisions to review potential monopolistic situations and to disallow certain acquisitions or mergers if such a situation was to exist, as well as to strengthen product and service safety provisions.
I made this an informal condition of my acceptance and the then Minister agreed. However, perhaps due to the short tenure of that government the amendment I sought, never saw the light of day.
Even today provisions only exist to review the "abuse of monopolistic power" -after the fact. In the US or Europe and in many countries whether pharmaceutical companies or professional service firms in many sectors, mergers and acquisitions are approved only after potential monopolistic situations are technically studied by the country equivalents of, for example the Monopolies and Mergers Commission of the US.
Disaster Management Post Tsunami
Reverting to disasters and to safety, in December 2004, immediately after the Tsunami, in an interview with the Daily Mirror FT, I recall conveying that "A future Disaster Management Strategy and institutions resourced with skilled and experienced technocrats is now a necessity not a luxury.
We must come of age as a nation. If not let us not talk about being any hub of any kind in South Asia, let alone a financial hub". What I envisaged then was a Disaster Management Strategy and Structure working side by side with "routine regulators" whose work is on an ongoing basis rather than event or disaster or crisis driven only.
Having discussed the above background, now let me revisit a question I have often asked, but have never received an answer for.
Was the track at Telwatte adequately secure?
Here is an extract of a relevant news item from a website which lists great rail disasters. "2004, Sri Lanka - Up to 2,000 people die when a train is engulfed by the Indian Ocean tsunami at Telwatta, 110 km (75 miles) south of the capital Colombo. More than 1,500 people were on the train, bound for the southern city of Galle, but they were joined by hundreds of villagers who jumped aboard to avoid the Tsunami."
The Tsunami was unique and we should grant that even the most robust safety measures would have been inadequate to prevent the many losses of lives which took place. Nevertheless, why this is yet relevant, is that I have to date not seen or heard any comments on whether there was any precautionary or disaster prevention measures regarding the "continuation of the train service (it's movement"), when the path of the Tsunami was known, or whether the track at Telwatte was secure enough to meet the safety standards that railway and civil engineers would have inherently expected.
An indirect Tsunami Victim
It is only when a story about real people is narrated that guilt generates a higher level of sensitivity and responsibility. So here's a story. An air force employed accounts clerk was traveling in this ill-fated train to visit his parents in Rathgama. He was traveling with his wife, also an air force telephone operator and their very young daughter. When the first wave arrived this little girl was washed away. The father swam against the waves and brought her and his wife to safety. Sadly, with the second wave this father was washed away and never returned.
He was later officially pronounced dead by drowning. He was the sole financier of the studies of his younger brother a foundation stage accountancy student whose studies and training I took responsibility for 2 weeks after the incident, having discovered him quite by chance through his cane-weaving grandfather who had come to Colombo.
Here, I must place on record my deep appreciation of the hearts and minds of two people. Senior Chartered Accountant Dudley Fernando, who responded readily to my written appeal, to provide a place of training in his firm to this young boy, and also my friend and colleague in the profession Lal Nanayakkara who when simply contacted by me to pay his fees, brushed it aside and provided all lectures completely free at the Institute of Accountancy Studies (IAS). This young boy is today an Intermediate qualified accountancy student studying for his finals.

An enlightened and progressive way forward
My purpose in highlighting these events, through first the Philippine tragedy of last week, rather than to begin by revisiting the bruises of the Tsunami alone, is only to urge those who are responsible for airline and rail, highway and other transportation safety and also product and service safety, to review the legal, regulatory and institutional framework in Sri-Lanka and to determine where the gaps are and how they can be bridged.
Perhaps the Joint Chambers of Commerce can take the lead with support and co-operation of many seasoned and experienced public officials, in much the same manner as we in the private sector passionately address and lobby the government on matters that will ensure, that our annual bottom lines, are more secure.
This can well be what I like to term a "Public Private Partnership in National Product and Service Safety Enhancement"! A Combined, Corporate Responsibility Initiative.
With regard to rail transportation safety, I am hopeful that, the then General Manager of Railways, a fellow Thomian and elder brother of my class mate, as well as the current General Manager of Railways, both of whom I know, will take my thought positively rather than defensively, to join hands in the true spirit of public service and in keeping with the inherent expectations of professionalism, to strengthen risk minimizing and mitigation measures in the many rail accidents we yet witness, whether as a result of bombs of terrorists or lapses in safety measures.