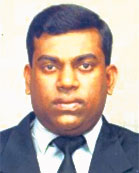 Dr. Prathiba Mahanamahewa has been invited by the "Innovative Minds- ISSA 2008" International Information Security Conference to present his research paper titled 'Computer Monitoring in the 21st Century Workplace'.
The conference is to be held at the University of Johannesburg, Business and IT Department from July 7-9.
Dr. Mahanamahewa is a Senior Lecturer in Law, Faculty of Law, University of Colombo. In June 2006, the University of Queensland, Australia awarded a Ph.D for his research dissertation on Information Technology Law.
He is the first Sri Lankan to earn a Doctorate in Information Technology Law and Computer Laws.