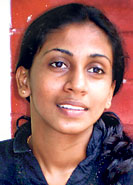 It was first about giving them an opportunity. Now it's about development and even more opportunities…
For years, the George Keyt Foundation has paved the way for emerging artists by providing them opportunities to exhibit their work, build a relationship with the public and get to know the local art scene. Many have benefited from these exhibitions and have gone on to exhibit their work abroad.
The Foundation works towards the development of an artist in steps. It first provides opportunities for artists to exhibit, then to discover their potential and develop. Any artist can exhibit their work at the Kala Pola, the open air art fair which has now become a popular event held every year while the Young Contemporaries is designed to discover artists up to the age of 40.
This is then followed by Nawa Kalakaruwo which displays the work of a selected group of artists. Inaugurated in 1994, this year's Nawa Kalakaruwo, which is to be held this month, will feature around 25 artists.
"We select a group of artists for Nawa Kalakaruwo from exhibitions like Young Contemporaries where anyone can participate," Cedric de Silva, Chairman of the George Keyt Foundation said. "There is a panel that looks at their work and then at this particular exhibition we concentrate on the development of art. We give them the opportunities essential to develop their work. This is what we look for here," Mr. de Silva said.
However, this is not just about displaying how far their work has developed or merely exhibiting their work yet again. "This is also an opportunity for the artists to get to know others and also to tell the public of their work," Mr. de Silva said.
Nawa Kalakaruwo will be held from July 7 to 13 at the National Art Gallery.