Vinayagamoorthy Muralitharan alias Karuna Amman, the one-time Eastern Commander of the LTTE, says he hopes to revamp the Tamil Makkal Viduthalai Puligal (TMVP) with the aim of preparing the party for the next parliamentary elections.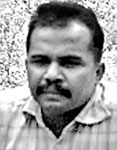 Karuna Amman
In an interview with The Sunday Times yesterday, Karuna, who was deported to Sri Lanka by Britain on Thursday after he served a six-month jail term there for violating British immigration laws, also says he hopes that the provincial council system will be made meaningful by the full implementation of the 13th Amendment. Excerpts:
Q: Why did you travel to Britain on a forged passport?
A: I did that for security reasons. I wanted to visit my family in London. I had no intention to stay there. When I was arrested I told the British authorities that I was forced to use a different name as I feared for my life.
Q: What are you immediate plans?
A: Since I left Sri Lanka, there have been disputes in our party. I want to restructure the party by appointing a committee comprising 10 senior members and a working committee to make it more people-focused.
Q: Your deputy and present Eastern Province Chief Minister Sivanesathurai Chandrakanthan told us he was prepared to step down in favour of you. Are you hoping to be the chief minister?
A: I never wanted to be the Chief Minister. My intention is to contest the next Parliamentary elections from the Batticaloa district. Our party members will contest elections in other districts, including the upcountry as well.
Q: How do you view the recent Eastern Provincial Council elections?
A: The Government should have held the elections after resettling all the displaced people in the eastern province. The victory could have been more resounding if the displaced had been resettled in their original places.
Q: Your party is now in power. What will your party do to get the 13th Amendment fully implemented?
A: We know the provincial council system will not bring a solution to the Tamil problem, but we cannot miss this opportunity. If we miss this opportunity the power will go to other parties. Our party will also attend the next sittings of the All Party Representative Committee (APRC) and demand the full implementation of the 13th Amendment. Our aim is to allow the people in area to benefit from the resources in the province.
Q: Your party has tied up with a breakaway JVP group that is opposed to the full implementation of the 13th Amendment. So how useful are such political alliances?
A: We are ready to work with any political party to win the rights of our people. To prove this we are fielding a senior member of our party at the North Central Provincial Council elections.
Q: How do you justify your cadres carrying arms in the east?
A: Our cadres are carrying weapons to defend themselves. But we are urging them to join the Police. Once the 13th Amendment is fully implemented with police powers also being devolved, this problem would be solved.
Q: How confident are you that this government will solve the ethnic question?
A: We have been fighting for several years to win our rights. We believe that this government will look into our demands.
Q: There are abductions, extrajudicial killings and human rights abuses in the east. Any comments?
A: There are several groups operating in the east. We have discussed this matter with defence officials. The President has to pay attention on this. My senior cadres are complaining about this to me. If these groups are not stopped, we will rally our people to stage non-violent protests.
Q: There were reports that you would rejoin the LTTE.
A: That will never happen.