Vinayagamoorthy Muralitharan better known as "Col. Karuna," the renegade Tiger guerrilla eastern leader, who served a jail term in Britain, returned to Sri Lanka on Business Class in a Sri Lankan Airlines flight on Thursday accompanied by four detectives of Scotland Yard.
Soon after UL 504 touched down at the Bandaranaike International Airport, Karuna, who flew under a different name, was whisked away in a vehicle convoy. He did not clear immigration or subject himself for Customs inspection. In short, he did not enter the terminal building at the airport, a senior official who did not wish to be identified told The Sunday Times. "Officially we are unaware that he returned to Sri Lanka," the official added.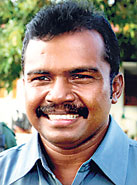 Col. Karuna
According to him, Karuna returned on a passport that identified him as Anthony. Thus, he had avoided further complicating the legal issues. Since he did not travel on a passport issued in his name, his return could not have been on a passport issued to him by the Government through the Sri Lanka High Commission. "Technically Karuna who did not leave for the UK on a passport bearing his name could not have returned on one that bore his name," the official pointed out.
Eastern Province Chief Minister Sivanesathurai Chandrakanthan, who is now leader of the Tamil Makkal Viduthalai Pulikal (TMVP), welcomed Karuna's return. "If Karuna wants to be both the chief minister and the leader of the TMVP, I am willing to step down," Mr. Chandrakanthan also known as Pillayan told The Sunday Times.
He said Karuna would soon meet President Mahinda Rajapaksa. He said he had "no differences" with Karuna. "He only left us and had now returned. I still consider him the leader of our group. Therefore he can take over the leadership from me," he said. Karuna was arrested in Britain for entering that country under fraudulent means and served a jail sentence.
Though a diplomatic passport issued to him bore his photograph, the name was given as Kokila Gunawardena. He was described as "Director of Wild Life" and had told British Immigration officials that he was in Britain to attend a climate change conference.
When he ended his term in jail, British authorities had sought a travel document for Karuna to return to Sri Lanka. The process, which involved a legal tangle for nearly two months, ended with the issue of another passport with a different name.
Under Sri Lanka's immigration laws, any person travelling abroad on a fraudulent passport could be arrested upon return and produced before a Magistrate. Karuna's return to Sri Lanka comes at a time when the UPFA Government is forging closer links with the TMVP. The two sides have agreed to jointly contest the Provincial Council elections for the North Central Province. The third in line in the TMVP leadership, former guerrilla turned politician who goes by the nom de guerre Mangalam Master is the joint candidate from the Polonnaruwa district in the NCP.
Karuna wants to be an MP
Vinayagamoorthy Muralitharan, better known as Karuna, last night told The Sunday Times he planned to revamp the TMVP as a strong political party and wants to contest the next parliamentary elections.
"I will be meeting the President shortly and send representatives to the All-Party Representative Committee to find a political solution to the conflict," he said.
He said he was not interested in the Chief Ministerial post and would have no ties with the LTTE.