Movie star and model Anarkalli Aakarssha Jayatilleke has been in hiding since Friday after she and her mother Indrani were once again allegedly abducted and threatened by Western Province Provincial Councillor Duminda Silva.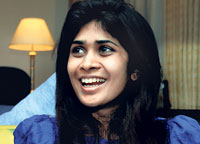 Anarkalli speaking to The Sunday Times on Friday. Pic by Gemunu Wellage
What began as a fairy tale romance between a handsome politician and a beautiful young actress late last year and what was intended to culminate in a marriage this December, now appears to have turned into a scene or scenes from a horror movie.
The two met on Christmas Day, 2007 and 20 year old Anarkalli apparently, impressed with the young politician's forthright and open feelings about her, had consented to move in with him to his plush apartment in Colombo-02.
Speaking to The Sunday Times on Friday Anarkalli says she also chose to ignore the many stories she had heard about Duminda's brushes with the law believing he was innocent and that the allegations against him were either politically motivated or made to extort money from him.
However, she says that she soon realised that he was more like the villains she encountered on the screen but only this time it was real life and not reel life. She says that he turned into a control freak. "I was not allowed to even talk to my mother, let alone my friends. I couldn't go out anywhere on my own without his bodyguards. It was like living under a dictatorship." She also claims that she was subject to physical abuse during the five months she lived with him.
The breaking point came according to her, when Duminda forced her to take an overseas trip with him to Malaysia and India. Upon her return she had decided to end the relationship and moved into her mother's apartment at a five star hotel in the city. It was then she says, that she began to experience first hand the extent to which the politician would go to make her stay with him.
The abduction drama began on June 18. Anarkalli and her mother were travelling down Elibank Road in Colombo when Duminda along with a group of men had reportedly obstructed their path and tried to abduct Anarkalli. Following this incident, Anarkalli lodged her first complaint against the politician with the Kollupitiya police.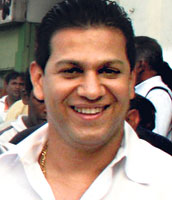 Duminda: At the centre of controversy
But Duminda's obsession to win over Anarkalli did not end there. Relating the Thursday (July 3) abduction scene Anarkalli said Duminda had used a popular film producer to lure her into a house on Swarna Road in Wellawatta by showing her a script for a movie which had impressed her. However, when she and her mother got there they were confronted by Duminda and about 20 armed men.
One of the men had held a pistol to Anarkalli's head while another had put a pistol into her mother's mouth and bound their hands and legs. Shortly after that Duminda had appeared in the hall with a pistol in hand, Anarkalli alleges.
"I was so scared I started crying. I worshipped him and asked him to untie us and if he wanted to kill me he could but to let my mother go," she said. He had relented and untied them, she said. He then led her upstairs and showed a cyanide capsule around his neck saying he had nothing to lose and would kill himself if she refused to marry him and did not get the preventive order revoked.
This drama she says which began around 6.30p.m. had gone on till very late in the night with them being first taken in a jeep to the Duminda Silva Foundation on Old Kesbewa Road in Nugegoda. After much persuasion, Anarkalli says she had managed to get him to take them to his parent's house in Pelawatta and it was after his brother Reynor arrived at the house and was told of the abduction attempt, that Anarkalli and her mother were allowed to go back to their apartment around 10.30p.m. that night with the promise she would call him ten times during the night and they would not report the incident to the Police.
However around 11.30 that same night they had gone to the Kollupitiya police station and had their statement recorded. After the nightmarish experience of that night, the two have been in hiding. (In another five star hotel in the city)
"We want the law to take its course and the guilty be punished. We have not broken the law of the country but we can't even live here because of the threats to our life," Anarkalli said.
Kept her like a prisoner? That's laughable: Duminda
Western Province Provincial Councillor Duminda Silva has denied allegations of abduction and harassment levelled against him by his former lover Anarkalli.
Mr. Silva speaking to The Sunday Times said the allegations levelled against him by Anarkalli are politically motivated to tarnish his image and that he is ready to even take the matter to Court. Duminda who recently crossed over from the UNP and joined the government said that a certain political party was trying its best to bring disrepute to his image.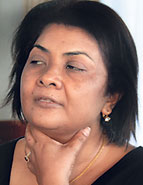 Anarkalli's mother was also present during the interview
"At first I ignored what Anarkalli had to say against me as I knew I had not committed those things she claims I have. She recently complained that I had abducted her and her mother. I deny this. These allegations are politically motivated to discredit me. I am ready to even challenge these allegations in courts," he said.
"She even went to the extent of claiming that I needed her for election campaigns. I have worked for the people in my electorate. I don't need a girl to come forward and make me popular. People know who I am," Duminda said.
He also alleged that Anarkalli's mother had asked him for Rs. 10 million to buy a house. "Anarkalli's story that I kept her like a prisoner is laughable. She even says that I stopped her from acting. If I did so how was she able to act in two movies while we were involved and also have her weekly TV show 'Anarkalli Live'," he asked.
"I did not know what was going on until she suddenly disappeared and lodged a complaint against me. I was shocked to find out that she had ransacked my apartment taking Rs. one million that was in my safe and my 2 month old golden retriever puppy," he said.
"I will be speaking to my lawyers and file action against her. I initially ignored the allegations because I was involved with her and respected that fact. But now it has gone too far. In time to come the truth will be revealed," Duminda said.
Anarkalli however denied that she or her mother had taken any money from Mr. Silva saying she has enough money of her own but admitted she took the dog. "The dog is mine and I took it because I don't trust him to look after it," she said.