Great escape from Elephant Pass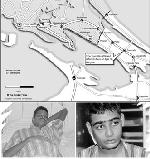 Two soldiers relate their nine month ordeal
Eight commandos of Britain's elite Special Air Services (SAS) were air dropped into Iraqi territory by a Chinook helicopter during the 1991 Gulf War.
Their call sign for the secret operation was Bravo Two Zero. Their task – to relay intelligence to the United States-led coalition forces and to destroy Iraq's fibre optics communications systems.
The team was soon discovered by the Iraqis. Two commandos died from exposure to the sweltering heat during day and biting cold in the night. A third died in a firefight. The rest were captured and faced gruelling torture.
The only exception was Chris Ryan, who, on the run behind enemy lines, trekked 300 miles in seven days to cross the river Euphrates into Syria. During his arduous walkathon, he ate nothing but two packets of biscuits and drank hardly any water.
An internationally reputed regiment like the SAS, with the highest standards of physical fitness and an exacting military role, only enrolled in its ranks those tough men who passed gruelling selection and training procedures. They were formulated with the singular objective of eliminating the unsuitable and the marginally suitable.
Those qualifying thereafter were ones possessing the physical and mental qualities essential for success in operations – physical strength and endurance, mental toughness and resilience, a moral character that included determination, and the intelligence to allow a man to work his way through a problem however dire the situation. Those were text book definitions of the rigorous selection and training procedure to turn a soldier of the British Army into a trouper of the SAS. Only the best would do for them.
Chris Ryan's heroism and endurance was the result of this tough training. Walking exercises with a personal weapon and a Bergen (also known as haversack or back pack) weighing up to 25 kilos (55 pounds) culminating in a 60 kilometre (37-mile) endurance march were routine for him.
Well known defence writer James Adams, with whom I had the opportunity of working (as their Colombo Correspondent),when he was the then Managing Editor of The Sunday Times, London once noted that 25 years ago, feats of the likes of Chris and Bravo Two Zero would have remained a secret only to be shared over a beer between the small band of brothers that form the Special Forces community. But times have changed, he says. Today is the era of kill and tell, when any story or collection of tales (provided they are accompanied by the letters SAS) are certain to bring fame and fortune, he points out. Chris achieved both with his book Bravo Two Zero.
If Chris Ryan's epic is now a benchmark of bravery and endurance in contemporary warfare, the saga of two village lads from the backwoods of Sri Lanka, will equal if not surpass, the experience of the celebrated SAS commando.
Fame and fortune are a distant dream for Sri Lanka's soldiers, the real heroes of the 19 year long separatist war. The valour and bravery they display daily in the battlefront are obscured by a far reaching censorship and a ban on media visits to operational areas. The only exceptions are the news releases of gains, enemy killings and conducted tours.
Yet the censorship and the ban on visits have not been able to hide some exceptional cases of bravery. On July 14, 1991, when LTTE leader Velupillai Prabhakaran ordered attacks on the Elephant Pass Defence Complex and emulated Iraqi leader, Saddam Hussein's words to call it "the mother of all battles," troops fought back. Soldier Gamini Kularatne lobbed a grenade into an LTTE bulldozer, improvised to look like a battle tank. It exploded killing not only the occupants but also the soldier. He was later honoured as the Hasalaka Veeraya or the hero from Hasalaka, his hometown. A statue in his memory still stands at the entrance to the Hasalaka town.
Now comes an incredible feat of two soldiers from the 9th Battalion of the Sri Lanka Sinha Regiment, incidentally, commanded by the present Military Spokesman, Brigadier Sanath Karunaratne. Like soldier Kularatne's encounter, the duo's tale of grit and determination comes from the battlefields of Elephant Pass.
Soldiers Weerasinghe Devalage Weerasinghe (23) from Weuda, Mawathagama and Lunuwila Aratchige Mahinda Kumara alias Mahindasiri (20) from Mirigama, were among troops deployed in the forward defence lines at Soranpattu (north west of the Elephant Pass defences). They had been inducted only ten days before Tiger guerrillas launched attacks there on April 30, last year.
Weerasinghe counted four years in the Army and his colleague Mahinda Kumara just two years. Like the other troops in Alpha Company, they were given up for dead or bestowed the official euphemism - Missing In Action, after their camps came under heavy LTTE attack.
On February 10, this year, they turned up at the 55 Division Headquarters at Ussan in whose area of control the new defences at Muhamalai came. It is located five kilometres to the rear of the Muhamalai defence lines.
For 286 days or nine long months and ten days, the two men survived. They drank their own urine or ditch water. In between, only kurumba (young coconut water) refreshed them. The only solids they ate throughout were coconuts, the roots of young palmyrah trees and wild ginger (kele inguru). They crushed kohomba leaves using stones and applied it to their maggot-filled wounds.
Both soldiers were very weak and bore the scars of their nine month ordeal. Weerasinghe is still undergoing treatment at the Base Hospital in Palaly and was being debriefed regularly by senior officers. Mahinda Kumara, who was in poorer health than his colleague, was flown to Colombo and is now at the Army Hospital. It will take the authorities several weeks to compile a full account of their nine month ordeal. Since they are physically weak, great care is being exercised during the debriefing process.
The saga of the two soldiers began after Tiger guerrillas mounted attacks on Soranpattu beginning April 19. On that day, two Main Battle Tanks and two T63-II armoured personnel carriers were hit by Rocket Propelled Grenades (RPGs) and were damaged badly. Again on April 20, Tiger guerrillas launched a large-scale attack.
There was a heavy concentration of artillery/mortar fire backed by RPGs and machine guns. At least 200 Tiger guerrillas were reported to have been involved in this attack but it was repulsed. The attacks were resumed again on April 30.
Soldier Weerasinghe told his senior officers in Palaly "The LTTE attacked the defences at Pallai-Soranpattu. Lt. Perera was in charge of Alpha Company. There were 27 men. Our attempts to save the area failed. Except for three of us, Mahinda Kumara, Senadheera and myself, others were missing.
"For three days we remained in the jungle. We were trying to locate the positions of our colleagues. Senadheera was injured on the right shoulder, left leg and on the head. I crushed kohomba leaves and placed it on his wounds. Then we lost track of Mahinda Kumara. He had left us.
"I remained in that jungle patch for three days without meals. There was no water. I drank my own urine. Unable to bear the thirst, one night I crawled on my belly and reached a water hole. I drank water to my heart's delight. The next morning, I was thrilled to see Mahinda Kumara there," Weerasinghe said. However, Senadheera was not to be found.
Mahinda Kumara was both composed and relaxed when I spoke to him on Friday. Yet, the discomfort he encountered when the shooting pains in the body shook him was clearly evident. Every now and then, when he raised his left arm to check the time, he complained of great pain. The black, plastic-strapped Casio wristwatch, he said, was his second trusted companion after colleague Weerasinghe. It helped him keep track of dates and times.
He recalled how he remembered the dawn of the New Year in the wilds of the Wanni. Right at midnight, Tiger guerrillas in a nearby camp fired their rifles into the air and followed it up with artillery and mortar. He also heard the revelry of the boys and girls in the camp. They were singing songs and making loud cries.
Here are some of Mahinda Kumara's recollections during the nine months and ten days of his battle to survive, along with his colleague Weerasinghe.
"On that fateful day of April 30 last year, Alpha Company men were at physical training. We were in shorts and T-shirts and the time was just past 2 p.m. Suddenly a burst of gunfire and exploding shells rent the air. Someone shouted that the LTTE was attacking us. We were ordered to get into our battle gear, fetch our weapons and take up position.
"Most of us got into our fatigues over the shorts and T-shirts we wore. We took our weapons, positioned ourselves and were engaging the enemy. Soon we found ourselves scattered.
"There were three of us. We crept into the nearby jungle. We tried to move out during the night and encountered a group of LTTE cadres. They fired at us. I thought the other two were killed but later met Weerasinghe. There was a cluster of palmyrah trees and we hid there. For three days we did not have anything to eat. The wounds we sustained during the LTTE attack caused pains. I had injuries on my left knee, left shoulder and at the back of the head. Weerasinghe was wounded in the left knee. We felt faint and could not move. That day we collected our urine in our hands and drank it.
"One night we crawled on our bellies for quite a distance and came across a water hole. We drank water there. Later, I climbed a coconut tree and plucked kurumba. We had got away from the cluster of palmyrah trees. In one open area, there were large holes, probably created by mortar fire. We got into one of them and covered ourselves with fallen palmyrah leaves. We remained there sometimes for a whole day.
"After about five to six days, we removed our uniforms, wrapped our weapons in them and hid them in a bush. It was too difficult to carry them. We were only in our shorts and T-shirts.
"We began to move during the nights and rest in jungle patches during the day. We would move an average of about 150 metres during a day. When we found it difficult to walk, we crawled on our bellies. Only one of us slept at any given time. The other kept awake keeping watch. When we spotted the A-9 (Jaffna-Kandy) highway to our left, we were encouraged. We knew we were moving in the right direction. But the sight of movement by LTTE cadres only a short distance away, jolted us.
"They were using military vehicles they seized during attacks in the Wanni. We saw a Navy bowser. We saw trucks, lorries and Jeeps carrying armed Tiger cadres. There were also groups going on foot patrol. We heard the noise of Air Force helicopters. Twenty days had passed by then.
"When we reached another spot, we were stuck there for over two months. We were down with malaria. During sleep, the condition of our wounds had worsened. There were maggots. We crushed kohomba leaves using stones and applied them. After days, there were no maggots and there was relief. During that time, we took turns climbing trees to pluck kurumba. Everytime we drank it, we felt we gained some strength.
"There were a number of unforgettable and nerve wrecking experiences. Walking and crawling, mostly during nights, we came across an old security forces defence line. There were bunkers. We crept into one of them one afternoon.
"We were shocked to see one man who appeared to be a senior LTTE cadre accompanied by two others walking towards the bunker. One of the two juniors was armed with a T-56 rifle. The second had an empty plastic aerated water bottle and was walking towards our bunker. I realised they were going from bunker to bunker collecting anything our soldiers may have left behind. My colleague immediately covered himself with dusty gunny bags which were there. I lay on the ground with a wooden plank above me.
"The young man with the empty plastic bottle entered the bunker and saw me. I froze. He shouted loud asking the senior cadre who looked to be the leader, whether to hurl a grenade into the bunker. The man told him in Tamil (it was understood by Weerasinghe, who spoke the language) not to kill but to take me alive. I immediately crawled along the bunker line followed by Weerasinghe. We made good our escape.
"We hid in a thicket far off and saw them withdraw after a search of the bunker and surrounding areas. They appeared to be confused whether we were in fact there or whether it was some hallucination.
"Another nervous moment came when we had to creep past two concertina wire fences. It was night and we managed to get in. Only when dawn broke did we realise that we had moved into a mine-field ahead of our own former defence lines. We had managed to sleep on a thin stretch and saw booby trapped grenades and other devices around us. We had set these booby traps. We trembled as we nervously moved out.
"One night, as we were walking and crawling, we ran into something. We thought we were amidst a group of LTTE cadres waiting in ambush. We heard noises of them running in various directions only to discover later that they were a herd of wild boar. Another night, we saw a tank move and were overjoyed. We thought at last we have come close to our own troops. We moved closer very cautiously, almost a 100 yards from the MBT, to see Tiger cadres seated on top of this moving tank. (It was one captured from our troops).
"The tank was on the outskirts of an LTTE camp which was lit by generators in the night. We heard sing songs every night from both boys and girls. There were several damaged houses in the vicinity. They were abandoned. In this area, we had to remain hidden during day time and only ventured out during the night.
"One day, we saw from a distance an Air Force Kfir jet drop bombs. We were literally buried under a pile of earth that fell on us. Several palmyrah trees collapsed. We moved away and hid ourselves in a jungle patch.
"We noticed LTTE cadres carrying new weapons. We say 'new' because the wooden butt of the rifles were well polished and shining. We saw them at close quarters on some occasions.
"At one point, we saw an abandoned well and tried to draw water. It had been booby trapped. A grenade exploded and we sustained injuries. We used crushed kohomba leaves again to treat our wounds.
"But the most happy occasion came only ten days after we had crossed another defence line, creeping under concertina wire fences and avoiding mines. We arrived at a village and were not sure whether LTTE cadres were present there. Weerasinghe climbed a coconut tree to see whether he could spot any LTTE movements. There was none.
"On the tenth day, we were attracted to the smell of good food. My friend who climbed the coconut tree again, saw women drawing water from wells and children playing. We decided to go close to a small house. A woman came out, saw us and screamed. She ran and soon a group of villagers turned up. Weerasinghe asked them in Tamil whether there were any LTTErs there. We told them we were from the Army. We told them we had not eaten food for nine months.
"One elderly man ran into his house and brought us freshly baked rotis, our first decent meal since April 30 last year. Soon we learnt we had spent the last ten days in security forces controlled area. It was their new defences at Muhamalai that we had crossed. We soon arrived at the 55 Division Headquarters at Ussan.
"During those ten days Weerasinghe and I had torn our T-shirts and tied some coins (pandura) in a vow to the Gods. Our prayer was answered. If we had forgotten our near and dear ones after two months of our ordeal, and were pre-occupied with how to live the next day, they were now coming back to our minds. I was so thrilled to meet them in Colombo."
For the two soldiers from the backwoods, there was no specialised combat and survival training like their foreign counterparts who performed such heroic deeds. Yet they pulled through for nine months and ten days to cover a journey of 11 kilometres through treacherous enemy terrain.
They were not commandos either. Yet, they lived up to every word of the Sri Lanka Commando Regiment's motto – When the going gets tough, the tough get going."
The duo will undoubtedly win medals and their oft repeated tales of courage and heroism, their rightful due, however, should not be allowed to disguise the fact that their colleagues died because of mistakes that should not have been made.