---
Mad cow at bay
---
Meating point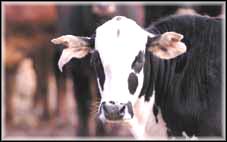 How does beef get into the mar- ket? The Sunday Times checked with the Municipal Council's Chief Veterinary Surgeon, Dr. S.D. Eleperuma, how Colombo gets beef with the "safe stamp" on it and how much the city consumes.

The CMC releases on average about 20,000 kilos of beef a day, to Colombo which has a resident population of about 800,000 and a floating population of about 500,000. The 20,000 kilos would be from about 200 animals and would be sold to people through 20 public markets (which have 120 stalls) and 25 private meat stalls, not only in Colombo North, Colombo East, Colombo West, Borella and Colombo Central, but also areas such as Dehiwela, Mount Lavinia, Nugegoda and Rajagiriya.

Dr. Eleperuma said the process starts with the cattle being brought to Colombo in lorryloads or wagonloads from various areas. Under the law, the animals have to be given an ante-mortem (before death) examination by the veterinary surgeons who check the live animals to ensure that they are disease-free. They look for foot-and-mouth disease, tuberculosis and also malnourishment and emaciation. If such animals are found they are separated and not sent for slaughter.

Thereafter, the other animals are quarantined for 24 hours — not only for latent diseases to surface, but also because this gives time, if the animals have been stolen, for the owners to reclaim them. The other reason being that if the animal is rested before slaughter, quality-wise, the meat would be better, he said. Once the animals are slaughtered, skinned and converted to meat, the veterinary surgeons conduct another inspection for internal diseases, including those affecting the organs such as liver, kidney, heart and brain. If the meat is jaundiced or a parasitic condition is detected, then at that point too it is withdrawn and destroyed. This is the system which has to be followed by all local authorities, Dr. Eleperuma explained.

Yes, the veterinary surgeons have been keeping their eyes and ears open for the mad-cow disease but have not spotted any cases yet. He too gave an assurance that Sri Lanka does not have many farms where animals are reared for slaughter. "Meat is a by-product of the milk industry. Imported animal feed is also not easily accessible to our farmers. Our cattle are cross-bred and known as 'game batu harak' (animals which feed on brinjal). Therefore, chances are unlikely that we have the mad cow disease in Sri Lanka."

Meanwhile, the Household Income and Expenditure Survey Final Report 1995/96 of the Department of Census and Statistics gives a figure of 548.04 grams of beef under the 'average monthly household consumption and expenditure of food items' heading. The percentage of households reported to be consuming beef is 14.4%, according to sources at the department.
---
Whether we have contracted the disease will be known only in 2005
By Kumudini Hettiarachchi
"From where do you get your beef?" was what the man before me in the queue at a well-known pastry shop in Colombo, was trying to find out from the person who was serving him. This customer like the thousands of people who eat beef did not get a proper answer.

"Should we or shouldn't we eat beef? Is the beef sold in Sri Lanka free of the mad cow disease?" are the questions on the lips of the public. But those queries have met with a deafening silence, with the government failing to issue a clear directive and allay public fears. What the public would like to know is whether Sri Lanka is a high-risk country for mad cow disease (Bovine Spongiform Encephalopathy), as indicated by British scientists or whether those people who enjoy a mas curry could do so without fear.

"Restrictions on the import of animal feed from BSE-infected countries were brought in after 1997. What we are concerned is about the period prior to this, when mad cow disease was raging in Britain," stresses the team of doctors attached to the University of Colombo which first alerted the country to the danger of mad cow disease and its human form, new variant Creutzfeldt-Jakob Disease (nvCJD).

They back their words of caution with a statement issued by the Food and Agriculture Organisation urging countries around the world "to be concerned about the risk of BSE and its human form, the new variant CJD disease". The FAO has said: "All countries which have imported cattle or meat and bonemeal (animal feed) from Western Europe, especially Britain, during and since the 1980s can be considered at risk from the disease."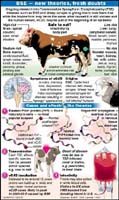 To the contention that animal feed (mammalian meat and bonemeal) is not fed to cattle in Sri Lanka, the team comprising Dr. Saroj Jayasinghe, Dr. (Ms.) Manodhi Saranapala, Dr. Charles Anthony and Dr. Rushika Lanerolle say, "This appears to be hearsay. However, the feed would be given to poultry and pigs, and there has been experimental evidence that pigs could contract a disease related to mad cow."
Refuting such statements, Dr. Sivali Ranawana, the Director of the Department of Animal Production and Health, says, "There has been no evidence of BSE among pigs. Sri Lanka attends the sessions of the OIE, an organisation based in Paris with 170 countries as members, where issues like BSE are discussed at length. Decisions are taken here after reviewing reports and updates from experts in these fields. The Animal Health Code, which is accepted even by the World Trade Organisation has been put out by OIE.
"There has been evidence of Transmissible Spongiform Encephalopathy (of which BSE is one strain) crossing the species barrier in some cases. Cats have been affected in some countries, but not dogs. However it is very unlikely that poultry would be affected because they have a different metabolism. Poultry have to be fed a certain amount of animal protein, that's why bonemeal is given to them. The other option would be fish meal, which is more expensive and would result in chicken and eggs going up in price."
With regard to meat and bonemeal imports from Germany, which was supposed to be free of BSE, but is now a victim, Dr. Ranawana said one importer did bring in bonemeal for about two years. However, as soon as Germany was found to be affected they were stopped immediately.
Emphasizing that they are not trying to find fault with the Sub-committee to Control the Spread of BSE formed in 1996, which has done its best to stop mad cow disease from coming to Sri Lanka, the team of university doctors question how effective the surveillance would be. "Take a developed country like France. Even there, beef from infected cattle has gone into supermarkets," they say.
What of all the other products like gelatine, cat-gut, vaccines grown from bovine cell cultures, milk and milk products? they query, pointing out that during the height of the crisis in Britain, the authorities there ordered that even milk from infected animals be destroyed. But according to Dr. Ranawana with regard to milk it would be a one in a million chance. The risks are high on imports such as cattle semen, embryos etc, which are banned from BSE-infected countries, he said.
The doctors explain, "Our concern is that the mechanisms that have been put into place may not have worked that well. BSE is just an example which indicates that quality standards are not maintained. Is our Food Act outdated? Is it implemented properly? Is there a proper control of imports to stop other countries dumping unwanted stuff in Sri Lanka?"
However, according to the Chairman of the Sub-committee to Control the Spread of BSE, Prof. Tissa Vitharne, the need is to reassure the people that it is unlikely that mad cow has come to Sri Lanka. "We are in touch with the World Health Organisation and the World Animal Health Organisation. All veterinary surgeons in the country have been alerted about the clinical features of BSE, which is a neurological disease."
"We have instructed vets that the brain of any animal which has died of a neurological disease should be sent to the Medical Research Institute to exclude rabies. The MRI, in turn, has been told to send the brain specimens to the Veterinary Research Institute in Peradeniya where a histological examination would be conducted to check for BSE. That system is supposed to be in place. We set the thing in motion," Prof. Vitharne explained.
"We have also told neurologists to inform us if any vCJD cases are diagnosed among humans. So far no animals or humans with this disease have been detected in Sri Lanka," he stressed.
The sub-committee has also identified all products such as meat and by-products like sausages and bovine-based albumin, intravenous insulin, gelatine, cat-gut as stuff which would need a licence to be imported. "If there is a request from any person in Sri Lanka for a licence, the Ministry of Trade would forward it to us and we would not allow any imports from BSE-infected countries. Even when importing from BSE-free countries, we would seek the country of origin certification to ensure that infected products would not be channelled to Sri Lanka through a third country," he said.
"Even if we did import infected animal feed, in Sri Lanka it would be unlikely for cattle to be fed that. Cattle are usually fed poonac, grass and other things because they are free-ranging, unlike in countries where there is a high-intensity meat industry. The animal feed could have been fed to poultry or pigs, but BSE has a long latent period and these animals are culled very early before they could develop brain changes. It is highly unlikely that Sri Lanka is at risk," assures Prof. Vitharne.
Whether Sri Lanka is free of BSE or not, which we may know only around 2005, the people are awaiting a directive from the government. Otherwise, it may be another case of bolting the door after the mad cows have come to Sri Lanka.