Contents
---
University admissions
Undue advantage for new students offering 3 subjects
The students who sat the GCE Advanced Level under the old scheme are at a distinct disadvantage. Students who have sat for three subjects for the first time get a better average than those who sat four in their second or third attempt. The mathematical calculation below illustrates this clearly.

Candidate A/3 subjects and candidate B/4:


| | | |
| --- | --- | --- |
| | A | B |
| | 85 | 86 |
| | 76 | 77 |
| | 76 | 76 |
| | | 76 |
| Ttl : | 237 | 315 |
| Avg | 79.0 | 78.75 |
Candidate B has got more marks than A but A has a better average.
University admissions are highly competitive and a student who gets an average of 70% (total of 280 marks) in four subjects or 210 marks in three subject, cannot enter the Medical Faculty.
Reducing the number of subjects to three to reduce the burden on students should not result in those who offered four subjects being penalised.
A student with an average of 60% or 240 marks in four subjects cannot enter a university for any course in the biological science stream. This includes medicine, dental surgery, veterinary science, agriculture, food and nutrition, biological science and the applied sciences (Bio. Sc.).
The University Grants Commission should bear in mind that many students who sat four subjects cannot sit the exam again having already sat for the exam thrice. However all those who sat for three will get one more chance of facing the ALs again.
It is also pertinent to mention here that the U.G.C. revoked the ineligibility rule (vide 6.2 University Admissions) which debarred those who had registered as internal students, from applying for 2001/2002, if they satisfied an amended regulation.
This again is a disadvantage to other students seeking university admission.
The so-called district quota system is meaningless and has given priority to factors like population and sympathy and not intelligence, knowledge or capability. The district quota system allows only 40% to be selected on merit from all the districts.
This is the sad situation in the administrative districts of Colombo, Gampaha, Galle, Hambantota, Jaffna, Kalutara, Kandy Kurunegala and Matara.
Students who sit the exam from difficult areas should be given certain concessions. But this should not mean that diligent and clever students from other areas are denied higher education.
Already the district and island rankings have been released and it will be unwise and unfair to change the selection criteria. The Department of Examinations should release the aggregate marks forthwith, without keeping the students in suspense
D.S. Wijesooriya
Moratuwa

---
Tourists exploited
I had the pleasure of holidaying recently in Sri Lanka. The spectacular scenery up-country, large tea-estates, unique hospitality and magnificent beaches contributed greatly to a very successful and restful holiday.

However, there is one area which cast Sri Lanka in a very poor light.This is the discrepancy in ticket-fees charged from locals and tourists for access to cultural sites.

To visit Sigiriya and Polonnaruwa, a local pays Rs. 10, a tourist Rs. 1,230 (US$ 15), 123 times what a local pays. At Pinnawela, a local pays Rs. 20, a tourist Rs. 150. I can understand the need to ensure that tourists pay extra for visiting various sites (although I do not accept it).

Our group of 14, a mix of locals and tourists visited two sites:

o Some, not all, visited Sigiriya due to the high prices charged.

Therefore, there was a loss of income to Sri Lanka as not all the tourists visited this site.

o None of the party visited the sites in Polonnaruwa as a protest at the high prices and again there was a loss of income to the government.

The Ceylon Tourist Board should not view tourists as cash cows to be exploited unmercifully. This is a short-term view. Not every tourist is a millionaire.

The Tourist Board should take the long-term view and charge a reasonable fee to ensure tourism will continue to earn the dollars needed by the government.

Ashley Symons
Australia

---
Make the nation stronger
The economic stability of any country is assessed by taking into account the national resources. Productivity creates wealth by converting the natural resources into things useful to mankind, and determines the wealth of the world or a nation.

However, Third World countries which lack natural resources also aim to gain economic stability through nationalisation of large local and foreign industrial, agricultural and social enterprises.

Another way is through privatisation of enterprises nationalised earlier and run at a great loss.

Schools, bus companies, petroleum companies, estates and business centres are some of the private sector organizations nationalised by governments of socialist origin. The question which arises is as to why such gigantic projects have collapsed or are on the verge of collapse in a short period of time.

In Sri Lanka, government-owned enterprises such as the Ceylon Transport Board and the State Plantation Corporation have undergone the same process. These enterprises in the hands of the private sector made at least some contribution to the economy. But now they have become nobody's concern due to improper management and employee strikes.

Today these state-owned projects have collapsed. Problems such as these arise due to unlimited demand on limited resources.

It is the duty of those in power and authority to enlighten the public on the ideals of nationalization before implementing them. Nationalization has proved futile in countries where there is no patriotism among the people. Today youngsters seek salvation in government sector organizations not because they want to render a service to their country but to gain a full pension.

It is time for the mass-media, clergymen, educationists and others to enlighten the present generation on ideals like love for the motherland, non-violence, adherence to truth, respect for all religions, simplicity, good conduct and spirit of service.

At the same time the people must be alerted to the fact that economic development coupled with spiritual and moral values will make the nation stronger.

Dharma Kaviraj
Gangaramaya

---
S'thing is wrong in the state of Kandy
The Kandy Municipal Council has done very little for the ratepayers.

The roads are in a potholed mess, with maintenance being done in a haphazard manner. The repairs last till the next shower of rain only with the potholes reocurring soonafter.

When it rains the streets are flooded with filthy water due to poor drainage. The clock tower bus stand gets flooded causing severe hardship to commuters.

George E. de Silva Park becomes the breeding ground for mosquitoes as water stagnates there.

The cement pavements done a short time ago are already loose. Some slabs have sunk in and if one is not careful one is liable to trip and suffer a serious injury. The ground floor of the library also gets wet when it rains.

Meanwhile corridors of the central market are blocked by stall-holders, as their goods are strewn all over.

Carcasses of cattle and goats are carried with no consideration to shoppers including tourists, spattering them with blood.

The entrance to the market is always crowded with vendors and loiterers.

In the wholesale vegetable area the stench is unbearable. But one can never make a complaint because the market supervisor is never there.

Meanwhile, the public can meet the Municipal Commissioner only on Wednesday, after waiting for hours.

Even then the Commissioner merely refers the person to various others and the work never gets done.

The Mayor should look into this state of affairs.

K. Herath
Kandy

---
Ombudsman: any takers?
From the time the bloated Cabinet was thrust upon the country, President Chandrika Kumaratunga and other government spokesmen have tried their best to justify it.

One justification was that the government really meant business, that it had a programme to implement for the benefit of the people. It was even said that a big Cabinet was needed to clear up the mess of the previous regime. This should have prompted a big Cabinet in 1994 not in 2000.

Perhaps the mess is both incremental and cumulative, so that now the mess is bigger and the manpower requirement that much greater.

However it appears as if even larger numbers and fewer responsibilities have not produced the desired results. I refer to the failure of the new Justice Minister to appoint an Ombudsman even though the position has been vacant for several months. Surely it is not difficult to find a suitable person.

This delay is strange for more than one reason - this is an institution that the government took pride in putting before the public as evidence of its commitment to upholding people's rights.

The former Minister of Justice despite being over-burdened with work, lost no time in resurrecting the institution which had almost ceased to be effective.

The new Minister is from a party that is so vocal about injustices that one would have expected him to make an appointment without delay.

Any Ombudsman may be better than no Ombudsman.

Daya Wickrematilake
Panadura

---
Loud religion
In the letter 'Let Kandy maintain its serenity" (The Sunday Times, February 4) a heart patient from Kotte asks whether there is no law to prohibit loud noise.

In this regard, I give below a judgment published in the Loris Journal, vol. 22. No. 3. of June 2000.

"Loudspeaker Religion - India's Supreme Court made a landmark judgment that numbers the days of 'Loudspeaker religion', where places of religious worship cause noise pollution by broadcasting religious chanting and sermons on public address systems.

"A (noise) pollution free environment is a natural right for every one, noted Justices M.B. Shah and S.N. Phukhan in their order against the Church of God, whose broadcasts were disturbing neighbours in Chennai's Majestic Colony."

In Sri Lanka too, this type of noise pollution is rampant.

Their usefulness and efficacy are debatable.

It is a subject worth referring to an appropriate forum for evaluation, not only in the interest of patients, but also of members of other religions than the one broadcast, and foreigners.

L.W.G.
Nawalapitiya

---
Want to be a winner and millionaire? Beware of those lottery tricks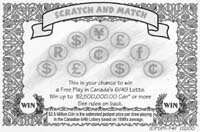 About 20 years ago, Emil Savundranayagam, a Sri Lankan by birth, shook the London business community by masterminding a racket which was then considered the first of its kind in the world.

Happenings reminiscent of that have been taking place on our own doorstep.

In early 1998, many school-leavers and job-seekers received letters from a country in the far West, on the availability of various jobs in a so-called reputed shipping line there.

An attractively printed prospectus-application form and a large card were the contents of the envelope. Beautifully printed on the card were the photograph of Sato of Japan, Ching of China, Patel of India, Khan of Pakistan and Mbanva of Africa, all said to be lucky enough to join the shipping line. They explained the handsome salaries, fringe benefits and other luxuries they enjoyed.

A man whose young son received such a letter, responding to his son's pleadings, obtained a passport in one day for his would be seaman son, spending thousands rupees. He also sent the US dollar money order to the company as an enrolment fee.

Days turned into weeks and weeks into months. Three years passed but they did not hear a word from the company.

Once again, the youth are receiving letters from the same country and another European country. This time the modus operandi is simple - it is similar to the Scratch and Match lottery.

A card the size of a pocket calendar, has 10 circles on it. Using a coin you have to scratch them. If you are lucky, as they say, you will uncover three dollar marks and you qualify to enter the competition by sending in the duly filled card and a US $15 money order.

The strangest part is that everybody who receives a card finds three dollar marks, after scratching the circles. This seems to be another ruse to dupe our young ones and steal money from them.

How do men living in far away lands get the names and addresses of our young men and women?

H.M.P. Wickramaratne
Kengalla