---
Webmaster
By Laila Nasry
www.MegaGames.com is a gamers paradise. An awesome website, it is one of the largest gaming sites on the internet with over 20,000 pages to it. Over three million different people visit the sight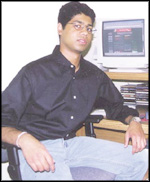 each month and over 30 million page views are received monthly.
In 10 years time he will be at the top of a skyscraper in a board room of a multi-national high tech company discussing a new revolutionary idea. Right now he is on the San Francisco Chronicle and giving interviews on ABC TV. I'm talking about the hands behind the website who is 'mega' to say the least.
Harsha Jayasekere (yes, he's Sri Lankan) is 21 years old and has 'achiever' written all over him. Having sold a web site for 12 million dollars (you did see right) which he incidentally developed. His is one great success story.
Harsha started 'playing' with the computer at the age of 15. Practically every waking hour was spent "with games, only games". It was an addiction, an obsession which guaranteed much thrill, satisfaction and hours of lost sleep. But like most adolescents Harsha got bored fast and the games alone could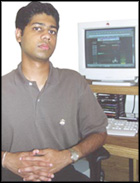 not sustain him for long.
Soon he was "seen messing around with the more technical side of computer. He needed no coaching or guidance. Curiosity spurred him on. He read books and experimented with code, graphics and web development software. Having not lost his love for gaming Harsha began looking for game sites which focused on the technical aspect of gaming and sadly found nothing which was "too impressive".
This was the 'start up' of Mega Games, a web site which started as a hobby and grew into a 12 million dollar sell out. Initially it was a very basic site and took just four months to be developed having worked on it 5-6 hours a day. However, it wasn't an easy four months with Harsha having to juggle between being a full time student at Ohlone College and a time consuming hobby. "It was very tough. I had to make a sacrifice and I sacrificed my studies for Mega Games, however I still have a B (3.0 Great Point Average) average."
There were practical problems along the way especially when the site began to expand, but Harsha was never the type to be dissuaded. "We had problems with the servers and bandwidth during the first 11/2 years." Leasing powerful servers and buying large amounts of bandwidth to support this huge site with a low budget was a problem. But "Mega Games is like part of my body. I never felt like giving up. I was really focussed and determined". So together with four other partners from Greece, Netherlands and Poland, Harsha "initiated and played a key role in developing one of the largest gaming sites to the success it is today".
The initial reward came in the form of popularity of the site. "Traffic into the site started increasing and people wrote to me commenting on the site." Once the site was concluded Harsha was more than "thrilled". The site became so popular and soon Harsha was getting offers from companies to buy it over.
"We (him amd his partners) got two offers. We rejected the first '2 million-dollar' offer 10 months back, but the one from e Front's Media Inc. was irresistable." eFront's interest was an honour in itself for some of the top companies on the net like CNET, ZDNET, which are backed by them. "The offer was like music to my ears. Of course I knew the worth of the site and with eFront's backing we could reach new heights."
Though people around him knew what he was upto the sudden money and fame all came as a big shock. His parents were really proud of him. But to them it was more the achievement than the money. "My mother would cry tears of joy each time she saw me on TV and on the front pages of the major newspapers."
Resting on his laurels Harsha says "all the hard and smart work has sure left me a more confident person."
---
'Love-e dove-e'
By Chatura Randeniya
Candlelight, soft music, a glowing computer screen, the hint of fragrance in the air........ wait a minute, what's a computer screen doing there? You may think it's the easy 'odd one out', but the screen fits in perfectly with these images of romance. Because the search for love has now gone high-tech, and on to the Internet.
"It's hardly surprising. Technology has touched every part of our lives, so why not romance?" says Nimesh (20). It's a thoroughly modern phenomenon, and a clear sign of our times. International on-line dating services, such as Match.com have over three million registered users. Even films are being made about on-line romances, for example "You've got Mail".
Fine, Internet romances are rampant in America and most of the world. But how relevant are they here? As Chat rooms and On-line dating services are the main ways of starting a romance on the net, theoretically, we have equal access. However, with the introduction of Kapuwa.com in February this year, more opportunities have been opened for those looking for love on the net over here.
The success of Kapuwa.com is an indication of how Sri Lankans are discovering love on the Net. There are almost 6000 people in Kapuwa.com's databases, and they have even recorded upto 47,000 people visiting their website on a single day. About 70% of these people are thought to be Sri Lankans ,including expatriates according to the people at Kapuwa.com.
Internet romances have several distinct advantages over the more traditional methods of going out and meeting people.
"There is a natural armour around us when we interact with people. But on the Net, you don't need that armour. You can communicate mind-to-mind. That's probably the major advantage in this" says the Webmaster at Kapuwa.com.
"The chances of finding someone with common interests are greater because each person's likes, dislikes etc. are given," he adds.
Most people today tend to base their decisions on physical appearances and later get disappointed when inner selves are revealed. Internet romances help avoid this by allowing both partners to see the inside. Of course all of this depends upon honesty. If you can't be honest and truthful about yourself, then Internet relationships are not for you. Strangely enough, in the anonymity cyberspace offers, Internet romances depend on trust and honesty to blossom.
But there is a flip-side as well. Internet romances may be new here, but it has been around in other countries for quite some time. Thus, they have managed to identify some drawbacks.
"It is impossible to completely get to know a person via the Net." says Dinuk (19). Psychologists say that people who fall in love over the net form a mental picture, or profile, of their unseen partner. Once they meet, they try to fit each other in to these profiles. This may cause disillusionment if the person and profile do not match. Sometimes these differences are suppressed because the partners want the relationship to work, and may even end up marrying, which will almost certainly lead to trouble.
Internet romances can be fun, but there is some risk involved, especially when actually meeting a person you got to know over the Net. Kapuwa.com gives some guidelines on taking precautions. They include remaining anonymous until you really get to know the other person, choosing a public place when meeting each other, and letting somebody know where you are meeting. Almost all the on-line dating sites have these guidelines, and it's important to check them out.. Above all else, "common sense is the greatest safeguard," says Radhini (22).
There you have it. A whole new way of finding that special person, or maybe just a friend with common interests. Either way, it depends on the individual. For some, there can be no substitute for the real thing. For others, in what has been described as "the cold void of cyberspace", they feel the warmth of love.