Little acts of kindness
By Ruhanie Perera and Laila Nasry
Too often are the members of the younger generation written off as a 'dead loss'. They are associated with loud music, body piercing and are branded as 'lotus eaters'. And when speaking of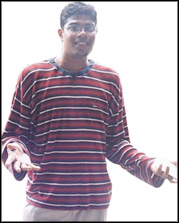 them a hopeless sigh is added for effect.
Well, it's time to take a moment to stop to think about their dedication, their compassion and brand them as our 'hope for the future'. Dwell on it with a bright smile on your face and hopeful gleam in your eyes...for added effect.
Like any school leaver thrust into the world Dilini Ranasighe was hazy about what exactly she wanted out of life. Having never really thought of what she wanted to do she thought it fit to experiment with all that life throws her way...to trod the different paths ahead of her. "This is my calling," says Dilini Ranasighe a 20-year-old volunteer at Save Lanka Kids.
Initially it was a four month training period for Dilini where she sat in at counselling sessions for abused kids to get to know what it's like. She also read loads of books on the subject in order to relate better to the kids she had to work with. But in a job like hers it's the natural instinct that counts most. The hug, the cuddle, the smile that makes a world of difference to these neglected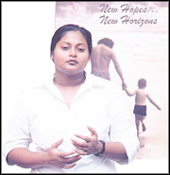 children...little things that mattered the most which Dilini sought to give. "Sometimes they would come all unwashed and dirty. I take them and give them a bath and a hair cut."
Like any other job in the world this too has its ups and downs. "I haven't worn proper clothes in ages" says Dilini. "It has always been a worn out pair of jeans, which inevitably winds up dirty. There are times when my friends point out that I've been carrying the same bag for ages. Then again what's a handbag compared to the smile of satisfaction from the face of a child?" Dilini questions.
"What's really hard is the fact that when you go home you know that there is a hot shower waiting for you followed by a good meal. Everything is so comfortable. It's at this time that I really feel like crying because I know most of these kids don't have the bare necessities and it's so hard to come to terms with it." It frustrates Dilini to see the disparity and it agonizes her further when she knows she can't provide these kids with everything. "It's then that you learn to appreciate what you took for granted."
Though one may feel that Dilini has given so much of herself, she says that she receives so much more than she gives. " There's more to life than what you can see. Working with kids has brought the nitty-gritty of life to perspective". Working with kids has taught Dilini so much about life, about herself and about the power of giving love". She plays the role of teacher, but it is she who learns something new each day.
Yet another volunteer worker, 22-year-old Thimal Banneyake's main objective in life is to have fun. He can't talk for two minutes without cracking a joke. But he can be serious about some things. Then his tone changes and you can hear the passion in his voice. That is when he talks of his commitment to his work - the work he does to prevent his peers from taking to cigarettes, alchohol and drugs.
Thimal got involved in this type of work at school through the College Drug Prevention Unit. "There are so many young people, who are not addicted to smoking and drinking, but are in the 'testing' stage. If I can prevent one of them from reaching out to take that first drink, I may have converted one future addict," he says with determination. Not wanting to give up the work he had been actively involved with in school, he joined the Alchohol and Drug Information Centre (ADIC) and is today one of their valued Programme Coordintors.
Without so much as stopping to catch his breath, Thimal dives into a description of the type of work he does. "As a programme co-ordinator my responsibility is to conduct training programmes for the youth. The programmes are mainly conducted for young people in schools, youth groups both urban and rural or even at Sunday school. We also help out A/L students who choose 'drug prevention' for their A/L project." His work is mainly to break the image that surrounds smoking, drinking and taking drugs. "But it's not our job to force ideas down teenagers' throats, instead we build awareness and guide them on the right track. There is a lot of group discussion and they are encouraged to speak out their ideas. In the end the answers come from participants and they are free to draw their own conclusions." He adds brightly that most of their training programmes are a success.
"I've never had a single dissappointment so far. There are some who come for the programmes in an 'I'll show them a thing or two' frame of mind. But even they end up enjoying themselves. The work's fun and very satisfying," - judging by the happiness with which he says it, this definitely is a line of work he'll never regret choosing.
Thimal, like many school leavers had an extra year to do whatever he liked. Thimal chose to do volunteer work through ADIC. Those who think this type of work is no fun - think again. "Sometimes during the day we take a break and go out to play cricket. When we have to stay up the whole night working we put on some music and have a ball. I enjoy every minute of my work. Life at ADIC is one big party."
"I live the message I want to pass on to my peers. That you can have a fun life without having to drink or smoke. Life is 'mara fun', enjoy it!", are his final words of advice.
Someday Thimal may decide to pursue a professional career, but until then he is happy at ADIC. "I will never leave this place, this work has become too much a part of my life."
They don't brag or boast, they don't act as if they are doing a great service for humanity. They just go about doing what they call their 'job'. But if you hear the feeling in their voices you'd know that it's not just any old job - it's a special one that ensures that the more you give, the more you get.