---
Bernie Wijesekera - reporting from Bogambara
Despite mirky conditions prevailing here the second-leg of the 56th Bradby Shield rugby match between Trinity and Royal produced exciting 60 minutes of superb rugby to the avid fans, yesterday.
This tie, the showpiece of the schools rugby calendar, saw Royal after losing the first-leg 32-25 bell the Lions in their own den to win the second leg 20 pts. (2 goals and 2 penalties) to 17 (a try and 4 penalties).
At the break Royal led 10-8. It was Royal's match and had a glorious chance of regaining the shield leading 20-11 midway in the second half, but two costly lapses let the Lions off the hook to retain the Shield by four points on the final tally - 49 points to 45.
The first half was evenly matched with the respective three quarters running the ball at given the opportunity. The conditions underfoot were ideal for the respective forwards. But the maurauding Royal "eight" led by Surangan Perera had the edge. Trinity playing to a plan stood firm. Their defence was hard to beat. Trinity fullback Tisel Jayawardena with his booming clicks to touch, took much of the pressure off. Further Jayawardena's kicking boots earned Trinity 12 points, which proved a decisive factor for Trinity to retain the Shield.
It was a tremendous concerted team effort by Royal when they dominated the second half with the gritty display of open rugby. True they lost the Shield. But won much admiration for their gutsy display.
Royal opened scoring in the third minute through a penalty put over by Dev Wijewardena to lead 3-0. Trinity hit back with a penalty 3-all.
Trinity went further ahead in the 16th minute off a sleek midfield move. Winger Michael Weerasinghe breached through the defence for an unconverted try 8-3. Undettered Royal had their moment of glory. Putting tremendous pressure on the T.C. defence, just before the short break were rewarded when flanker Kushan Atukorale darted over the line. Wijewardena added the extra points - 10-8.
After the turn around Trinity back division attacked furiously which resulted in a penalty put over by Jayawardena to lead 11-10 in the 10th minute. Royal was again to the fore - with a penalty to put over by Dev to lead 13-11. It turned out to be a ding dong battle, marred by infringements.
Royal on the offensive scored a scintillating try, off a long throw in the T.C. "25". Thabith Hassen, who came in place of winger Pandula Jayasundera, with a fine pair of heels crashed over the line. Wijewardena added the extra points amid jubilation to lead 20-11. But a penalty offered to Trinity saw them retain the Shield. It was rugby at its best. It was displayed by both teams. The game was the winner.
Referee: Anil Jayasinghe. Eric Roles, was the chief guest. In the Under-17 Trinity bt. Royal 13-5 after leading 10-0.
---
By Jatila Karawita
St Benedict's College helped by sterling defence and resolute tackling withstood a strong fight back by D. S Senanayake College to pull off a nail-biting 15 points to 14 win in their annual rugby fixture at Longden Place last evening.
Bens scored their points from a goal, a try and a penalty while D S collected their tally from a try and three penalties.
By virtue of edging out D S to the post, the lads from Kotahena regained the R I T Alles Challenge Shield after five years.
Both teams went hammer and tongs in dishing out quality rugby to the spectators. The Benedictines who dominated the entire first half with a lead of 15-0 at the breather, were stretched to the maximum by DS lads as they dictated terms in the latter half to score 14 points. But DS were eventually pipped as they failed to score points in the first half.
St. Benedict's opened scoring with a 40 metre penalty by fly half Colin Lewis which was immediately followed by a neat try scored by winger Malin Jayasinghe off a three quarter movement.
Colin Lewis converted for Bens to lead 10-0. Scrum half Gihan Thushara then scored off a five metre scrum having peeled off successfully but Lewis flopped the conversion as Benedictines led 15-0.
Following the turnaround D S who virtually played second fiddle to their rivals in the first half turned out a gallant display to give the Bens a run for their money but their inability to cross the Benedictine try line more than once put paid to their chances of pulling off the game in their favour.
For the D S winger Mahendra Premathileke scored their solitary try in the match while centre Russel Weerasinghe fired over three penalties.
---
England needing 188 runs to win the second cricket Test aginst the West Indies at Lords yesterday were 126 for 4 at the time of going to press with Courtney Walsh claiming all 4 wickets to fall. Earlier West Indies were 54 all out
---
Four quarter final matches in the Eveready Junior Inter League football matches are played for decisions today Sunday July 2, two in the outstations and two in Colombo.
Playgrounds will meet Colombo at the Cooray playgrounds at Wellawatta, City will host Wennappuwa at the City League grounds Slave Island, Kurunegala will entertain Mannar at the People's Park and Kandy will encounter the winners of Badulla/Hatton at Bogambara.
In the pre-quarter final matches, Mannar beat Ampara 1-nil in Vavuniya, Playgrounds beat Ambalangoda at the UC grounds Ambalangoda, Colombo beat Dehiwela/Mount Lavinia 4-nil at the M.H. Mohammed Playgrounds, Kurunegala beat Anuradhapura at the Stadium Anuradhapura, Kandy beat Gampola 3-nil at the Weegulawatta grounds Gampola and Badulla met Hatton at the Dumbara grounds.
---
Bright and sunny one moment, a short lashing shower the next. That was the pattern of the weather on the fourth morning at the Asgiriya Stadium. After several visits to the centre, umpires Bucknor and Manuel decided to call off play for the day shortly after noon. Thus the third and fourth days have produced a sum total of 2.5 overs of play.
There have been several positives from this test. Chief among them has been the long overdue big innings from skipper Jayasuriya. It wasn't a flawless or error-free innings. However in terms of occupation of the crease and runs scored it would do Jayasuriya a world of good. His confidence must surely have returned and if he can add a touch, more discretion in his shot selection, that would be ideal.
Batting-wise, Atapattu has been in the pink of cricketing health. This was an innings of monumental patience and concentration. His early period in the innings was taxing. He was given a good working over by Akram. The knocks on the helmet may have dented it. Certainly they didn't shatter his confidence or disturbed his poise. Even if they did, he was mature and street-wise enough not to show it. Atapattu's driving was impeccable while his handling of the canny Mushtaq's leg breaks must have added a grey hair or two to the bowler's head. Spin bowling is best played by batsmen who are prepared to use their feet. Atapattu couldn't have given a better exhibition.
The form of Aravinda de Silva must be a source of concern. Coming in at No. 4de Silva attempted unwisely to attack the off-spinner after facing just a couple of balls. Success has eluded him of late. Could his brief stint as a one-day opener have affected the even tenor of his batting.
Coming into bat with the total in the 400's is sometimes fraught with danger if you cannot take too much time getting your bearings. The momentum has to be maintained. The best course of action would be for the man who has been in a long time to take charge while the new batsmen pushes the singles. That didn't quite happen. Jayawardena was bowled by a beauty, the ball darting in between bat and pad. Had he been of a defensive bent, he may have just keep it out. Ranatunga, twin half centuries under his belt tried to take on Arshad Khan and came a cropper. The sweep is one of his favourite shots. But this time he top-edged and gave the simplest of chances.
Arshad Khan continues to surprise. Highly respected in some quarters for his consistency of line and length, he continues to take wickets even though his powers of spin are not all that great. His height enables him to drop it down from the classic twelve o'clock position. With Akram and Waqar getting a bit old in cricketing terms, a youngster has got to come in and perform the role of a stock bowler. Razzaq performs that more than adequately. Having two wonderfully gifted pacemen at close quarters to guide him, Razzaq has risen from the ranks almost overnight and has become a major contributor to Pakistan's successes. He shows every inclination of wanting to grab hold of the ball and bowl. That can only be to his good.
---
The Selection Committee of the BCCSL, met on the June 30, 2000, at 6:30 p.m. at the BCCSL headquarters and 15 players were selected to represent the Board XI during the One Day warm-up match with South African Cricket team on July 4, at Colombo Cricket Club Grounds.
The team is as follows
Romesh Kaluwit- harana (Capt.) Avishka Gunawardena, Ian Daniels, T.M Dilshan, Indika de Saram, Charmara Silva, Thilan Samaraweera, Suresh Perera, K. Weeraratne/Dilhara Fernando, Ruchira Perera, Promodaya Wickremasinghe,Dinuk Hettiarachchi, M.Pushpakurmara and Shantha Kalawitigoda.
---
By Marlon Fernandopulle
Royal's Bilal Hassan accounted for the seventh record when he completed the 100 m Dolphin stroke in 01 minute and 21.52 seconds at the 27th Sri Lanka Schools Swimming and Diving Championships at the Sugathadasa Indoor Stadium Swimmimg Pool yesterday.
Hassan swimming in the under 11 category beat his opponents Manith Thamangama (STC) and Poorna Kankanige(Royal) who came second and third respectively with a comfortable lead.His record breaking feat yesterday enabled him to erase the nine-year-old record held by his schoolmate Jehan Mubarak.
Ananda's Navin Perera performed creditably when he won the 100 m and 400 m Freestyle events in the under 13 age group.Royalist Esiri Kankanige also had a rewarding day when he won the 100 m Dolphin stroke and came a close second in the 100 m freestyle event in the under 13 Age group.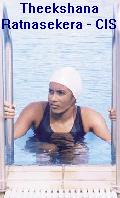 Already seven new records have been established in the swimming meet which will conclude today.The Record breakers are Theekshana Ratnasekera(CIS)-U-19 400 m freestyle,Melissa Boange(Bishops)-U 15 100 m and 200 m Breast Stroke,Minuruwani Samarakoon(Hilwood)-U-9 100m Breast Stroke and 4x50 Individual Medley,M. I. Fahim(STC)-U-114x50 Individual Medley.
At the end of yesterday's events Royal were leading in the Junior Competition with 158 points followed by Ananda(103), St Peters(77), S. Thomas'(76) and St Joseph's(46).In the Junior Competition for Girls Museaus were leading with 124 points closely followed by Ladies(112) and Mahamaya(109).
In the Senior Category the Thomians were leading with 134 points followed by St Josephs(96) and Royal (92).Ladies were leading with 83 points followed by Mahamaya(58) and Bishop's(55) in the Senior Girls' category.