---
Karting gets going
Sri Lanka races into the Millennium with a long awaited dream being realised at the Millennium Park, Darley Road Colombo. At the time of writing, the Colombo Pro Karts is involved in a hub of activity laying down an International standard race track for competitive Pro Kart racing which includes a Grand Stand and a fully covered area in scenic surroundings which will have a stadium atmosphere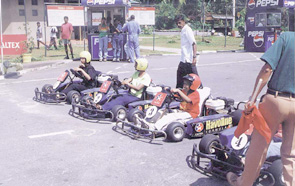 with racing possible under all weather conditions.
Pro Karting is widely acknowledged to be the cradle of competitive high performance motor racing where the racing driver masters the racing line and sharpens his skills before progressing into the intermediate stage of Go Karting and finally racing Formulas.
Pro Karters could avail themselves of this challenging track which was designed by ace racing drivers in the calibre of Dallas Martenstyn, Bri Ponnambalam and Suren Cooke. The design construction and concept is in the expert hands of Romesh Fonseka and his company Arch International Private Limited. The track itself is a scaled down version of the Brazilian Formula 1 Racing Track where the local drivers will be very fortunate to develop their racing careers. For others who are not all that keen on competitive racing it will be the ideal facility to let off steam and stress and also to derive pleasure in speeding without falling into the long arms of the law. Stringent safety measures have been foremost in the design concept. The operators have commissioned the services of Pro Karting Instructors to put the beginners through their paces. Further, top race drivers will always be at hand to guide a keen and budding driver.
The project, the vision of Ace Rally driver Richard de Zoysa is on course for a soft opening in late-December as Phase I draws to an end. The grandstand and roofing is estimated to be completed within a month thereafter which the stage is set to lure the cream of the commercial sector business enterprises into racing Pro Karts.
The director overlooking marketing concepts has planned to sell a race every week of the year to each segment of business. viz. Airlines, Banking, Travel, Garment Industries etc. Races will be contested for the champion of the day and two runners-up who will wear the mantle of being the Pro Karting champion for their segment of the business for a whole year.
The races are being flagged off from the first week of February, where firstly the Airlines based in Sri Lanka will be racing towards glory.
The operators have designed the property with a view to invite foreign artists to perform which will be a totally new concept. The Sri Lankan private sector could also plan their company outings with a different and exciting flavour which is sure to be appreciated in the corporate world and this will enable their employees to build team spirit, display confidence, and cultivate the drive to succeed.
Pro Karting can also encourage families to go out and have fun together and also avail themselves of the facilities such as a health food bar, a giant screen perpetually showing sports with main emphasis on motor racing and a pool table for the cueist.
Champion Pro Karters in the vein of Dhanuka Nadeera, Ameen Deen, Randy Batcho, Dinesh Deragoda and Dejan de Zoysa are eagerly awaiting the commissioning of this track to display their brilliant driving skills.
The Motor Racing Association of Sri Lanka (MRA) is in discussion with the operators regarding the possibility of conducting racing driver training courses and workshops for officials and marshals.
Colombo Pro Karts are of the opinion that Pro Karting will tremendously foster motor sports in Sri Lanka and intends making it very affordable to the average enthusiast. A dynamic marketing team is busy scheduling events, promotions and exciting fare. The operators are due to tie up with a blue chip company to be their principal sponsor.
Pro Karting is also found to be a major attraction for tourists especially when the race track is situated in an atmosphere of a whole host of complementing leisure activities at the Millennium Park.
---
Down memory lane
As the Interim Committee Chairman rose to deliver his address of welcome to some of the nation's outstanding past cricketers, strikingly attired in blazer and cricket ties, my mind drifts to four decades and more.
Vernon Prins, cricket's gentle giant, looking even gentler today.
Ivers Gunasekera's annihilation of Australia's Lindsay Kline at the Oval; Twenty seven runs in just one over, and a promising international bowling career comes to a halt.
Michael Tissera's memorable century heralded in by two consecutive hook strokes to text book perfection off Wesley Hall; his pace, no slower than the Donalds and Akhtars of today. For Michael, no helmet, chest protector or elbow guard, just the single conventional one !
Ranjit Fernando's whirlwind century before the 'milk' interval at Kotahena against Royal. Clearly St. Benedict's by 1963, had produced another schoolboy with national potential. Norton Frederick and the narrowest of shaves! Batting with Sunil Wettimuny, a delightful timer of the ball, for Ceylon Schools in a Robert Senanayake Trophy Tournament, I shoulder arms to his first delivery, which pitches outside off stump. It then leaps and curves inward. A gasp from the slip cordon conveys rest, as I feel the seam brush my left ear! The next, a predictable yorker, but I am not unhappy to leave.
Ian Pieris and Neil Chanmugam co-incidentally seated sid-by-side.I am still in the sixties I queue up with thousands of others at 5 a.m. outside the Oval, for my Twenty Rupee ticket to the open stands. Sri Lanka are playing the mighty West Indies. A hundred and ten run partnership in an hour for the last wicket, as Ian and Neil savage the West Indian attack. Skipper Gary Sobers shows concern. My wait has been well rewarded but not so the Oval roof, where three sixers land. As Club President today, I wonder if a claim for damages would be time barred? Some members of our national team trek up Serpentine Road as the day's play ends, to take public transport to their respective homes.
1969, and the University lock horns with the might of the Nomads. Abdul Lafir, is thirty not out and the hosts are struggling at 50 for 4. I get one to spin off his inside edge, onto his pad and the easiest of catches is floored by the University's finest close-in fieldsman, Abdul goes on the establish a new Sara batting record with an unbeaten two hundred and fifty four! The beer he buys me at draw of stumps, offers no consolation.
My university friend and colleague, Mevan Peiris, with whom I pair off under Anura Tennekoon's captaincy, to share 9 of the 10, as Sri Lanka regain the Gopalan Trophy at the Oval, in 1970.
Russel Hamer, quick with gloves and quicker with tongue. An international cricketer notorious for his incessant chatter from silly point will bear life long testimony to the latter.
Kehel, Polons, D.S., and Sahab, team mates in my single season with the Nomads in 1973, that saw as many beer cans off the field as the runs scored at the Park. And of course who could forget Boycott being castled first ball by Kehel at the Oval?
Jayantha Seneviratne, my counterpart in '82/'83, the inaugural year of the Lakspray Trophy Tournament, where the Reid Avenue venue saw the toughest battle of that season. Tamil Union finish runner -up 0.15 points behind Bloomfield.
Chandra Schaffter's leadership as we prepare to host Sri Lanka's first ever Test in February 1982 at the Sara Stadium and his equally inspiring role in the struggle to rebuild it, following the events of July 83. Mano Ponniah, the club's architect, as we set our sights on restoring Test status for the Oval. One hopes that his uprights will be as solid as his defense and the buildings last as long as his innings !!
Lasantha Rodrigo, his contribution to the Report of the Commission that I was appointed to chair in 1993, a report that has since found a permanent place in the Janashakthi Book of Cricket.
Roy, Nihal, Lalith, Ajith, .... Oh! I am nudged that it is time to propose the Vote of Thanks, I make my way to the podium. "Distinguished Cricketers of yesteryear, a society which forgets its past is often in danger of being surprised by its future. After all, today is what it is, and tomorrow, what it might be, simply because of all the yesterdays. Gentlemen, it is your contribution to these yesterdays that have made today what it is for Sri Lanka cricket and it gives us great pleasure to convey the Board's appreciation in an appropriate way, this evening."
Yes, they gave so much, to so many, for so little and for so long! Can the game ever forget them?
As I climb into my car, the words echo and re-echo... " Today is what it is simply because of all the yesterdays"...
How appropriate for the Colombo Oval!! I head for Wanathamulla! - 'Skanda'
---
'I am not always that cool,' Shastri
Ravi Shastri, an allrounder of acknowledged Test class and latterly a no holds barred TV commentator, couldn't have got it more right when he commented thus: "We have a young batsman in Bombay called Sachin Tendulkar who is sent from upstairs to play the game. He is only 15, five feet four inches tall, but I tell you, he's going to be a great player."
When asked how he managed to keep his emotions in check on the field in some highly charged situations, Shastri put things in their correct prespective. "My parents were very hot on discipline but do not be fooled that I am always cool. My friends will tell you that I hate losing and that I snap back at them if they try to console me. If my side has not given a hundred per cent on the field, I am very difficult company."
A far less fiery cricketer and one who was never booed to the crease in a home Test match as Shastri was, David Gower who twice lost the England captaincy because of his laid-back attitude and tendency to let things drift. His defence is a very cogent one "People say I am too casual, but there are ambitions, fears, trials and tribulations all whirling around in there... I cannot say it matters not, because it does. I do not linger in too many depressive states, but I am not totally horizontal about the knock-backs."
Hugely popular in the dressing-room not averse to putting ice cubes in Boycott's socks or even pushing journalists into swimming pools, Ian Botham is as different from Gower as chalk is from cheese.
Botham is rumbustious, full of bravado and had his private life obsessively monitored by the media. The idea spread that he always seemed to enjoy a larger slice of luck than other cricketers. Many's the time a Botham long hop obtained a wicket. Botham's thoughts on this subject are down-to-earth. "You make your own luck in sport and life. I approach everything in a postive frame of mind and that often turns in my favour. All the way through my career I have told myself I am better than my immediate opponent and that has given me the confidence to try things..... I tell every young player to be positive, to make sure no one psyches them out of it."Genius is an infinite capacity for taking pains goes the old saying. This seems especialy true of that bowler supreme, Richard Hadlee. Few cricketers made maximum use of their assets to reach a peak of efficiency the way Hadlee did. What was the basic of his cricketing philosphy? "You should strike to go beyond what you think you are capable of, instead of being satisfied with the base minimum. If a guy is out of nick and he has a day off, why not go to the nets and practice hard? Why not run an extra two laps when the others have settled for six? Why not spend another five minutes practising catching and throwing? I am a great believer in putting in the work and then being rewarded".
They may have slipped dramatically from the pedestal they occupied in the late seventies and the whole of the eighties. Yet in the minds of many people, the West Indians and champagne cricket (be it swashbuckling batting, perfume balls or throws that are as swift as arrows) are synonymous. Michael Holding was a vital cog in Clive Lloyd's invincible team and he has some interesting thoughts on what drives the young Caribbean cricketer.
Does the black man have a natural athleticism and an essential suppleness that his white counterpart lacks? "Possibly, but the fact that we can spend so much of the time outdoors is more relevant. We like to be doing sports in the sunshine and that helps to build up muscle definition. We are also hungry for success.... In the West Indies competition to get into the Test side is fierce...... You also make headway socially and professionally if you represent the West Indies....... They first take cricket more seriously in the West Indies."
Selecting a batsman to play for your life is a tricky business. Would you go for the stodgy Boycott, the inelegant Border or the cheeky child prodigy Javed Miandad - Controversy and Miandad were never far apart. One has only to hark back to the Dennis Lillee imbroglio and the fence-jumping incident in Colombo. About the Lillee incident Miandad says "That was in the heat of the moment. I was upset at the time because I was Pakistan captain and he should not have kicked me.... we shook hands, it did not really bother us and we are now the best of friends".
Mianded looks at the Shakoor Rana - Mike Gatting confrontation in a new light. "Our people are different from the English..... the people in Pakistan took it personally when they understood the kind of words shouted at Shakoor. It's not as if Shakoor was umpiring in a Test for the money. He was getting peanuts".
Finally a few amusing quotes from one of England's finest off- spinners who captained his country twice in the evening of his career - John Emburey's batting style was calculated to provide fun. When asked if he was aware of it he replied, "Yes - and that gives me a lot of satisfaction.... In the summer, I do not bother with a net because I know I will play exactly the same way as I do out in the middle and I believe that nets are for, those who want to play correctly. I don't".
A.K.
---
Point of view By Bernie Wijesekera
Why not a home for elderly sportsmen?
Today the talking point among club circles is the financial bonanza afforded to some past cricketers, who helped to uplift the country's image in the international scene. They richly deserve no doubt. But ironically some sportsmen in the autumn of their lives are struggling to eke out a living, before they go over to the great beyond. In whatever quarters, elders must be made to live with dignity put aside the sportsmen. This is something the powers that be have failed to address their minds to alleviate their suffering, but enjoying wine and song at the expense of the poor who helped them to their seats of power. In the 59th month of their term only they open their eyes giving all sorts of promises to get back to their seats of power again. This reminds me of that famous film where Marlyn Monroe starred - the 'River of No Return'. Some of those who are afforded with lavish cash bonanza are living in a healthy environment, but could well do without it. But once it's given no one will say 'no to it'.
In silence
If the Ministry of Sports hierarchy had any line of thinking then they should have planned to build some elders' homes for the poor past sportsmen, who are suffering in silence to eke out a living. No pensions. Even their own kith and kin have forgotten them. One has to go to the precincts of the YMCA Fort, where you will find sportsmen from all walks of life. They have done proud for the country, be it in the ring or in the playing fields. Sri Lanka - essentially a Buddhist nation who believes in compassion but apparently it's not put into practice. The present day sportsmen are financially viable with contracts and sponsorship packages, unlike the past greats who had to make personal sacrifices even to play at the national level. They even go to the extent of appearing in advertisements to promote products. Imagine the former Army Commander late B.R Heyn who was also the President of the Cricket Board ending up in an elders' home, before he called it a day with hardly anyone to have even a friendly chat. In the end he got a 21 gun salute amid pomp and pageantry. It would have been better if he was afforded a single rose when he was alive than a bouquet when he was dead. There are many more like him in this so-called just society suffering in silence, with even some of their children gone abroad in search of greener pastures. Had there been a home for the elders for the past sportsmen, then Gen. Heyn after the demise of his wife, could have enjoyed to his last breath with his likes with friendly chats. Then he could have been at home rather than living all by himself. Heyn was a great sportsman and played cricket and hockey at the national level. There are many more like him. Of course he had a pension to look forward to and his son David in London, looked into his needs. Money can't give happiness in this sensual world plagued with power politics, hatred and jealousy. It's only through kind words and fellowship that could make them happy. Another good example that comes to my mind is - Vernon Prints who even sacrificed his job and family life to play cricket for his Club - NCC and for the country. Prins, "an officer and a gentleman" was attached to the police and was a senior Inspector, and an old Thomian, whose first love was cricket and then hockey. He excelled at school, played for his club NCC and for the country. He was a devoted cricketer, who played with the likes of F.C de Saram, C.I Gunasekera, Mahes Rodrgo, Stanley Jaysinghe, Malcolm Spittle, Bertie Wijesinghe, Dr. H.I.K Fernando, Carl Obeysekera etc. In disgust Unlike the present day Police officers, Sydney de Zoysa, was a hard master by all standards. At the height of his cricketing career Prins was transferred to the Katukurunda Training School. Prins said "no" but Sydney insisted he should go. Eventually Vernon resigned in disgust. There were the likes of late T.B Werapitiya, L.M.P de Silva, Saul Gunatilleke, Hubert Bagot, Rudra Rajasingham and that dare-devil Sri Lanka hockey goalie R.R William who worked with him in the Harbour Police. He sacrificed his pension rights and a higher rank all for the sake of "king cricket" Another cricketer in the mould of Vernon is C.I Gunasekera - a versatile sportsman unlike the present generation, who are financially cruising through balmy waters. Kushil Gunasekera who hails from the South was an outstanding cricketer from Ananda. Kushil who does a lot of community work to help the have-nots sans caste, race on colour told The Sunday Times that it's not bad to have homes for elderly sportsmen. He agreed to the suggestion. Being a social worker, he has seen quite a lot of elderly parents put aside sportsmen who are being neglected even by their children. It doesn't happen in the western world. You are right it's no point politicians looking into the needs at the tail end of their tenure in office, whilst seeking another term. They should have started at the start of their term to overcome suffering. Its like getting up from their slumber? Incidentally Gunasekera is co-ordinating the Mini World Cup to be staged here next month. Had Kushil had a hand in the distribution of the funds among the deserving, he could have looked into the needs of the have-nots, when it came to the quantum of distribution. Rozanne Pereira is now domiciled in Melbourne, Australia. She is involved in social service and looking into the needs of the elders. Rozanne asked this scribe whilst in Australia. "Look which country looks after the elders better - Sri Lanka or Australia? Undoubtedly Australia. There are no elders going on a begging bowl, even if their children neglect them. The state looks after to their comforts to the end.