---
These people rarely hear the jingle of bells; for them Christmas and the new millennium mean little
What Christmas?
By Kumudini Hettiarachchi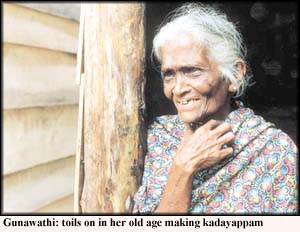 A week before Christmas and two before the New Year, which Sri Lanka and the whole world is awaiting with such expectation. It's the new millennium and many in Sri Lanka hope to greet it with joy and celebration. Hotels are booked to capacity and the champagne will overflow.
Yes, a week before the celebrations and Liyanarachchi Wimalaratne looks out of his shack and says, "Api hamadama weda. Uday indala re wenakal." (We work everyday, from morn to night).
What a silly question I have asked them. What do they do for Christmas and New Year, especially this New Year? We are under the Kelani bridge and seated in Wimalaratne's three-room shack. Just as he dusts two chairs and invites us to take a seat, the lowering grey sky opens up sending down a sheet of water. His face creased with worry, he shouts for his wife Hemalatha to help pull the stuff in.
We have walked into a small entrepreneur's home-cum-workplace. Wimalaratne employs two more people and works alongside them packing condiments and whatnots into tiny polythene sachets.
"I buy condiments such as pepper, ulu haal, turmeric, cinnamon, goraka, lunu dehi, chillie powder and also papadam, rubber bands and 'blue' powder at wholesale rates from the Pettah.
"We make small polythene packets, fill them with a tiny amount and seal them. Then we put rows of this stuff on boards and two or three others go out on their bicycles hawking these boards from shop to shop," he explains.
What a laborious task it seems to be. One man fills a 'medicine spoon' with pepper corns (about 15) and puts them into a small pack and Wimalaratne meticulously checks whether it is too much or too little, adjusts it accordingly and holds the open edge of the packet to the tiny flame of the oil lamp, which is the only light in the room. Though it is noon, the rain-burdened skies have cast black shadows making it seem like night. But for Wimalaratne and his family, kerosene is so expensive that they cannot afford to light the one and only Petromax lamp in the whole "house".
Hemalatha is busy, scraping coconut. She has to feed all her husband's workers and today's lunch would be rathu haal buth, a spicy pol sambol and karavala haal messo thel dala (red rice, coconut sambol and dried sprats fried), she smiles as I peep into her tiny kitchen.
"Kema kala yanna," she urges me and my colleague.
Even in their poverty, the ingrained hospitality of these humble shanty people is clearly evident.
Wimalaratne, his wife and two children live here at Wadullawatte, a large shanty town of about 1,000 families, under the Kelani bridge. Their 19-year-old daughter lives elsewhere with her grandmother.
They may starve, but Wimalaratne won't be beholden to another. "Things are very expensive. A kilo of pepper is Rs. 430, henasaal Rs. 400 and cinnamon Rs. 540. If it rains and the stuff gets wet, it rots. We have to throw the whole lot. But I still have to feed the people who work for me. Then it's out of my pocket. I took a loan to start this business and have to pay the interest monthly to the moneylender.
"We don't have any savings, not even a savings' book. I have only one pair of trousers and a shirt. We are up by 4 o'clock. If we start at about 5 a.m. and sit at it the whole day, by evening we can make about 600 packets," he says. And how much do they earn? His "sales" people sell a packet at Rs. 1.25 to the traders, who in return sell it to us at Rs. 2. The salesmen keep a commission of 25 cents and give Re. 1 back to Wimalaratne on each sachet.
Sometimes this family, after slogging the whole day, earns about Rs. 200 a day, and at others absolutely nothing. The prices of their raw material shoot up during Christmas, noombi (Ramazan) and New Year. The holidays come and the shops are closed. And Wimalaratne, his "staff" and their families face lean times. "Then we don't have anything to eat in the house."
Wimalaratne's nephew, Lasantha Sampath (18) has left his home in Kandy, because there are no jobs there and come to help his uncle. "I dropped out of school in Grade 6 and looked for a job, but couldn't get one." Now he earns a little bit to buy his own clothes and also send some money back to his family.
The cracks in the plank roof start leaking, they move their precious boards of condiments.Fearfully, Wimalaratne looks at the sky. It's grey and the heavy downpour may not abate quickly. Not only is it bad for business, it also brings the threat of floods, which is a frequent problem under the bridge. He points to ropes tied halfway down the wooden wall and says, "When the floods come we tie a plank to the walls on both sides and roost on it like fowls. There is no sleeping, eating or work." All their clothes are stacked into a single cardboard box. Their most prized possession, a transistor radio, lies prominently on a small table.
Woman-to-woman, Hemalatha chips in with the other problems faced by the watte residents.
"All 1,000 families have only two toilets and one water pipe. So it's queueing up at 4 a.m. first to use the toilets and then to fill water into plastic drums for our daily needs.
As we chat, in walks long-haired and handsome Sanjeewa (26), head of the youth group in the watte.
He's married with two children who are five and one-year-old. He is on night duty permanently. He flags down the lorries from the outstations that bring king coconuts to the city, at the Kelani bridge and guides them to shopkeepers he knows in the Pettah, for which he earns a small commission. He's home by 7.30 in the morning.
"Holidays, rain and the waters of the Kelani affect our work," he says. He is also the authority on the watte, where according to him 30% kudu walata abbehi wela inne (are addicted to drugs). "There are only about 10 people in the whole colony who are government workers and there isn't a single teacher."
While we wonder what to do next, Rajah, one of Wimalaratne's "salesmen" comes on his bicycle to settle accounts. He has cycled far and wide and the day has been successful. He has only a few boards of condiments to return. Wimalaratne takes out an exercise book and does a quick calculation, while Rajah pulls out a calculator, wrapped in polythene and does his own accounting. After the day's business is concluded and a few hundred rupees change hands, Rajah becomes our guide.
Luck in the form of a burst oil pipeline has smiled on Vijitha Mallika, now Ameena, her family and neighbours. "The refinery is near. Yesterday oil started oozing from the ground and we quickly collected it in plastic drums. We were up the whole night. We lit our lamp last night with this oil," says Ameena who is married to a trishaw driver. Life is not too bad for them, but they only cook one meal, sometimes even as late as 10 p.m., when her husband brings home a little money they can buy some food. These days she's fasting. The children eat bread, bought from the nearby boutique.
We wade through a foot of water and muck to get back to the main road. At one point, I lift my foot and my sandal floats along with the garbage. Rajah quickly retrieves it and I have horrible thoughts of skin rashes and hookworm. We pass by a steel monster, an electricity transformer, with the continuous humming of the Kelani powerhouse in our ears. Seated on the massive concrete-base of the transformer, 21-year-old Dhammika is making use of the rain to wash her clothes and have a bath. Usually she would go down to the yellow waters of the Kelani for her ablutions.
Passing a one-room shack, Rajah stops to tell us about the plight of old Gunawathi. Seventy-one, with no income she has to look after grandson Asela Madhusanka. The boy's father, Gunawathi's son, had abandoned him when he was four months, while his mother lives in the next watte but pretends she does not have a son. The grandmother toils on in her old age making kadayappam (hoppers and string-hoppers) to make ends meet. Often they have only one scrap-meal, the leftover hoppers or string-hoppers, a day.
Asela has just got his new textbooks and is eagerly looking through them."He's a bright boy," his grandmother says. The roof of their room is leaking and there is no floor, so the water seeps out. It's happening before our eyes, but the duo smile and accept their karume (fate) with dignity.
Our last stop is the home of Kusumawathie and her six daughters between the ages of 26 and 10. Two children are still schooling. Her husband does not have a regular income and it is a hand-to-mouth existence for them. She and her daughters sit day in day out and make hadun kuru (joss sticks). They buy a bundle, quite small to my eye, but with 1,000 tiny bamboo sticks for Rs. 6 and also kalu kudu and patta. Then they sit near the door of their dark and dinghy home rolling the sticks in a mix of the powder and gum-like substance.
Fourteen-year-old Nilmini gave up school to join her mother at this work. She agrees shyly to allow us to take a picture. But all the while her calloused and black-smeared young hands keep rolling the sticks one by one in the mixture, in a kneading movement. And what is the income? They are able to make, while doing the other housework, about 25 bundles in two weeks.
Each 1,000-stick bundle brings them only Rs. 28. Two weeks of hard labour and they have Rs. 700, which is inclusive of the money spent on raw materials.
Kusumawathie is a Christian, so what of Christmas? "If we have a little money we'll make kiri-bath (milk rice). No new clothes for Christmas or New Year. It's just another working day for us."