People's Bank to pay Gamini Fonseka
In a landmark judgement, the District Court has held that the People's Bank has violated the customer secrecy of Mr Gamini Fonseka. Fonseka filed action consequent to an article in Ravaya claiming he had defrauded the People's Bank to the tune of Rs 25 lakhs. A sum of Rs 2.23 mn was owed by Gamini Fonseka's company to the bank and Rs 1.8 mn was accepted in settlement of these dues.
However the Ravaya editor, Mr Victor Ivan in a statement to the CID declared he had obtained details of transactions from the files of the People's Bank. The article described loan transactions obtained by Fonseka from the People's Bank, Tissamaharama branch. Under banking law, a bank cannot reveal details of customer transactions.
Additional District Court Judge P W D C Jayathilaka held that it was proved that the People's Bank violated customer secrecy and damages had been caused to Gamini Fonseka through this violation. Damages of Rs 2.5 mn were awarded to the plaintiff Mr. Fonseka.
Instructed by Ben Eliatamby PC, H A Amarasena, Faizal Razeen, M N Thaseem, K A Fernando and Phillips appeared for the plaintiff. P Gunesekera, M C Ranasingha, P A T de Silva and Mohideen appeared for the defendant.
---
Managing economy at the cost of infrastructure
POINT OF VIEW by an economist
The present government's claims of sound economic management via curbing inflation and bringing down the budget deficit could be refuted, by arguing that it was at the cost of less spending on infrastructure projects.
The government says inflation has been curtailed to a single digit. But credit growth has been sluggish over the last few years. (See graph below).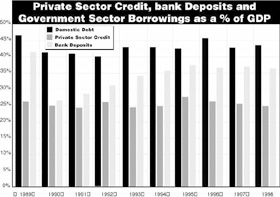 Although bank deposits have risen sharply there is no corresponding credit growth and deposits have been chanelled into government securities, pushing down government lending rates. But government borrowings have soared over the last few years, with the government increasingly turning towards long term borrowings for recurrent expenditure.
While it has to be acknowledged that the government is phasing out its dependence on rupee securities (whose tenure varies from 10-30 years) it is gradually depending on four to six year treasury bonds for recurring expenditure and not infrastructure development - not a healthy move.
The charts below show that there has been little or no credit growth and investments in infrastructure development.
Despite government propaganda claiming the economy has been well managed, it could be argued that the much touted lower budget deficits has been achieved at the expense of investing less monies into infrastructure development projects.
The 1998 budget recorded a deficit of 9.1 percent, and the deficit is expected to be pruned to 7.9 percent of GDP this year. In addition government has promised the donor community that they will bring the deficit down to 4 percent of GDP by 2001.
The government began its tenure by saying the private sector was the engine of growth. By doing so, the government hoped the private sector would come forward and develop infrastructure facilities like roads, power, water and electricity.
Foreign investors were invited to come and invest in Build Own and Operate (BOO) and Build Own and Transfer (BOT) projects.
But nothing much seems to have materialised with the exception of the power sector and cellular operator Mobitel, who later converted their project into a fully equity operation.
Foreign investors did not come forward because the purchasing power of Sri Lankans are quite low. In a situation like that, the government has to spend money on infrastructure projects.
But instead, the government has reduced the budget deficit at the expense of infrastructure projects.
If a government does not spend money on infrastructure, it only means that it would have to spend more in the future.
It could be argued that the present administration could not have maintained a low budget deficit if it had accelerated its infrastructure spending.
Instead the government seems to have increased its defence and subsidy budgets as the cost of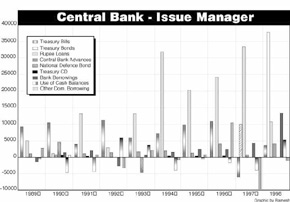 infrastructure development.
A comparison of revenue and expenditure in the budgets from 1986 -1998
Revenue
– dropped from 17% of GDP to 14.5% in 1998.
– Taxes on foreign trade dropped from 6.2% of GDP in 1986 to 2.8% of GDP in 1998.
– Indirect tax contribution increased from 47% of GDP in 1986 to 62% of GDP in 1998.
Expenditure
–Total expenditure dropped from 33% of GDP in 1986 to 26.4% of GDP in 1998.
Recurrent expenditure increased from 18.9% of GDP in 1986 to 19.7% of GDP in 1998.
Capital Expenditure dropped from 12.9% of GDP in 1986 to 5.3% of GDP in 1998.
Economic analysts are forecasting a future rise in recurrent expenditure due to increased costs incurred from pensions and the war. In addition, the total tax revenue is not expected to meet the target of economic growth due to slippages in the revenue collection system. Credit growth too is not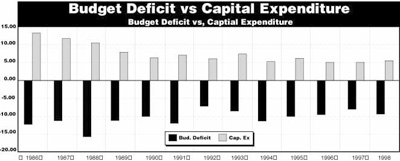 expected to grow significantly as investors are wary of investing.
The banks in turn towards the government to lend their monies, raising the government debt and reducing the government borrowings rate.
By raising long term monies for recurrent expenditure, the government is pawning the future of our younger generation.
While the present government has been following a misguided economic path of keeping inflation and budget deficit low at the cost of economic growth, they had no particular economic policies when they came into power - a fact shrouded in their promises of eliminating human rights violations, bribery and corruption.
The present government rode into victory also on the promise that they would end the war.
After a period of near anarchy, where human rights were blatantly violated and bribery and corruption were rampant, it was undoubtedly necessary for any opposition asking to be elected to promise a total clean up. But a country cannot run on election promises to clean up the act and end the war. It has to get direction from strong and motivated economic policy which the present government did not spell out in their campaign to victory and does not seem to be doing so this time around either.
---
Wait and see attitude
By Dinali Goonewardene
High market expectations last week were watered down this week as investors adopted a wait and see attitude. The All Share Price Index rose 2.1 per cent while the Milanka Price Index broke the psychological barrier of 1000 on Monday to register 1002.6 but retreated later, closing the week at 1001.9.
The MBSL Midcap index grew .37 to close at 1041.81. Average turnover during the week was Rs 122.3 mn and interest centered around the blue chips.
Top gainers for the week included Lankem Ceylon 33.33 per cent, Ceylon Guardian Investment 20 per cent and Ferntea 16.67 per cent.
Losers icluded Ceylinco Securities and Financial Services 15.38 per cent, Lanka Ceramics 11.86 and Millers Ltd 9.09 per cent.
"The markets performance in the next couple of weeks will depend on the outcome of elections," Head of Research, Asia Securities, Dushyanth Wijaysingha said. "If the UNP wins there will be a retail driven rally. Even if the PA wins there will be a moderate recovery and subsequent performance will depend on the presentation of a disciplined budget and reorganisation in cabinet," he said.
"A sharp rally in the market could result from a free and fair election with an outcome that is acceptable to the investor community," Strategist, Jardine Fleming HNB Securities, Amal Sanderatne said.
"The focus will be on the outcome of elections which will decide how the market will behave in the period immediately after the elections," General Manager, Forbes ABN Amro Securities, Alistair Corera said.
"The market next week will depend on who comes into power and their agenda for the war and economy," Head of Research, NDBS Stock Brokers, Chanaka Wickramasuriya said
---
The return of the Iraqi deal
Shafraz Farook
The seventh phase of the oil for food programme that was scheduled for November but pushed back by UN sanctions took off last week.
However, industry officials said that local dealings with Iraq would take place only after the Ramazan season ends early January.
Iraq is expected to buy an estimated 6000 to 7000 metric tons of tea from Sri Lanka, the same as in the sixth phase. The total quantity is also expected to be around 20,000 metric tons bought in the sixth phase.
Officials added that they were looking at better prices in the seventh phase as opposed to the US $ 1.68 obtained in the sixth phase. They said anything around US $ 1.90 to US $ 2 would be satisfactory, but expect Iraq to buy better quality teas at better prices as they used to before the UN sanctions. This follows the U.N Security Council's unanimous decision to approve a six month extension of the humanitarian programme allowing Baghdad to sell US $ 5.26 billion worth of oil to buy food, medicine and other relief supplies for Iraq.
It is understood that Iraqi authorities have started to distribute ration cards for the year 2000 to allow the sanction-hit population to buy basic goods at subsidised prices.
The cards allow a monthly ration of flour, rice, sugar, tea, cooking oil, powdered milk, starchy foods, processed cheese, cooking salt, as well as soap and washing powder.
The U.N imposed sanctions on Iraq 10 years ago when it invaded Kuwait in 1990.
Meanwhile, in the first of the two auctions that were held last week prices dropped as expected as sellers scrambled to convert their tea into cash before the anticipated long holiday.
Asia Siyaka reported that despite a fair demand, there was an inability to convert tea to cash over the next two weeks due to the election break followed by holidays. John Keells reported that the lower end of the market dropped below Rs. 120 after long time.
However, on a more historical note in 1773, the Boston Tea Party took place as American colonists boarded a British ship and dumped more than 300 chests of tea overboard to protest against tea taxes.
As of today America is one of the largest tea consuming markets, though they remain a predominantly coffee drinking nation.
Christmas cracker
Ho! Ho! Ho! Christmas is round the corner. The season that brings cheer and in the 21 century the jitters too.
It is that time of the year again when you pour your pocket out, like you would your heart at the end of the season when pockets run dry.
The Sunday Times Business Desk spoke to a cross section of average (married with kids) middle income families to find out how much they spent on Christmas. And we believe the graphical representation tells it all. However there are other things that affects Christmas spending and it has the jolly crowd weary at the end of the whole episode. Most of them complained about the high cost but said that it was only once a year and that they did not mind it. Others however said that Christmas is too commercialised and hence has lost it old charm and allure.
They said that in the good old days people look forward to Christmas, but now the thought of going Christmas shopping itself is enough to put off the most discerning Christmas fanatic. For most men this was the case and in addition they dreaded the spending part of the season. For women it was also the shopping but they did not mind it very much cause they love to spend. (Some of them at least). The kids, oh! never seen such a bunch. They loved every bit of it, especially the part where they get the presents.
However, Christmas is Christmas and it is here to stay so all of them said that they were going to stop complaining and have fun. So here is hoping that Santa brings you what you want! MERRY CHRISTMAS!
---
CB fully Y2K ready, will remain open on New Year weekend
The Commercial Bank's computer systems will work through the weekend of Friday December 31, 1999 (A Bank holiday) to Sunday January 2, 2000 and provide customer services, in a unique demonstration of the Bank's Y2K readiness, the Bank announced this week.
The Bank said its Holiday Banking Centre at Dharmapala Mawatha, Colombo 7, would be open to the public on all three days, while its branches at Kandy and Negombo will be open for business on Saturday January 1, 2000.
"Our decision to provide customer services during this period of transition is a reflection of our confidence in our information technology systems, which have been audited by several local and international organisations, including the Central Bank's designated auditors," Commercial Bank Managing Director Amitha Gooneratne said.
He said Commercial Bank was one of the first three local Banks to be certified Y2K ready by the Central Bank's auditors who had been in residence at the Bank's premises for three weeks, during which time all systems had been examined microscopically.
Additionally, international experts from MasterCard and SWIFT (Society for Worldwide Inter-Bank Financial Telecommunications) had also rated the Bank fully ready for the millennium switch, Mr. Gooneratne said.
One of Commercial Bank's key strengths in preparing for any eventuality, the Bank's Deputy General Manager (Information Technology) R. B. Ekanayake explained, was that the Bank has another main system as a back-up, where it was able to simulate all activities independently of the main processing system. This enabled the Bank to change dates on the back-up system and test several times simulating the change to the new millennium.
The results of these tests were 100% correct.
---
CIMA London goes global
The Chartered Institute of Management Accountants has established a virtual network connecting its office in London to CIMA centres world wide. "This on line real time communication system will enable students to sort out matters relating to exams and fees from the local office," Chairman, Information Technology Centre, CIMA Sri Lanka Division, Palitha Gunawardene said.
CIMA demonstrated video conferencing for business use in Weligama in November. Sri Lanka Telecom demonstrated video conferencing through the internet at this seminar. "CIMA Sri Lanka's IT centre hopes to introduce video conferencing for businesses to other major provincial centres early next year," Mr Gunawardene said. "We have planned a seminar in Kurunegala for February and a seminar in Kandy for March," he said
---
CEAT trebles three wheeler tyres
Assocatied CEAT, the Sri Lanka-India joint venture tyre manufacturer, has trebled its production of three wheeler tyres in a bid to penetrate export markets in South Asia.
The company said in a press release that its plants at Kalutara and Kelaniya now produce 12,000 tyres per month of the 400-8 size, up from 4,000 earlier. The local demand for three-wheeler tyres is estimated at 20,000 tyres a month.
Associated CEAT's General Manager - Sales and Marketing Ashwin Padukone said the company had identified significant export markets in Pakistan, Bangladesh and Sudan for these tyres, and had already shipped a consignment to Bangladesh. He said one of the marketing advantages enjoyed by the company was the fact that CEAT is an "Original Equipment Tyre" which means that it is the choice of the manufacturers of the vehicles, and is the tyre with which the three wheeler rolls off the production line.
Mr. Padukone said CEAT's enhancement of its production capacity for these tyres would also benefit users. The increased output results in a lower unit cost of production, and CEAT has decided to pass on this advantage to users, in the form of a price reduction of about 10 per cent, he said.
---
Carson sponsors personal mentor programme
With the aim of grooming the undergraduates to be employment- tuned at graduation, Carson Cumberbatch & Co.Ltd has stepped into assist a special programme on career guidance of the Career Guidance Unit of the University of Colombo.
The two personal mentor programme will focus on developing personalities and undergraduates, with the objective of coaching them to make them employable especially in the private sector, a news report says.
For the first time, the private sector of Sri Lanka has intervened to assist the counselling programme. Out of the 14 private companies initially being involved in providing mentors, Carson Cumberbatch & Co, Ltd., will exclusively sponsor the inauguration and all activities for the first year of the two year personal mentor programme and will also provide 3 mentors.
The Career Guidance Unit has identified 160, 2nd year undergraduates from the Arts & Commerce degree programme for the pilot project, and will be attached to the "Mentors" who will groom the students to make them presentable in acquiring employment and thereafter to be able to sustain a personality accepted by their employers.
---
Global solutions from HP
HewletPackard Company today announced its status as a Microsoft Windows 2000 Global launch sponsor. As a sponsor, HP will provide customers with windows 2000 certified hardware and software, as well as the services, support and training, customers will need to migrate to the new operating system." HP has been working closely with Microsoft during the development of windows 2000 to provide our customers with reliable solutions and a clear road to the future," said Dennis Mark, Business PCs-Regional marketing Centre Manager, Asia Pacific Region. HPs hardware, software and services, combined with Windows 2000, will give customers an unbeatable global solution that will take them into the next century a company news release said.
---
British HC to fund two projects
The British High Commission has agreed to fund two projects for the construction of Irrigation Wells from the Department for International Development's Small Grants Scheme. Projects financed under the Small Grants Scheme should be developmental and sustainable and must be consistent with the strategic objectives of the UK's poverty focused development programme. The scheme is also designed to provide a cost effective means for the Mission to mount small development projects, a news release said.
The Bahirawa Community Development Foundation, Sevanagala will receive Rs.762,000 and the Navodaya Padnama, Bogahawewa Rs. 880,000 for the construction of Irrigation Wells and for the purchase of Water Pumps and accessories.
These two project will help 150 farmer families to engage in continuous cultivation even during the dry season. A total of 200 acres is to be cultivated.
---
Anton obtains SLS 659 standard
St. Anthony's Industries Group (Pvt.) Ltd., the pioneer manufacturers of PVC pipes and fittings in Sri Lanka has obtained SLS 659 standard for PVC fittings. The company has spent more than Rupees 15 million for upgrading the machines, moulds and production plant to obtain SLS 659, a news release said.
Anton has been able to maintain its high standard of quality mainly because of the inhouse design and development capacity.
---
Emirates chalks up record rate of inflight telephone calls
Emirates passengers make an average of 3,000 phone calls on board flights each month via the airline's satellite communications system called EMTEL. This is a 50 per cent increase over a year ago, and represents the world's highest user rate of all commercial airlines, according to SITA, the leading provider of integrated telecommunications and information solutions for the air transport industry.
SITA's records show that Emirates hold the record for the highest monthly average call attempts per aircraft, which stands at 289.81. The highest was recorded in September this year, at 841 call attempts made on board an Emirates Boeing 777.
Emirates management attributes the impressive user record to a bold decision earlier this year to slash service charges by 20 per cent. Emirates now charges passengers US$ 6.50 per minute's transmission - the lowest rate by a commercial carrier for air-to-ground transmission in international airspace.
Don Foster, Emirate's Director Service Delivery, said: "We wanted to encourage higher user rate by making the service more affordable. We are pleased that it has worked, allowing our passengers to keep in touch with their loved ones or people at work, when travelling on board Emirates.
"We are keen to reduce prices further and we are working with our telecommunications partners in this endeavour."
The airline is careful to stress that it makes no profit from the inflight telephone service charges, after allowing for costs of equipment, maintenance and connecting calls.
The highest usage has been recorded on Emirates flights into London, to which the airline operates three daily flights into Heathrow and once a day to Gatwick. Average call duration is between two and three minutes. The longest recorded call lasted 100 minutes - made on September 1.
Emirates inflight phones can be operated with major credit cards or prepaid EMTEL phone cards, for outgoing calls only.
Mr. Foster added: "Over 10 per cent of users make calls with the Emirates pre-paid phone card which they can purchase on board flights. This is either because they don't have credit cards or wish to limit the call duration. Whatever the case, we have demonstrated that the pre-paid phone cards have helped to make the service even more accessible."
As early as 1993, Emirates became the first airline in the world to equip its entire fleet with inflight phones and fax machines. Today, 15 of Emirates newer aircraft - the Boeing 777s and Airbus A330-200s - have phone sets in every seat. The other 13 - Airbus A300-600Rs and A310-300s - have two wall mounted phone sets per cabin.
User rate tends to be higher on board the Boeings and Airbus 330-200s which have in-seat phones, versus aircraft with wall mounted phones only.
"Our records show that nearly three times as many passengers make a call when the phone is located in their seat. It is not uncommon for more than 30 calls to be connected from a single flight," said Mr. Foster. "One or two major airlines have announced that they are removing satellite telephones due to lack of demand. We believe that the lack of demand is due to the prohibitive call charges levied on passengers. What Emirates has demonstrated is that people will use the service if it is affordable, and we are committed to offering the inflight phones as a passenger service rather than as a profit centre."
Emirates inseat phone sets are supplied by Matsushita Avionics System, while the wall mounted sets are by Hughes Avicom. SITA is the provider of radar transmissions.
---
'Fuji' records highest sales
Sales of Fujicolor films in Sri Lanka topped 100,000 rolls in a single month in November this year in a record breaking sales performance, the brand's sole distributor Hayleys Photoprint Limited announced this week.
Describing this figure as an "important milestone" in the company's efforts to achieve market leadership in Sri Lanka for Fujifilm, Hayleys Photoprint's Director/General Manager Ashan Abeyesundere said his company's special promotional offer of a free millennium diary with every roll of film had helped boost sales, which were substantially higher than the previous year even before the promotion. "This is clear evidence that our marketing initiative is bearing fruit," he noted.
The November sales achievement by Hayleys Photoprint has been enthusiastically received by the company's principals in Tokyo, Mr. Abeyesundere said. Congratulating the company on a "remarkable performance," Teiichi Goto, Regional Marketing Manager, Fuji Photo Film (Singapore) Pte. Ltd., has in a letter to Hayleys Photoprint said: "I believe breaking the 100,000 threshold will provide a psychological, paradigm shift, which would now enable you to exceed this level frequently in future."
Jude Silva, Manager of the Consumer Marketing Department of Hayleys Photoprint Ltd., said the offer of a free diary with every roll of film would continue till end January 2000, and the company expected the trend of high sales to continue. The company would follow a strategy of value addition in its bid to achieve market leadership in Sri Lanka in the near future, he said.
---
Training programme on Business English for Hatton National Bank
The Certificate Awarding Ceremony of the Business English Training Programme organized by the Training Centre of Hatton National Bank Limited in collaboration with the Sri Lanka Business Development Centre (SLBDC) was held on December 8, 1999 at the HNB Auditorium.
The objective of this training programme was to develop the English language communication skills of the Junior Executives to enable them to function effectively in a professional environment.
Mr. M. Upali de Silva, Senior Deputy General Manager-Administration & Marketing of HNB who was the Chief Guest on this occasion distributed the certificates to 30 successful participants. There were also Merit Awards for 11 officers. In his address Mr. De Silva congratulated the successful participants and thanked SLBDC for conducting the programme in a professional and efficient manner.
Mrs. L. P. M. Manuratna - Assistant General Manager-Training & Productivity, Mrs. M. K. Rambukwella - Training Manager of HNB, Mr. J. Charitha Ratwatte, Managing Director and Mr. Raj Subramaniam, Executive Director - SLBDC were also associated at this meeting.
---
New board for ACFA
The Association of Clearing and Forwarding Agents (ACFA) held their 15 annual general meeting recently. Among other issues that were taken up at that occasion was the appointment of the new board with M.S.M.Niyas from Serendib Freight Services President, while Priyanath Pieris from Modern Shipping Pvt. Ltd was appointed as Vice President. Sanjeeva Jayasinghe from Marine Transport Services Pvt. Ltd. was appointed as Secretary and Ghouse Arifin from Overseas Cargo Consultants was appointed as Treasurer. At the AGM it was decided that the immediate past president be automaticaly appointed to the committee. Acordingly the immediate past president and Sunil de Silva, Kareem Amath, K.N. Mohanrajah, R.M. Seneviratne and Pices Paiva were appointed as Committee members.
---
New website for Unilever
Unilever Ceylon has launched a website www.unileverceylon.com. The new website introduces all Unilever products and factories.
These are namely, the Head Office and main manufacturing site at Grandpass, the Tea Division at Union Place, Wall's Ice Cream Factory at Banduragoda, Lipton Value Added Tea Factory at Mabole, Ceytea Instant Tea Factory at Agrapatana, the Masterline Bakery Institute and the company warehousing complex & NSD plant at LINDEL, Sapugaskanda, a company release said.
In addition the website introduces the company's various functions in relation to career opportunities.
There is also a facility for prospective job applicants to send their details on the web for consideration by the company's personnel department.
The company invites suggestions from consumers, customers and other web surfers to improve its website, which is still under development.
---
Chamber Publication circularized
The Ceylon Chamber of Commerce is in the process of circularizing 5 publications developed by the CPA on the subjects of:
Corporate Governance, Tax Compliance, Business Ethics, Sustainable Development, Transparent Disclosure Through Accounting & Auditing Standards
The above booklets, in fact are closely inter-related and form a basis for a single strategy on good governance for the private sector. The booklets contain significant information on Global and National initiatives in each area with illustrative examples to provide best practice models. The Chamber's main objective in circularizing the booklets is to create an awareness within the private sector and encourage the private sector to play a greater role in the future development of the nation and the Chamber feels it is essential that in the pursuance of maximizing profits the private sector also makes an effort to contribute to good governance.
Corporate Governance is now recognized as fundamental to improving economic efficiency of a Company, and has a far wider economic beneficial impact on the macro economic context on which firms operate. Corporate Governance provides the structure through which the objectives of the Companies are set, and the means of attaining those objectives and monitoring the performances the Company has determined. It also provides proper incentives for the Board and the Management, to focus and pursue their objectives that are in the best interest of the Company and its Shareholders.