Wanted: good governance
Are businesses doing enough to protect their reputations? The number of leading companies claiming to have ethics programmes has grown slowly over the past few years. But many still do not understand how to translate their statement of principles into effective behaviour, market participants said at a recent seminar. Curious to know why, then read on...........
Top stock picker, Mark Mobius told Asiaweek magazine in a recent interview that he wants companies to shape up. Mobius who heads Templeton Emerging Markets is a legend in Asia for his early championing of the region's equities. At the height of the last Asian bull-run in 1993, Templeton had several billion dollars invested in Asia. With the Asian markets gathering steam, Mobius is picky. He was talking loudly about the need for public companies to give proper consideration to minority shareholders - corporate governance. And says he won't hesitate to sell his shares in companies that don't agree.
"We are speaking out for our basic rights. Investors are really owners of the company. As part-owners of the company we should be treated fairly and equally with other owners or shareholders. I have spoken out against share placements by large Hong Kong companies. These placements dilute the equity of existing shareholders in the company. As existing shareholders of these companies all we want is to be given a chance to subscribe to any new shares the company may issue. But some of the companies routinely do these placements without giving existing shareholders pre-emptive rights. Shareholders may not want to subscribe to the rights issue, but at least the new shares should be offered to them," Mobius said in the interview.
Economists have said that the lack of corporate governance has been partly responsible for the East Asian debacle. Most governments woke up promising to make corporate governance a priority. But Mobius is quoted saying, "what's the use of having the best corporate governance laws in the world if they are not [enforced] or only selectively [enforced]? On the face of it, [Malaysia has] laws in place. Yet they continue to practice crony capitalism. Minority shareholders in politically well connected companies are often ignored or taken for a ride. Who do you complain to? The people in charge of [enforcing] the laws are the same people who control the companies that openly flout the laws. [Companies] say they want foreign investors, but they practice crony capitalism where management is allowed to walk all over minority shareholders. The unresolved issue of [Singapore-traded] CLOB shares is evidence of a lack of transparency and corporate governance."
Though nothing of this magnitude occurred in Sri Lanka, most institutional fund managers were of the view that Sri Lankan companies pay lip service to the word 'corporate governance.'
"It's become a fad, just a buzz word around town, but nobody seems to be able to give a proper definition for it," a senior economist attached to a donor organisation said.
Investors' Rights Association of America describes corporate governance as a "discipline which is the fortitude to stay the course and create boundaries that guide us through the maze of moral and ethical dilemmas that inhibit us from our ultimate objective of creating long term shareholder value."
In short, corporate governance is about enhancing wealth through increased accountability. But is this happening here?
"Not really," said a director of a blue chip company. "The response for corporate governance has been poor as the directors themselves are not aware of their duties and liabilities or sometimes the companies themselves simply can't be bothered about it," he said.
Steven Enderby General Manager Ayojana Fund Management says, that the board of directors are responsible for the governance of their companies. "It's the shareholders role to appoint the directors and the auditors and to satisfy themselves that an appropriate governance structure is in place," he said addressing a recent seminar on Corporate Governance organised by the Securities and Exchange Commission.
A bulk of Ayojana's activities is involved in unquoted companies. Enderby says that if companies don't take corporate governance seriously they don't want to invest in them. He admitted that the board had a complex role to play. "You have to be entrepreneurial yet keep business under prudent control, knowledgeable about the company yet stand back and retain an objective long term view. But the board should be focused on the commercial needs of its business while acting responsibly towards its employees, business partners and society as a whole."
He also says it's the fiduciary duty of the directors to act in the best interest of the company, they must exercise powers for their proper purpose, must avoid conflict of interest and must not make a profit out of their position or misapply company property. "The fact that the 'must' word appears in the list shows the importance or a directors role not to also forget the personal liability involved in the issue," he said.
Directors should also be aware of warning signs like one individual with dominant control, defrauding inland revenue, knowledge of irregular payments, off the record understandings and a departure from transparency.
The same thing should apply to non executive directors themselves and its important that they understand the business, the sector they are involved in and visit subsidiary or associate companies often to get a first hand experience of things.
"I find it a habit in Sri Lanka for people to lend their names to companies without fully understanding what they are in for," says Enderby.
Management Consultant Gerry Weeraratne too expressed similar sentiments. While its important that companies invite a few non-executive directors on to their boards, they should be properly briefed about their duties and be aware of their responsibilities. Most participants were of the view that raising the remuneration levels for non executive directors would attract the right calibre of professional personnel as well as make the non executive directors more responsible for their actions.
Institutional investors like Unit Trust, fund managers say they don't go to company AGM's and push for their cause, instead the investors tap the company directly if they think the company is doing something that would be detrimental to their unit holders. Unlike a venture capital like Ayojana, Unit Trusts are not entitled to a board seat, says Dheerendra Abeydeera, CEO Ceybank Unit Trust. "From a unit trust point of view, we want to ensure the companies are transparent to minority shareholders like us," he said.
Abeydeera says if they feel a company has not fully disclosed a particular transaction, they [unit trust companies] take it up with the management of the particular company officially.
Though some minority shareholders were of the view it's the unit trusts themselves who have the clout to press for more transparency at company AGM's, Abeydeera says they prefer to take the matter up before the AGM, as sometimes AGM's tend to get out of control with shareholders asking meaningless questions.
It is also interesting to note that Sri Lankan institutional investors hold on average somewhere around a 15 percent stake in quoted companies, while retailer investors hold 10 percent and the balance is held by the promoters. This is compared to the USA, where institutional investors hold 50 percent in all listed corporate stock (about 60% in the largest 1,000 corporations). The largest 25 pension funds accounted for 42% of the foreign equity held by all US investors. In other words unlike Sri Lanka, US institutional investors have assumed the role of 'permanent shareholders'.
As key institutional investors are shifting from being traders to being owners, permanent owners are grappling with the issues of corporate governance and they are simultaneously reinventing systems of corporate monitoring and accountability.
Sri Lanka was one of the first countries in South East Asia to embrace corporate governance in 1997. The Institute of Chartered Accountants of Sri Lanka (ICASL) under the chairmanship of Nivard Cabraal brought out a code of best practices on the financial aspects of corporate governance.
Cabraal says the original code was a voluntary guideline to companies. "We didn't want it to be too detailed as we wanted people to get to used to it, so we decided on a broader framework," Cabraal said.
The ICASL code was initially for a two-year voluntary period and Cabraal says work will commence soon to revise the code. "Now there is a demand that we should spell out a list of do's and don'ts for companies."
Cabraal says, ICASL will fine tune the existing code and introduce few new things. For instance, the need for a nomination committee will be introduced. We are saying that the non-executive directors should be handled by all members of the board. Some corporate governance codes in other countries requires boards to appoint a core group that would go into the selection of non executive directors. Non executive directors would be selected on their contribution to their respective fields, their experience and professional competencies. The committee would then submit a list of suitable candidates for the boards to select. Cabraal hopes this method would eliminate unsuitable candidates as the company would select eminent persons who can make a contribution to the growth of the company.
The audit committee and the remuneration committee will also come under revision. Cabraal says the feedback ICASL received from companies wanted the code to specify more guidelines to show people how the respective committees should function.
Conclusion
While Cabraal's suggestions seem the next viable step to breed transparency, the market regulators have taken a different stance. The Securities and Exchange Commission (SEC) is requesting listed companies to incorporate corporate governance into their management structures. The SEC will shortly issue a directive to chairmans of quoted companies to appoint non-executive directors and to include disclosures on corporate governance in their future annual reports.
SEC Director General, Kumar Paul says, the Commission is requesting companies to disclose in their annual reports as to how far they have progressed in applying the code of best practice.
He said, the circular sent out, will also include a few draft statements to give some guidance to the board on what shareholders and investors would like to see.
"We want to sail under the flag that corporate governance makes good economic sense, so we hope to issue the circular within the coming days so that this will be included in the annual reports commencing December 1999," he said.
Paul's sentiments are also expressed by Colombo Stock Exchange Director General, Hiran Mendis.
Mendis says the lack of transparency is partly responsible for the poor response of investors and shareholders from investing in the market.
"Despite having the most modern technology, the exchange has had a poor record of mobilising savings," he said.
He wants companies to look at corporate governance as a way of promoting good economic sense. "It should not be done because of a code, a fad or the exchange or SEC wants it. It should be looked upon as a mechanism that makes good economic sense."
Though the SEC directive is voluntary, Paul hopes the initiative would bind company directors into incorporating corporate governance, as well as create investor and shareholder demand for this.
While the investing public welcomes these moves, let's hope there will be a few brave firms ready to move the herd. A few years ago not many had adopted corporate governance principles or established corporate governance committees but times are changing.
I'm betting that several firms will be willing to raise the bar. For the laggards, there is always the threat of bylaw amendments or other action.
We invite our readers to participate in identifying stress points, opportunities, expectations and emergent adaptations in the field of corporate governance. We don't expect to find one set of democratic principles, which will apply in every situation. We use the term "democratic" not in the sense of a predetermined abstract ideal. There have long been debates about the nature of democracy in government (the importance of education, role of parties, necessity of a written constitution, distribution of wealth, relative advantages of presidential and parliamentary systems, etc.). Democracy, as a concept, in the field of corporate governance will also prove fertile ground for debate.
Analytical argument and empirical research demonstrate the value of shifting from oligarchic corporate structures, where CEOs set the agenda and are paid 400 times the wages of their average employee, towards those which establish systems of accountability and encourage long-term participation by shareholders and employees in corporate decision-making. The corporations that embrace such a dialogue should be better equipped to create wealth, compete in global markets, and solve the highly complex problems of the 21st century.
The survey reveals gaps in ethics programmes.
The percentage of companies training employees in ethics has doubled in the past three years but is only 40 per cent. Of these, only 61 per cent train all staff. Employees are not usually involved in drawing up codes of conduct. Nearly half of companies with codes do not make them publicly available on request - while a minority market them on web sites.
Many companies are missing opportunities and risking a backlash, says the report. Excluding some employees can foster a "them and us" culture. Restricting involvement in codes of conduct can encourage cynicism.
A particular concern raised by the survey is that employees and managers are perceived to have low awareness of business ethics risks, especially in companies that do not have codes or training, or do not make them available to all.
"It is as important that the driver of a delivery vehicle subscribes to the policy at least as much as his or her manager, because it is the driver who interfaces directly with the public," says Peter Newman, a partner in Arthur Andersen's risk consulting practice.
Internet leading source for retail investment information
The November issue of Investor Relations Business said. 3/4 now use corporate websites as important research tools and 90% choose companies without the help of an advisor. Among features wanted on corporate sites: timely news releases (96%), income/balance sheets (93%), ownership profile (92%), e-mail connection to IR department (92%) and many want the option to get data automatically e-mailed to them or at least an indication that information has been updated.
Milan stock exchange to introduce new rule
Italy's Milan stock exchange is expected to introduce a rule next month to encourage quoted companies to adopt its new voluntary corporate governance code. "If they do not use it, companies will have to explain why and outline their own model of governance," said Stefano Preda, chairman of the stock exchange. The voluntary code of conduct was introduced last month as a means to protect minority shareholders and create value.
Developments in corporate governance
November issue of Governance magazine contained several excellent articles on large trends and developments in the field of corporate governance. First was an announcement about the Global Corporate Governance Forum. Governance reports their first practical project is to work with the Confederation of Indian Industry to bring 50 Indian companies into compliance with NY Stock Exchange standards for disclosure and accountability
Ethical behaviour is essential for success
A recent study, by Arthur Andersen and London Business School, finds 78 percent of companies have a code of conduct, compared with 57 percent three years ago. Three in five say they give business ethics high priority, against one in five giving it low priority.
The increased attention being paid to the issue is remarkable given the competition for resources from such issues as the millennium bug, the euro and cost-cutting, says the report. However, it points out that values statements and codes of conduct are usually not enough on their own.
"A committed investment by the chief executive to developing a corporate culture that values ethical behaviour is essential to success," says John Quelch, Dean of London Business School.
The study, described by its authors as exploratory, is based on 78 survey responses from FTSE 350 companies and non-quoted companies of equivalent size. It says the participating companies are likely to be those most active in the emerging field of business ethics.
The three most common reasons for pursuing ethics programmes were to protect and improve corporate reputation, to adhere to corporate governance guidelines, and to respond to "increased emphasis on values".
---
From a bang to a whimper-the high-tech 90s
(Reuters) - It began with computer-guided missiles finding open windows and chimneys hundreds of miles away, in a war televised globally in real-time. And it ends with the threat that computers everywhere will crash because they won't even know what time it is.Welcome to the 1990s: The decade when high-tech, for better or worse, took over.Bill Gates has become an American icon as well known as Ali and Elvis. Technology-infused movies like "The Matrix" and "Star Wars 1: The Phantom Menace" are runaway hits. Presidential campaigners jostle one another to be seen as the most technology-friendly.But if technology's star has risen in the 10 years at the close of the millennium, it has done so without any truly dramatic breakthroughs.
There's been nothing like the splitting of the atom (the 1940s), the development of the transistor that ushered in the computer era (1950s) or the moon landings (1970s), and certainly this end-of-the-century period doesn't match the inventive power of "circa 1900," when the telephone, light bulb, aeroplane and automobile came on stream.Dolly was cloned, of course, and the human genome is being mapped. But genetic treatments, much hyped at the start of the decade, have done little to cure diseases, and genetically-modified crops have drawn the wrath of environmentalists and consumer groups, especially in Europe.But if there were no dazzling technologies arriving on the scene, the adoption of the Internet after the 1990 invention of the World Wide Web made many people feel they were in the midst of a digital revolution.
"The Web is more a social creation than a technical one," said its inventor, Tim Berners-Lee, in his book "Weaving the Web (Harper Collins) "I designed it for a social effect — to help people work together — and not as a technical toy."The Internet defined the era and put a hemispheric line on communications guru Marshall McLuhan's global village, separating the new media from old. Traditional media operates from one central point and requires costly programming and infrastructure; the Internet runs over any telephone line and its users produce the content.
Like wildfire.From just a handful of regular users at the start of the decade, the network grew rapidly, linking 200 million computers today in a global electronic community with nearly as many residents as the United States.There are more e-mails sent each day in the U.S. than post office letters. There are six million Web sites, with 15,000 being added each day. Millions tuned in to Web sites to read the testimony — instantly made available — during President Bill Clinton's impeachment proceedings. Some argued that the preponderance of evidence and opinion online made it harder for anybody to control the outcome.
Not a new invention
The network of computers wasn't even an invention of the 90s but goes back 30 years to a group of academics and government workers who needed to swap scientific data.Its overnight success, though, came when a simple interface and browser, for navigating and viewing the Internet was perfected to replace the drab packets of information being sent around at the time.
Pictures and sound files could be sent, and robust directories could be created pointing to any computer linked anywhere on the globe. Indeed a single page now could pick up numerous bits at once for a single page.The software, known as the browser, made the Internet sexy, attracting millions of users, launching an entire industry and leading to an all-out "browser war" among high-tech companies, eventually resulting in one of the century's most celebrated legal battles.
While the Internet, as the saying goes, changes everything, and the World Wide Web transformed the Internet, it's the "dot-com" part of the Web that generated the most excitement.The much-quoted campaign sign that hung in Clinton's headquarters as the mantra of the 1992 election could explain the Internet's "mojo," just as well."It's the economy, stupid" helped propel the Democrat into the White House after 12 years of Republican rule.Early next year, the expansion in the world's largest economy becomes the longest in history. From its start in early 1991, it delivered a long, steady stream of higher income and wealth for virtually every income bracket.
As the fastest growing part of the economy, and the largest export product, high-tech gets much of the credit, and within the computer industry, the Internet is the driving force."The Internet is now the single most important growth driver in the computer industry," said Paul Otellini, a top ranking official of chip giant Intel Corp, forecasting $1 trillion in e-commerce revenues in the next few years.
Intel, which has made more money than anyone from silicon, declared, "The Internet is as important to Intel's future as silicon was in our past."Even Alan Greenspan, in his critical role as the Federal Reserve chairman who has shepherded the economy through the boom, has moved from techno-sceptic to apparent believer. In a speech last October, he referred to the "virtuous cycle" in which technological innovations spur productivity — meaning more is being produced per worker — letting the economy grow without inflation.
---
Anyone for cabbages and condoms?
Flavoured condoms must obviously taste bet ter, but what are they doing in a Thai res taurant?
No, No, they are not on the menu but life sized pictures of cartoon condoms smile, wave and beckon you from the walls as you walk into Cabbages and Condoms in downtown Bangkok.
Streams of white jets bathe the garden ivory and curio and gift shops line the entrance to this restaurant, which serves superb Thai food, at prices, which won't leave you hungry for the rest of the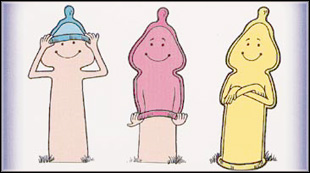 week.
The restaurant's slogan is "our food is guaranteed not to cause pregnancy,"(!) so drop in and try the highly recommended Spicy Condom Salad (a naughty combination of Shanghai noodles garnished with chilli sauce and herbs - says the menu)
C & C was conceived by the Population and Community Development Association (PDA) who began the restaurant 'once upon a time' as a canteen for their workers.
Thailand's largest private voluntary organisation PDA, was the brainchild of Mechai Viravaidya way back in 1974 to promote family planning. The founder believed that for the programm to be successful in Thailand where birth rates were exploding and the spread of AIDS was deadly, contraceptives should be available as commonly as cabbages in the village market.
And PDA has taken a bold and direct approach in their condom campaign with slogans like, "SLIP IT ON, BEFORE YOU SLIP IT IN," on a key tag with a free condom and a picture post card with a heart shaped ring of condoms saying, "NO GLOVE, NO LOVE," etc.
Using an approach new to Thailand, PDA worked with community based distribution networks throughout the country ensuring that villages were able to get pills and condoms as easily as vegetables in the village market.
PDA has now expanded to other activities all of which the restaurant partly funds. PDA operates from Bangkok and has12 regional development centres, and three sub centres in rural Thailand.
Based on the belief that local people are best suited to shape and sustain their own development, PDA has pioneered grassroots growth marked by extensive villager involvement not only as beneficiaries but as planners, managers and leaders, a PDA brochure says.
PDA handpicked people from villages and urban neighbourhoods and trained them to distribute and provide information on affordable contraception. Twelve thousand volunteers and mobile health units are on the job distributing contraceptives in over 16,000 villages.
Covering over 1/3 of the country, PDA's voluntary efforts have contributed to reducing the population growth rate from 3.2% in 1970 to 1.2 in 1994.
What is Thailand's population growth rate now?
A sizeble drop in fertility rates cannot singlehandedly develop rural and urban Thailand, PDA discovered in the course of their voluntary work. Now, PDA activities have spread to such areas as water resource development, income generation and occupational training, forestry and environmental conservation, local institution building and medical services.
PDA works simultaneously on prevention and cure. Their work on AIDS prevention and care includes the Tarn Nam Jai Babies home where abandoned babies of HIV infected mothers are cared for. Through vocational training and educational projects PDA has helped to give villagers economic alternatives to the commercial sex industry especially for young northern women who are often targeted by recruiters, a PDA brochure says.
PDA also has an anonymous mobile AIDS clinic and disseminates AIDS information.
Despite Thailand's economic growth, rural Thailand is still in poverty that threatens to tear at the very fabric of village life. Growing income disparities and lack of opportunities lure migrants to urban areas, causing over populated urban city problems and deserted village problems.
In response PDA has set up a Thai Business Initiative in rural Development (TBIRD) to bridge the widening gap between the urbanized business sector and rural areas, the brochure says.
TBIRD mobilizes the business sector to bring their skills and resources to rural areas through projects which upgrade basic needs, develop income generating alternatives, strengthen village institutions, promote environmental awareness and improve educational opportunities and facilities, the brochure adds.
PDA information says that TBIRD projects have resulted in tenfold income increases, clothes, shoes and leather goods factories in villages, and reduction or reversal in migration to urban areas as a result.
Back to C & C in Bangkok and if the smiling condoms in the air- conditioned restaurant kills your taste buds or threatens to upset your digestion, step out into the open air beer garden.
Cabbages and Condoms have four private rooms besides the main restaurant - the Condom Room, which can cater to 30 people, the larger ballroom for 80 people and the smaller rooms, Roessing for 10 and Vieng Pa Pao for 20.
"After dinner visit out handcart shop. Villagers from rural Thailand produced all products on display. With over 500 items on display there is surely one that might catch your attention. All proceeds from the handicraft shops and restaurant will be used to fund development and social welfare activities of the PDA," says a C & C brochure.
Cabbages and Condoms now want to spread their message to other countries and moves have been made to set up their first international restaurant in Sydney for the Olympics 2000.
They are also looking for a destination closer home like China and maybe in south Asia.
Anyone for cabbages and condoms here? (RJ)
---
New work programme for IMO
By Gunapala Ranasinghe
The Assembly of the International Maritime Organization, which held its session in London recently, decided on the policy to be followed up to the year 2006 and the work programme for the next two years in respect of the maritime industry in the world. This was the 21st session of the Assembly of the international Maritime Organization which meets once every 2 years. The assembly session was held for a period of two weeks and representatives from 157 countries including Sri Lanka participated.
The policy adopted by the assembly emphasized mainly on the implementation of the present conventions and limiting the drafting of new conventions only in respect of high priority areas. Due to the enormous expenditure incurred in implementing new conventions the new policy would favour Sri Lanka and other under developed countries.
The delegation for Sri Lanka was led by Mr.P.A.Ratnayake, Director of Merchant Shipping which also included Mr. T.G. Ariyaratna, Minister (Commercial), Sri Lanka High Commission in the U.K., Mr.S.M.Jayasena, Ministry of Port Development and Mr. H.M.B. Herath, Second Secretary, Sri Lanka High Commission in the U.K.
The important decisions made and policies adopted at the conference are as follows.
1. Priorities were decided for the future of IMOs Technical co-operation programme. In doing so, key principles of the IMO Technical co-operation Programme was also decided.
2. Guidelines were laid down in respect of ship owners' responsibilities with regard to the Maritime claims.
3. Resolution was adopted giving guidelines to the member states on the recognition of the certificates under the civil liability convention of 1969. This was answer due to the CSC protocol of 1992.
4. A long term work programme upto year 2006 was adopted which laid down priority areas in respect of the designated committees.
5. Noted with appreciation the work being done by the legal committee to draft convention in the areas of:
1. Provision of Financial Security
2. Wreck removal
3. Compensation of Pollution from ships' bunkers and urge the legal committee to take steps to immediately draft the said convention.
Most of the above decisions have emanated from the various committees which comprised of all member states which sat in committee session through the last two years. Accordingly, it would be very important for Sri Lanka which aspires to be a hub in shipping activities to participate in at least most of the important meetings.
---
ANA to the new millennium
All Nippon Airways (ANA) who joined the star alliance on 31st October 1999 is now on the road to take her clientele to meet the challenges of the new millennium. With ANA joining the airline network for earth makes it an alliance of nine top of the range airlines and now offers more than 766 cities in 112 countries.
With ANA joining this alliance the frequent flyers of the airline who are members of ANA Mileage Club (AMC) will receive bonanza of additional privileges, hence it is a privilege now to take up membership and enjoy those benefits.
The main benefit for AMC members will be access to the frequent flyer programmes of the other eight member airlines of the star alliance. They could now redeem miles on a total of 14 different airlines which will also include the other six partner airlines of the AMC programme. Further, the doors of over 250 lounges will be at their disposal. The requirement of endorsements will be done away with and flexibility of using any airline within the alliance will be another privilege. They will also receive priority on reservations and or standby boarding and priority baggage handling and flexible round the world fares.
ANA's contribution to the alliance with regard to flight operations is their daily 600 flights within Japan and over 30 international destinations. ANA also has on offer their roomiest business class seating and the 180 degrees full flat seat for first class. In reaching the new millennium ANA offers her regular clientele in Sri Lanka 6 destinations in USA which were expanded from their previous 3 destinations by adding San Francisco, Honolulu and Chicago.
The market niche that ANA has over the other airlines who offer the same destinations is the non requirement of visa in transit, as they operate all their services via Tokyo and Sri Lankan passport holders could transit Japan within 72 hours without a visa. This is the opportunity for the Sri Lankan visitors to USA to use ANA without the hassle of obtaining transit visas to a second country than their destination.
ANA is a superior product even employees of other airlines talk about. ANA strives for service excellence and their goal is to become First Choice of air travel. To add muscle to this service excellence, Ceylinco Universal Ltd. the General Sales Agents for ANA is now finalising a localised, "ANA-SRI LANKA PRIVILEGE CLUB" which will provide many benefits to their frequent flyers in Sri Lanka.
---
Executives (UK) - Sri Lanka forms members council
The senior Members of The Association of Business Executives (UK) in Sri Lanka recently formed the first "Sri Lanka Branch" and its "Council" of Management, to take up the professional activities of the Association in the next Millennium.
The ABE (UK) provides a comprehensive education programme on Business Administration. Its Advanced Diploma qualification is equivalent to an Honours Degree, and is rated amongst the best British Business Administration qualifications, producing General Managers.
The ABE (UK), which was founded 25 years ago, has a global Membership of over 50,000. The ABE qualification was first introduced in Sri Lanka 10 years ago, and around 1,500 Sri Lankans are registered with the UK Association as at date.
The Sri Lanka representative of the ABE (UK) Mr. Preethiraj Weeraratne was appointed the Patron of the council while Chairman / Managing Director of Sunway Holidays Ramesh Dassanayake was elected President and Chairman - Marine Transport Services Pvt Ltd. Dushmantha Karannagoda was elected Secretary in the founder Council. All three of them are Fellows of the ABE (UK).