Today's game will make or break Lanka
Out of desert nightmare
Daminda Wijesuriya reporting from Sharjah
Sri Lankans have set themselves in a must-win situation for today's match against the West Indies after they reeled to one of the worst collapses in one-day cricket history but still survived to tie their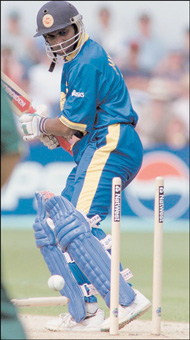 match against Pakistan on Friday in the Coca Cola triangular here.
A win against the West Indies today is vital to keep Sri Lanka's chances alive, and the chances are good despite the shattering psychological trauma of losing eight wickets for 24 runs in the Friday nightmare which turned almost certain victory into a nail-biting tie.
At the end of the first round, Pakistan lead the table with 3 points, West Indies have two points and Sri Lanka one. A Sri Lanka win today will give them a chance to reach the finals, provided Pakistan beat West Indies on Tuesday. A win for the West Indies today will give them four points and Sri Lanka's chances will then be highly improbable if not impossible. Sri Lanka's middle order collapse on Friday was one of the most disastrous. This came after wicket keeper batsman Romesh Kaluwitharana (75) and Number three bat Russell Arnold (61) played some of their best shots strokes against one of the best bowling attacks in the world.
Especially Kaluwitharana, known for his lusty hitting in the first 15 overs, was very much in control on Friday and did not give a chance. His 75 in 108 balls could not be converted into a century largely because fatigue set in and he obviously got a little impatient. Under hot and humid conditions, Kaluwitharana had kept wickets for 220 minutes. After a 45 minute dinner break he was once again running between the wickets for two and half hours.Nothing better could be expected from a man under such conditions and Arnold also did no less. His stroke filled innings confused master captain Wasim Akram's field setting as the left hand-right hand combination flourished for Sri Lanka. It was the 20th century stand for the second wicket at Sharjah cricket stadium in its 15 year history.
But it was a dream before the nightmare as Sri Lanka's inability to stand in under pressure was terribly and horribly exposed. Skipper Jayasuriya coming in at number five was still obviously nervous in the aftermath of a bad patch where Glen McGrath removed him in the first ball in test matches in Colombo. Skipper Akram, sensing the possibility of derailing the Sri Lankan bandwagon, came into the attack and tempted Jayasuriya into a rash shot to put Pakistan back into the game. In his last two fiery overs Akram also got Aravinda de Silva who played an irresponsible shot and the Pakistanis who had virtually given up were now roaring back. As Mahela Jayawardena, Suresh Perera, and the experienced Chaminda Vaas cringed and crumbled in the face of an awesome attack and pressure, the game was now swinging wildly. Lose balls from spinner Shoaib Malik gave Sri Lanka a breather and a chance again but eventually the scores were tied with one wicket and one over left. It was then that the man of the match, Abdur Razak, produced the ball of the day to clean bowl Chamara Silva and leave Sri Lanka dying on a tie.
Sri Lankas team decisions have not shown results so far in this tournament. Someone has to make a drastic change of strategy, it seems. In modern day professional cricket, "that's how the game goes" is not the proper approach.
There are likely to be one or two changes for today's make-or-break game. Upul Chandana, Indika Gallage, or Indika de Saram might get the nod from the tour selection committee as Chamara Silva and Nuwan Zoysa failed in the two previous games.
After the tough and traumatic game events of Friday night, the Sri Lankans went for a swim yesterday morning and they were expected to return to the grounds in the evening for practices.
It's Sri Lankan batting that let them down in both matches of this tournament. Whatever happened, there is only a limited number of batsmen who could be included in a team. If they don't score, it's either bad luck or incompetence.
Sri Lanka squad: Marvan Atapattu, Sanath Jayasuriya, Russell Arnold, Aravinda De Silva, Mahela Jayawardene, Chamara Silva, Romesh Kaluwitharana, Chaminda Vaas, Nuwan Zoysa, Suresh Perera, Muttiah Muralitharan, Upul Chandana, Indika Gallage, Indika de Saram and Pramodya Wickramasinghe.
West Indies squad: Brian Lara, Ridley Jacobs, Shivnarine Chanderpaul, Sherwin Campbell, Jimmy Adams, Ricado Powell, Mervin Dillon, Curtly Ambrose, Nixon McLean, Nehemiah Perry, Wavel Hinds, Adrian Griffith, Reon King, Henry Guyle and Phill Collins.
---
Nanayakkara in sensational win
By Bernie Wijesekera
The Sri Lanka Open Junior Squash Championships with an international flavour, produced exciting fare on the first day at the Sugathadasa Stadium yesterday. The foreign teams in the fray are: Malaysia, India and the Netherlands.
Sri Lanka's unseeded junior R.S. de S. Nanayakkara, created a sensation in the boys under 13 event when he outplayed India's Ishvan Balvani in a thrilling four setter.
Balvani, seeded no 5, conceded the first set to Nanayakkara 9-5, but fought back to win the second set 4-9. But the Lankan juvenile playing with grim determination, won the next two sets 9-1, 9-0 to enter the second round. The match lasted 30 minutes.There was another major upset in the boys Under 17 event between unseeded Neranjan Dunuwille and Shezan Zahir, seeded no. 8. This match turned out to be a grueling battle between the two Sri Lankan lads. The match lasted 50 minutes and was stretched to a five setter, where Dunuwille triumphed in the end 9-1, 9-6, 6-9, 7-9, 9-4.
Both players rallied well but in the end Dunuwille's stamina helped him to nose through in this thriller.
In the boys Under 19 event, Navin Samarasinghe displaying better court-craft won in straight sets over Kushan Jayawardena 9-0, 9-0, 9-1.
The Sri Lanka open squash championships being staged here for the first time has been sanctioned by the Asian Squash Federation. It will be continued today at the same venue. This four-day event will wind up on Tuesday (Oct. 19) at the same venue where the finals will commence at 3 p.m.
---
Royal top at scrabble
By Ravi Nagahawatte
Royal College Colombo won the Inter-School Scrabble Championship when they beat Hindu College in the final worked off at the British Council Auditorium yesterday.
The Royalists were forced to stretch their battle into a play-off round after opponents Hindu also registered three wins and tied with them for the number one spot.
Royal's win in the play off put them in the lead with 14 points from three wins while Hindu settled for second spot accumulating 12 points from three wins. Last year's champions S.Thomas' College Mount Lavinia ended third in the tournament with 14 points from two wins.
Mahinda College Galle won the award for the best team from the outstations. Peterite Shane Silva showed his vocabulary power in no uncertain terms by bagging the School's Scrabler of the year award. Silva also had an impressive aggregate of 576 points in the tournament S. Seyorn (S.Thomas' Mount Lavinia) and Lakmali Werahera (Maliyadeva Balika Kurunegala) were awarded with special trophies for the highest words score.
---
France wobble before beating Fiji
TOULOUSE, France, Saturday (Reuters) - France survived a disastrous spell early in the second half of an error-filled group C game yesterday to beat Fiji 28-19 and qualify for the World Cup quarter-finals.
The French, who now travel as group winners to Dublin for a quarter-final next weekend against Ireland or the best third-placed team, won the try count 3-1 after coming back from 19-13 down after an hour's play.
Both sides, renowned for their ball-carrying skills, were guilty of elementary mistakes that peppered the match and only French centre Emile Ntamack and winger Christophe Dominici proved consistent threats in attack.
Fiji, who finished second after two victories, play England in a quarter-final play-off at Twickenham on Wednesday. Their flyhalf Nicky Little kicked four penalties and a conversion.
France pinned Fiji back in their own half for the opening 20 minutes with fine tactical kicking by flyhalf Christophe Lamaison.
But the Pacific islanders withstood the French pressure and a penalty from centre Richard Dourthe after seven minutes was all France had to show for their dominance.
Fiji drew level in their first deep incursion into French territory, winning a penalty converted by flyhalf Little inside France's 22.
With the crowd silent in the face of a flurry of French mistakes, France scored their first try in the 23rd minute after a throw-in close to the Fiji line on the right.
Lock Abdel Benazzi drove at the Fijians and from the ruck, scrumhalf Stephane Castaignede fed number eight Christophe Juillet who went over. The try was converted by Dourthe.
Three minutes later Fiji lock Alivereti Mocelutu was booked for a high tackle on Benazzi.
France changed ends 13-3 ahead after another Dourthe penalty on the stroke of halftime and a disallowed Fiji try.
Little added a penalty four minutes into the second half.
After a scrum in the middle of the field, fullback Alfred Uluinayau then darted into the line to take a pass from centre Waisake Sotutu, crash past Dourthe, sidestep fullback Ugo Mola and score under the posts.
The conversion put Fiji level and they went ahead for the first time with a Little penalty five minutes later.
France paid for a string of handling mistakes and indiscipline when Little landed another penalty to give Fiji a six-point lead.
But France regrouped and they were awarded a penalty try following a series of infringements in the Fiji scrum near their own line which led to bookings for both props.
Dourthe converted to put France ahead again by a single point. Lamaison added a penalty before France finished with a flourish, scoring a fine try through Dominici in a passing movement down the left involving backs and forwards.
Substitute fullback Xavier Garbajosa counter-attacked down the wing and from there the ball passed through several hands and into the middle where prop Christian California went down, Dominici diving over from the maul.
---
England win shows problems
LONDON, Saturday (Reuters) - Three obstacles preventing rugby union from becoming a truly global game were highlighted in England's 101-10 World Cup victory over Tonga.
Tonga conceded seven penalties in the first 20 minutes, an unacceptable number in a professional sport, and they were clearly upset by some of Australian referee Wayne Erickson's decisions. Erickson, in fact, gave a fine display but if even the players are puzzled by some decisions a large number of spectators are understandably perplexed.
One fan, celebrating England's century of points, spoke for many when he said he had enjoyed the game, loved watching rugby but often had no idea how referees reached their decisions.
---
Old Thomians in the Scrum
The Old Thomians Rugby Union which is doing much for the promotion and developemnt of this beautiful sport will play their annual match against the Present Boys on Nov. 13, at the CR & FC grounds.
This third annual contest was played for the late Jason Martenstyn Trophy.
Jason, an outstanding old Thomian sportsman, died under tragic circumstances.
The OTFU, are the defending champions.
According to Chaminda Rupasinghe, the Vice-president - the OTRFU, is the brainchild of Nihal Samarasinghe - the President, who is an ardent rugby supporter.
Past stalwarts like Michael Jayasekera, Kolitha Gunatilleke and others had a big hand for the formation of the rugby section, with a view to help the school with men and material to develop the sport in their alma mater. Mrs. Martenstyn will be the chief guest.
There will be a get-together after the match at the SSC pavilion, according to Rupasinghe
B.W.