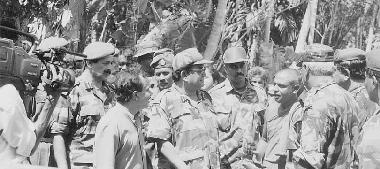 Deputy Defence Minister Anuruddha Ratwatte at Ampara after the incident at 31st Colony
A group of some thirty armed Tiger guerrillas stormed the Eighth Colony in Amparai on the night of September 28.
Their mission was to carry out another massacre, like the one at 31st Colony, or now better known as Gonagala, where the villagers – men, women and children – were brutally hacked, stabbed or shot to death.
But this time, they did not succeed. The reason? There were no villagers in the colony. Since the gory incidents at 31st Colony, the villagers at 8th Colony vacated their homes in the night and lodged in safer places. Some gathered in schools and other public buildings. They only returned in the mornings to their homes to leave again in the evening. That was home life for them.
On that September 28 night, Tiger cadres lay in ambush until almost dawn. When a lone civilian walked into his house, they captured him. One of the guerrillas who felt thirsty asked for water. Feigning to fetch it from a well, the civilian walked out and escaped. Just then, a Home Guard was returning home after night duty elsewhere.
He spotted a group of guerrillas and opened fire with a shot gun. They retaliated with their assault rifles, seized the shot gun issued to the civilian and retreated towards the neighbouring village of Mandur. The lonely Home Guard took cover and waited till after dawn to relate his encounter to those returning home.
The next day, September 29, just after sunset, a group of guerrillas attacked bunkers manned by Policemen at Central Camp. Police successfully repulsed the attack. But the incident triggered off panic among villagers. Some began leaving the area abandoning their homes.
Those abortive attacks clearly showed that the outrage over Colony 31 or the Gonagala massacre, said to be in retaliation for the accidental Sri Lanka Air Force bombing of civilians in Puthukudiruppu, had not deterred the LTTE. It was not only villages in the Amparai district that they targeted. On October 3, they attacked the Police post at Sungavila, a frontier village in the Polonnaruwa district. Two civilians were killed and two policemen were wounded.
The attempts on villages in the Amparai district in particular came amidst a string of other incidents in the east – all clear signs of an attempt to force the security forces in the Wanni to re-deploy in the east and thus stall any major military advance towards north. Though the onset of the monsoon in the north will undoubtedly see no large scale offensive operations, that will not mean the security forces will take a complete rest. Their offensive actions are expected to continue.
Last Sunday, Deputy Defence Minister, Anuruddha Ratwatte, the three service chiefs and a representative of the IGP were in Amparai to review security measures for villages. For obvious reasons one cannot spell out the measures discussed or steps taken. Minister Ratwatte made a strong plea to Army and Police officers present to prevent reports of Tiger guerrilla presence in the area from spreading.
This and a string of other matters, including the rising trends in underworld violence leading to murders, came up for discussion when the National Security Council met on Friday – the first session since President Chandrika Bandaranaike Kumaratunga, returned to Sri Lanka from a trip to Washington and London.
With the Government's budget next month, the last before both Presidential and Parliamentary polls, President Kumaratunga, who is also Minister of Finance, is exercising caution in financial allocations for security forces for large scale procurements. The only exception is expected to be the Sri Lanka Navy, which is receiving priority consideration. This is on the basis that a strengthened Navy can curtail LTTE's supply lines from abroad, the main factor that helps them sustain a high intensity war. At a recent NSC meeting, Navy Commander, Vice Admiral Cecil Tissera, made a case for enhanced support for the Navy's role.
Despite this, in terms of the Appropriation Bill presented in Parliament early this week, defence expenditure in the year 2000 will be a staggering 52.43 billion (or 728 million dollars). Though this is a recorded increase of nearly eleven and half per cent from this year's allocation, budgetary estimates have often overshot by 20 to 30 per cent in the past due to urgent procurements.
Though the service chiefs have been told they would have to manage with existing resources for the war effort in the coming year, the Government has periodically come under pressure from them for funds for procurements.
Lobbying for a similar request has already begun to procure counter mechanisms after it has been confirmed that the LTTE now possessed Anti Tank Guided Missiles (ATGMs). Local agents for foreign principals marketing these expensive items have already become active and are lobbying military and other officials.
As exclusively reported in these columns last week, the remains of an ATGM fired on September 24, at a Chinese built tracked Armoured Personnel Carrier in the Paranthan defences have been flown to United Kingdom for examination. This is to ascertain the origin, type and year of manufacture.
Whilst an official report is being awaited from London, it has now become clear that the ATGM in question is a first generation, wire guided Malyutka or SAGGER (NATO term) – one of three different ATGMs which were suspected as exclusively revealed in these columns last week.
As reported last week, Malyutka or Sagger, according to western diplomatic sources, is said to be the cheapest in the black market and easily transportable. Corrupt military officials in Ukraine are known to have sold them for incredibly cheaper prices to various groups. This is despite the fact that ATGMs are very costly. It has been the same case with corrupt military officials in the former Yugoslavia. These ATGMs have also been used extensively by the Taleban in Afghanistan.
The Malyutka or Sagger have been produced in Bulgaria, Iran, Rumania and Yugoslavia. They are used in the Commonwealth of Independent States (former Soviet Union), former Warsaw Pact armies, Egypt, Iran, North Korea, Syria and former Yugoslavia. The first generation 9K11 ATGM is said to carry a HEAT warhead that can penetrate about 400mm of armour. Since 1969, three different updated versions of this ATGM came into the market, the last capable of penetrating 800 mm of armour.
Although open terrain, like areas in Elephant Pass and Paranthan, allow the easy use of ATGMs, military officials say, it would be difficult in the jungle areas in the Wanni. This is in view of jungle growth impeding guidance.
With less than three more months to go for Year 2000, senior defence officials are busy conducting a full review of the military situation. They are taking stock of how the so called Eelam War Three had gone on in the past five years, the gains made and the losses incurred.
Another matter that has come up for close scrutiny is the future of the Joint Operations Command (JOC), originally established to formulate strategic plans, obtain approval from the National Security Council and co-ordinate their enforcement through the security forces and the Police.
Due to various developments, the JOC has now been reduced to an advisory and supervisory body. Prompting a review at the highest levels are the increasing financial constraints.
It is being queried whether the heavy financial commitment to run the JOC is bringing in commensurate returns. Some senior officials were of the view that the JOC was continuing to usurp resources, which would have otherwise gone for a more efficient working of the three services and the Police. Hence a question of whether the JOC should be scrapped or not is being gone into.
Former Army Commander, Lt. Gen. Rohan de S. Daluwatte, was promoted to the rank of General and was named Chairman of a Joint Operations Bureau (JOB) on January 6, last year. The JOB lacked command responsibility and Gen. Daluwatte was not empowered to wear uniform.
However, at a cost of more than ten million rupees, a building within the Army Headquarters complex was fully re-constructed, refurbished, air conditioned and furnished to become the JOB headquarters.
Two months after his appointment, Gen. Daluwatte was off on a tour of France, United Kingdom and United States to study joint military mechanisms there. Upon his return, he submitted a report to President Chandrika Bandaranaike Kumaratunga, making a case for a unified command with full legal authority. As a result, on May 27, last year, a Joint Operations Headquarters (JOH) was established. Gen. Daluwatte, who was re-called to active service from the Reserve List, was named Chief of Defence Staff. That arrangement lasted only 12 long days.
The post of Chief of Defence Staff was abolished and a weakened Joint Operations Headquarters (JOH) was set up in terms of a Gazette notification issued on June 9, last year. Gen. Daluwatte was re-designated General Officer Commanding (GOC) of the Joint Operations Headquarters.
At present neither the JOH nor its General Officer Commanding are directly involved in the conduct of military operations against Tiger guerrillas. Nor is the GOC a member of the official entourage headed by Deputy Defence Minister, Anuruddha Ratwatte, which flies regularly to operational areas for conferences with field commanders.
The entourage includes the commanders of the three armed forces and the Inspector General of Police. However, the only formal role of the GOC at present is to take part in meetings of the National Security Council.
Meanwhile the US Secretary of State, Madeleine Albright last Friday designated 28 organisations worldwide as Foreign Terrorist Organisations. Of these, 27 including the LTTE were re-designations. They were placed on the list two years ago and remain on the list.
According to a State Department document released to the media yesterday, re-designation is a positive act and represents a decision by the Secretary of state that the organisation still meets the criteria specified by law. Whilst three organisations were dropped from the list because they no longer meet the criteria, one organisation was added to the list because it now meets the criteria.
The three that are dropped are The Manuel Rodriguez Patriotic Front Dissidents (FPMR/D), the Democratic Front for the Liberation of Palestine (DFLP) and the Khmer Rouge. The only addition was Al Quaida, led by Usama bin Laden. It has been added, according to the State Department, because it is responsible for several major terrorist attacks, including the August 1998 bombings of the US Embassies in Nairobi, Kenya and Dar Es Salaam, Tanzania.
The updated background information prepared by the State Department for re-designating the LTTE a Foreign Terrorist Orgnanisation claims it has a strength of approximately 10,000 armed combatants in Sri Lanka – about 3,000 to 6,000 form a trained cadre of fighters. This is what the background information says:
"Activities- Has integrated a battlefield insurgent strategy with a terrorist programme that targets not only key government personnel in the countryside but also senior Sri Lankan political and military leaders in Colombo. LTTE political assassinations and bombings have become commonplace, including suicide attacks against Sri Lankan President Ranasinghe Premadasa in 1993 and Indian Prime Minister, Rajiv Gandhi, in 1991.
"Has refrained from targeting Western tourists out of fear that foreign governments would crack down on Tamil expatriates involved in fund raising activities abroad. Prefers to attack vulnerable government facilities and withdraw before re-inforcements arrive.
"Strength: Approximately 10,000 armed combatants in Sri Lanka; about 3,000 to 6,000 from a trained cadre of fighters. The LTTE also has a significant overseas support structure for fund raising, weapons procurement and propaganda activities.
"Location/Area of Operation: Controls most of the northern and eastern coastal areas of Sri Lanka and has conducted operations throughout the island. Headquartered in the Jaffna peninsula, LTTE leader Velupillai Prabhakaran has established an extensive network of checkpoints and informants to keep track of any outsiders who enter the group's area of control. (Note: Despite claims that the LTTE is headquartered in Jaffna, it is not so. Since the re-capture of peninsula in 1995, LTTE activity including its headquarters have moved to Wanni.
"External Aid: The LTTE's overt organisations support Tamil separatism by lobbying foreign governments and the United Nations. Also uses its international contacts to procure weapons, communications and bomb making equipment. Exploits large Tamil communities in North America, Europe and Asia to obtain funds and supplies for its fighters in Sri Lanka. Some Tamil communities in Europe are also involved in narcotics smuggling."
In the backdrop of these developments, the Sri Lanka Army is busy commemorating its 50th anniversary, an important milestone. The events end today with a gala dinner at a star class hotel.
But the weeks ahead will remain crucial despite the onset of monsoons in the north slowing down any major military activity.
That is with the LTTE, which has now added several Stand Off weapons to its arsenal, trying to take on not only military targets but also civilian ones in a fresh but increasing wave of attacks.
LTTE stepping up logistics runs to Tamil Nadu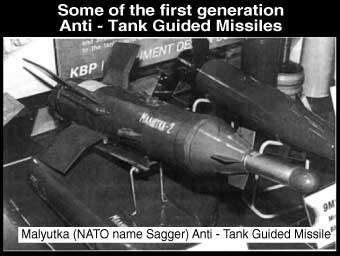 A string of successes by Sri Lanka Navy patrols, both in the Palk Straits and the Indian Ocean, have bared a new significant development – the LTTE is stepping up its logistics runs to the South Indian state of Tamil Nadu.
Last Wednesday (October 6), a Navy Fast Attack Craft (FAC) observed on its radar two fast moving echoes. It was around 5.15 p.m. FAC patrols located the movement to half a mile south east of Kachchativu. They were two LTTE boats.
This is how a news release from the Operational Headquarters of the Ministry of Defence described what followed:
"On 06 October, 1999 around 5.15 pm at out at sea (sic) South east of Kachchativu, Naval craft on offensive patrol detected 02 terrorist logistic boats moving towards India at a very high speed and engaged with naval guns. O1 terrorist boat caught fire and sank while the other fled towards India with heavy damages."
The Sunday Times learnt that a sailor sustained minor injuries and an FAC was damaged. Navy officials believe the LTTE boats were proceeding to an unknown location in Tamil Nadu to obtain and transfer logistic supplies.
Before dawn the very next day, Thursday, October 7, another FAC patrol located LTTE boats amidst a cluster of Indian fishing boats. Navy personnel who identified two boats, each fitted with four outboard motors OBMs), radar , 23 mm and fifty calibre guns, opened fire. One boat which was badly damaged sank whilst the other took advantage of the shallow waters and reached shore between Devil's Point and Iranativu island.
LTTE's clandestine radio Voice of Tigers on its Thursday night news bulletin said 15 Tiger cadres including "Lt Col" Nirojan died in the incident. Intercepts of LTTE radio communications have revealed the names of the dead cadres. They are made up of four "majors", a captain, four "lieutenants", two "second lieutenants" and three "other ranks."
Intelligence sources described Nirojan as LTTE's "Convoy Commander" for logistic movements. He was one time "Commander" of LTTE's "Charles Anthony Regiment."
Charles Anthony, a close confidante of LTTE leader, Velupillai Prabhakaran, was killed by security forces in early 1983. It was to avenge this killing that the LTTE triggered off the first land mine explosion in July, 1983, killing 13 soldiers – an incident that was to trigger off the country's worst ethnic violence.
Prabhakaran named his own son Charles Anthony and later gave the same name to a specialised guerrilla unit.
Earlier, on October 1, Navy officials say, an offensive patrol detected a cluster of LTTE boats, some 40 nautical miles north east of Mullaitivu. One LTTE boat which was hit by gunfire sank. They said a fifty calibre gun was recovered from the boat before it sank.
Fitted with four outboard motors, this boat was also installed with a 23 mm gun, a 20 mm gun and radar. Navy officials say the boats were smuggling fuel from Tamil Nadu to Wanni. Naval craft recovered 12 empty barrels floating in the sea. They also spotted a layer of burnt oil in the area where the barrels were spotted.
Intelligence sources say LTTE logistic runs to Tamil Nadu virtually ceased after the re-capture of Jaffna through "Operation Riviresa." These sources added "however, they resumed on a lower pace early this year. The frequency of movements have become higher."
On February 9, this year, a Navy patrol seized a 32 foot fibre glass LTTE boat loaded with medical supplies from Tamil Nadu. They included saline bottles, syringes, antibiotic tablets, surgical gloves, bed pans and other items.
The boat was headed for the Sea Tiger base in Nachikuda when it was apprehended in the Palk Straits. (Situation Report – February 14, 1999).