---
Auspicious start for Sanath
Sanath Jayasuriya has achieved yet another unique feat by leading his country to a one day tournament and a Test series win, in his very first outing as the skipper. It all started to fall into place from the day when Sri Lanka edged out India on nett run rate in their clash at the SSC grounds.
It is not easy for any side to lose four of their very major contributors and then go out and beat an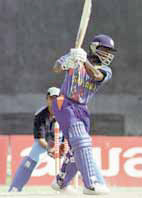 established team. You lose Arjuna Ranatunga, Aravinda de Silva, Roshan Mahanama and Hashan Tillekeratne all at once, was an almighty blow. Whatever their current form is, when established players vacate a side it is never easy to simply fill in and carry on unhindered. In particular when the domestic tournaments do not offer the tough competitiveness, the step up is a giant one.
Cricketers are often wished "best of luck". Does luck play any part in this game? Many successful human beings believe that you make your own luck. That is partly true, but at times certain factors like the advantage of the toss, umpiring decisions being favourable, the condition of the pitch, weather intervention, can all give an advantage. Should a majority of these factors go against a team then they can say that they were somewhat unlucky. Certainly that was not the case for Sanath Jayasuriya and his men over the past few weeks. It all went well for them.
Obviously that is why Dav Whatmore stated that there is a lot more room for improvement. Here is one of his comments: "I am not sure what this victory means to the public in general, probably, it would mean for them a huge amount of joy. But if you analyse closely you'll find that we won two matches out of five in the one day series. That to me represents a bit of a scare. We earned the right to play in the final and I thought we did well". He also went on to say that losing so many wickets in Kandy when heading for victory was not a good thing. Also, having relatively inexperienced players in the team meant that much work has to be done. Whatmore is aware of the terrific demands at the highest level and he will not be taking this success too seriously. There is much to think of in terms of the forthcoming Sharjah Cup battles against Pakistan and the West Indies and then a full Test and one day series against Zimbabwe.
Here lies the real test. Pakistan although somewhat wobbly are a side capable of producing brilliant feats at any time. The West Indies are stringing together some good performances time and again. Lara, Campbell, Griffiths, Chanderpaul, Powell, Jacobs, Dillon, King, Walsh, that's a very capable line-up. Now that there are no great expectations from the Caribbean players the pressure is not on. Should they perform well or win it is an achievement.
Zimbabwe away will also be a tough contest. Many teams going there in recent times have found the going tough. They have the medium quick bowlers and batsmen who play the moving ball well to put up good performances. A number of them have been around for a while too. This means allround experience and they may sense they could topple this new look Sri Lankan outfit.
After six hectic weeks, some of it affected by rain some new faces have appeared on the Sri Lankan cricket horizon. Indika de Saram and Chamara Silva were tried in the one days and both impressed.
They certainly added a lot of punch into the fielding apartment. Chamara Silva in particular seems to have a lot of time to get into position to play his shots. Once he brushes up his technique and has a few long innings against top class bowling then he should be in for big deeds in the future.
- Ranil Abeynaike
---
Breafly
Sprint champ
Sixteen-year-old Anushka-Anne Perera of St. Bridget's Convent once again showed her prowess in sprint events by winning the under 17 age group 100 metres and 200 metres at the National School Games 1999 held at the Uyanwatte Stadium, Matara. She also had the rare honour of being awarded National School Colours for both events.The best performance trophy for under 18 in the AAA Junior National Championships '99 was also awarded to her for her run in the 200 metres.
Volleyball champions
Talawa Ihalawela Sports Club won the inter-club volleyball championships in the floodlit tourney in the Anuradhapura District held at the Dunupothagama MV grounds.
The champions were awarded the North Central Provincial Council Vice Chairman's trophy, presented by K.B. Tennekoon. Dunupothagama Saliya Sports Club emerged runners-up and were awarded the Nalin Samantha Challenge Cup.
The Tournament was conducted by the Nochchiyagama Dunupothagama Saliya Sports Club with the idea of promoting the sport. In the final Talawa Ihalawela SC beat Saliya SC by 3 sets to 2, 25-22, 15-25, 16-25, 25-20 and 25-13.
The champion team was captained by Sisira Kumara while the loser's team was led by M. Amaraweera.Talawa Ihalawela Sports Club beat Police Training School in the semi-finals. K.W. G. Nandasena, the Volleyball coach of Anuradhapura and N. Somapala of the Board of Control for Vollyball officiated in the final.
Chairman Nochchiyagama Provincial Council S.L.A. Jayatilleka and Vice Chairman N.S. Ratnayake distributed the trophies.
S. Samarasinghe - Nochchiyagama Corr.
Rajarata Cricket Sixes
The annual Rajarata Sports Club six-a-side cricket tournament took place yesterday at the Central Bank grounds at Anuradhapura and was sponsored by Sun Quick. Twenty teams from Anuradhapura, Polonnaruwa and Kurunegala and Matale took part. The champions received Rs. 7,500/- while the runners-up were awarded Rs. 5,000/-
The new scoreboard built on this ground was declared open by the former Sri Lanka cricket captain Arjuna Ranatunga (SS).
Union Assurance on top
Union Assurance won the inaugural mercantile chess championships aggregating 26 1/2 points, conducted by the Mercantile Chess Association and sponsored by Union Assurance Limited at its Auditorium at Kollupitiya.
The second place was won by the Development Lotteries Board with Ceylon Business Appliances taking the third place. Lilantha Wijesiriwardena of Union Assurance won the men's championships with the second place being shared by Gamini Ratnayake (Development Board), Vidura Prasad Martis (Development Lotteries Board), Priyanthi Chandrakumara (Union Assurance Limited), Asantha Amarosa (Ceylon Business Appliances Limited).
Mrs. Padma Dharmawardena of Development Lotteries Board won the Ladies' championships with Saroja Vishvanatham of Ceylon Business Appliances second and Chamila Thevapperuma of Development Lotteries Board third. Six teams participated. The teams are: Union Assurance Limited, Development Lotteries Board, Ceylon Business Appliances Limited, Tudawa Brothers Limited, Eric Rajapaksa, Opticians, Lanka Cleano Trading Company.
Football coaching
Fourteen participants attended third C licence Football Coaching Course which began on October 6. The course will end on Oct.19 at the Peradeniya University Grounds in Kandy.
The course is being conducted jointly by M. Karuthu (Malaysia), the AFC Instructor and Technical Adviser to the Football Federation of Sri Lanka and P.D. Sirisena, the Sri Lankan AFC Instructor.
The theory and practical sessions are being held from 8.30 a.m. to 5.30 p.m. daily. The Asian Football Confederation will issue C licence, Coaching certificates to the successful participants.
Those participating are: B.M.D. Senaratne, M.M., Gamini Silva, A.M. Seneviratne, M. Jamaldeen, E. Semthil Kumar, H.E. Ebert, R.G. Wijewardena, Ruwan Jayasinghe, W. Weerasinghe, M.G. Saliya Kumarasinghe (Kandy), M.A. Fazil Mohammed, S. Alexander, K.M. Shaheed, K. Sunil (Gampola).
Ballroom dancing
The 31st National Amateur Ballroom Dancing championship 1999 conducted by the Ceylon Amateur Dancesport Association will be held on Sunday October 31 at the Hilton Hotel.
Dancing had been introduced as a sport by the International Olympic Committee (IOC) which has been recognised by the Minister of Youth Affairs and Sports who has promised to allocate a land to set up a training centre in its promotion of the sports.
Youngsters win 7-1
Youngsters SC beat Maligawatta Youth by 7 goals to 1 in their Bristol League A division match while Ratnams beat Java Lane SC by 6 goals to nil in another match in the same division.
In the other matches played, Police beat Wanathamulla Youth 2-1, Jupiters SC Negombo beat York SC 5-3, Cooray SC beat Negombo Youth 2-1, Maligawatta Youth beat Red Diamonds 2-1 and Wanathamulla Youth beat Hyline SC Kandy 4-nil.
---
Fiery Fred 50 years on
Legendary England and Yorkshire fast bowler Fred Trueman started his cricketing career fifty years ago in 1949, playing for the County Club Surrey, first for their game against the students at Cambridge,

a side which included John Dewes, Hubert Doggart, Doug Insole and John Warr (who in later years became famous English cricketers). Wisden recorded "Yorkshire gave a trial to three young players, Lawson, an opening batsman, Close, an all-rounder, and Trueman, a spin bowler", who later became England's greatest fast bowler.
At the village school, and later at Maltby Hall Secondary Modern, Trueman's pace was too hot for lads of his age and he moved up a notch to play for Roach Abbey where he opened the bowling with a vicar called Kirkwood-Smith and bowled opponents out as fast as they came in. His father, Alan, a reputed local cricketer wrote to Cyril Turner, the allrounder who played for Yorkshire for 20 years and who was now second team coach, suggesting his lad might be worth looking at. As a result he was invited to Bramall Lane, home of Sheffield United Cricket Club for nets.
A game for United's Second XI brought six for 11 against the Steel Corporation and Trueman was asked to go to Headingly for the winter nets in 1948 where he came under the influence of Arthur 'Ticker" Mitchell and famous Maurice Leyland.
Trueman's development would no doubt have been more rapid but for national service, although he had already made sufficient impact to play in the famous Test trial at Bradford where Jim Laker had eight wickets for two runs.
With great glee Trueman recalls that his one wicket was that of Len Hutton. Oddly it was Hutton who pointed out while batting to Donald Carr that Fred was in the side for his bowling and he got on as fourth change.
Aircraftsman Trueman made a sensational debut on the international stage with 29 wickets in the four-Test series against an experienced Indian batting side.
In the five year period between the start of 1959 and the end of 1963 Trueman was the best in the world.
The statistics are breathtakingly stark evidence: 752 first class wickets at 17.15, 194 for England in 40 Tests at 21.06, five in an innings 11 times, 10 in a match on three occasions, including hauls of 11 for 152 and 12 for 119 in the Lord's and Edgbaston meetings with a West Indies line-up which in 1963 included Worrell, Sobers, Kanhai, Hunte and Butcher. In the following year he became the first bowler to take 300 Test wickets, 33.55 per cent of them bowled, and finished with 307 at 21.57.
Freddy Trueman at 68 lives in far from quiet retirement in the Yorkshire Dales, and raises money for his local church, Bolton Abbey, where he is a regular, and for a clutch of other charities. He can count a host of friends from the Archbishop of Canterbury to the humblest admirer, of whom there are many.
"I still get about 250 letters a week from all round the world and a recent one was from a 10-year-old lad who said he never saw me play but that his grandad told him that I was the best. That sort of letter is very moving because there are times when you think "Did all that really happen?" If I have a regret it's that I can't do it all over again"
(Courtesy 'Cricketer International' Magazine)