Smell nice with Theorema
By Yvonne Gulamhusein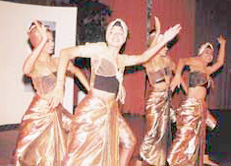 The Parfumerie threw an extravagant launch party to introduce their new range of 'Fendi' perfumes at the Trans Asia hotel's Earl's Court last week. The fragrance 'Theorema' which was highlighted at the presentation was described as a feminine perfume,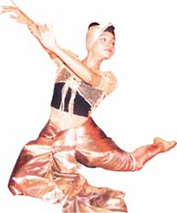 combining citrus fruit, flowers and the scents of the woods.
Fendi was begun by five Italian sisters Paola, Anna, Franca, Carla and Alda in Rome in 1946. They broke into the fashion and fur market with the help of Karl Lagerfield. The first Fendi perfume was launched in 1965.
Michele Grozait, the representative of Fendi was present at the launch. The launch was followed by high tea, hosted by Manu and Reshma Hundlani.
---
Blue, blue heart...
As I walk in on a rehearsal of the Colombo University's production of "Blue Heart," an experimental play by British playwright Caryll Churchill, all I see are three actors and three chairs on the bare cement floor that forms their makeshift stage. The director Feroze Kamardeen sits in front of the actors and watches them, occasionally calling out some instructions. As I join the makeshift audience watching the rehearsal, I am initially confused by the way the play seems to stop and start again. Could they be making a mistake? But then the director doesn't say anything. Could it be part of the play? Maybe - let's give this one a chance...
My suspicions were later confirmed by one of the actors, Sudeshana Ranmuthugala. She admits that this can be a very confusing play. "But it's confusing not only for the audience, but for the actors as well." The play in its entirety takes twenty-three twists, a situation in which even the most rehearsed play can become confusing for an actor. "Actually, the actors have to try harder than the audience to keep track of the play, if we don't get confused, a concentrating audience will be able to follow it without a problem." Neluka Silva says that, "the play seems strange, but if you look at it, all it's doing is taking a very ordinary situation - a family waiting for their daughter to come back home from abroad - and exploring a whole range of possibilities that could happen in that situation. Some mundane, some biazzare."
The plays that make up the production of "Blue Heart" started out as two plays with no name. Ruwanthie De Chickera who introduced these plays to the drama society when they were on the lookout for a play, claims to be a big fan of the playwright. "I like Caryll Churchill's work because she does a lot of innovative theatre. Take these two plays for example. She takes those things we take for granted as being an integral part of a play and experiments with them. The first one for instance, instead of starting from a point and progressing, keeps returning to that point and substituting the story. The other, plays around with the language of the script by substituting certain words for others, challenging our very concepts of what is and isn't essential in a script."
The second play is about a man (Anurudha Fernando) who goes around convincing women who once gave a child up for adoption, that he is their son. "He preys on their guilt," says Naazima Kamardeen. But she doesn't believe that these characters are written so one- dimensionally that we can form an opinion as to whether he is just a conman or whether he really cares about these women. "As the play progresses you get an insight into the characters of these people from the way they react to others. You also get the feeling that the characters are deep enough for there to be more to them than meets the eye."
I talked to Feroze about what it was like to direct a play like this, especially since in this case the actors and the play were decided upon before he got involved. "The plays are weird. They are almost absurd theatre. It's tough acting. But I also think that this is a good choice of play for campus. It's the type of thing I think they should be doing. It's been a collective effort all the way. The preparation has been almost academic. The actors have put a lot of effort into understanding their roles. And I have let them make decisions about their characters and have let myself be influenced by them to a large extent. It's been a good process." He smiles.
As the President of the Colombo University Drama Society, Michael De Soyza, says the biggest problem they had with this production was with the logistics of getting all the actors together and have them fall into a regular rehearsal schedule. "Many of the people in campus today are not full-time students. Some of them work and it was very difficult to get them to commit to a production like this. Also I feel that campus drama has suffered from the fact that there are more lucrative acting opportunities out there." The actors are a mixture of talent drawn from the different faculties. But although some of them only meet for rehearsals, the cast has hit it off quite well. Sudeshana sums it up with "when you start something like this from a society, it starts out being a job. But somewhere down the line this has become fun as well."
The British Council has come forward to support this performance of a playwright who is gaining popularity in Britain at the moment. They are the principal sponsors of this production. Blue Heart goes on the boards at the British Council auditorium on October 13th, 14th and 15th. The intimate setting, seating a capacity of a hundred and twenty people would be ideal to get the intricacies of these plays across to the audience. It also means that there will be less than four hundred seats in all. Tickets are available at the British Council, Colombo.
---
Familiar Faces" hits Sri Lanka's music scene
After an illustrious career with some top Sri Lankan bands and also a stint as a part-time musician in the Pacific Islands, Anton Goonetilleke, one of the country's foremost western musicians, has joined the latest musical invasion to hit our shores - Trio music.
Like many other top artistes, Goonetilleke recently set up a trio called "Familiar Faces" and judging by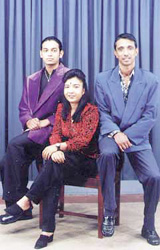 its popularity, the band is set to go places in Sri Lanka's entertainment landscape.
Be it rock, jazz, reggae, country, Sinhala or Hindi pop, "Familiar Faces" are capable of dishing out music that can entertain any kind of audience.
"In the resort hotels, we were performing as 'Trio Anton' until we thought of having a more regular name for the band. That's how 'Familiar Faces' came into being in September," Goonetilleke said.
Goonetilleke, a brilliant guitarist and vocalist performed with several bands in the 1970s and the 1980s until fronting his own band, Jade. In early 1989, when violence broke out in Sri Lanka, Jade was disbanded and Goonetilleke took wing to Papua New Guinea where he worked as a tea trader/manager for several companies.
In 1994, he formed a duo with Gary Carter, vocalist with Australian band Masters Apprentices, who arrived from Sydney. In PNG, Goonetilleke also recorded a best-selling album with Lars Komp, a leading musician in that country.
Returning to Sri Lanka in September 1997 with music still in his veins, Goonetilleke played as a solo musician at some resorts before teaming up with newcomer Shaman Ranaweera and playing as a duo.
"Shaman is a newcomer but is an excellent musician who plays keyboards, guitar and can sing any type of song including Hindi songs," Goonetilleke, who enjoys his music, said.
Earlier this year, the duo had a female joining up - Anne Nathan who started her career with the band Somerset in the 1980s and then spent nine years in Europe with Mike Gunasekera's band Serenade.
Nathan joined Goonetilleke and Ranaweera in March this year and since then the trio has been playing in five hotels regularly. In Colombo, the band plays at the Trans Asia Hotel and Intercontinental. They also play at the Pegasus Hotel in Hendala and the Royal Palms and the Tangerine in the South.
The band will sing in the New Year at the Tangerine Beach Hotel for the third successive December 31st night and has promised a whole load of surprises for the millennium.