Contents
---
'Mini Dadiri': Music & dancing from 'differently able persons'
Ranga and Ranjani from 'Sarana Sahana', Lakmini from blind school and Podi menike from Sarvodaya 'Suva Setha'.
"Mini Dadiri",an Evening of Music and Dance performences by differently able persons (Physicaly Handicapped), will come alive at the Bishop's College, Auditorium on Saturday on October 16 at 6.30 p.m. Mini Dadiri is a presentation of Lak Uruma Art Foundation and Rotaract Club of Colombo Metropolitan.
There is excitement; Magic; Because concerts are always special. And they are more special when every participant young and old is handicapped, or to use the correct expression - differently able persons. How "differently able" is what you will see when a group of over 50 participants from five school/homes blend into one cohesive unit to bring you this evening of Music and Dance.
In Sri Lanka there are a significant number of children who are born with many types of mental, social and physical disabilities. Their integration into society is obstructed due to different factors.
The objective of our project is to provide an opportunity for the disabled to identify their creative talents, and the non disabled to recognise the abilities of the disabled and in the process to enrich the community spirit.This project will also provide financial assistance to the participants and will equip them into seeking more suitable avenues of employment in the years to come.
This concert is directed and choreographed by Mohan Sudusinghe.
---
Eugene, Cham at Blue Leopard
By Sanath Weerasuriya
Husband and wife DJ combination Eugene and Cham have returned to Sri Lanka, after more than eighteen months stunt in the Maldives.
DJ Eugene and DJ Cham were working in nineteen Maldivian resorts including Maldives Hilton during this period has now started spinning at the popular night spot Blue Leopard on Wednesdays.
DJ Cham, who is a past pupil of Stafford International School, Colombo, is the only professional female DJ. in Sri Lanka, and is the only female DJ. operating in the club and mobile circuit in Colombo.
Cham who is into Rap Music in a big way is capable of spinning for any age group. She has a very good knowledge of music from the 70's to the 90's and has been personally trained by her husband Eugene.
Eugene is one of the pioneer DJs in Sri Lanka who has been operating at the popular spots like 'Little Hut' 'Colombo 2000', 'Valentino's,' 'Santa'Fe', 'The Saxophone Club', 'The Bottomline' and the 'Library' and also at many Hotels out of Colombo.
At present he is operating with DJ. wife Cham on Wednesdays at the Blue Leopard. He also has put together his Mobile DJ. team once again and is operating in Hotels out of Colombo.
The 'Blue Leopard' night club at the GOH has now planned four theme nights per month on Wednesdays.
'Flight Nite', 'Banker's Nite' 'Hoteliers Nite' and 'Maldivian Nite' are the four theme nights at 'Leopard' scheduled on Wednesdays.
DJ Eugene and DJ Cham will be in action at these theme nights, which they hope to extend to Thursday with the coming festive season.
---
Children's teledramas ignored by TV stations

The present trend of producing children's programmes by local television companies and the National Rupavahini with indoor sets instead of producing children's teleserials was commented on by Parliamentarian Dr Sarath Amanugama who was chief guest at the
telecast launch of a children's teledrama titled 'Sittara Pancha' at 80 Club Colombo on October 4.
Dr Amunugama said as Secretary of the State Ministry of the then government he played a major role in establishing the Sri Lanka Rupavahini Corporation. He visited Japan to confer with authorities there on this matter.
The intention was to give top prominence to local tele productions so that our artistes and technicians would benefit. But the situation is different now with too many foreign productions getting airtime on Rupavahini and even the private sector television companies.
" Recently while I was travelling from Bandarawela to Colombo I saw boards advertising Hindi tuition. Through anxiety I stopped and on inquiry I was told that many are interested in studying Hindi to follow Hindi films."
'Sittara Panache' director Chandraratna Mapitigama said it's a pity to see the stepmotherly treatment given to children's teledramas by television companies.. Certain children's programmes telecast on Rupavahini were unfit to be seen by children. Some of them promoted violence and revenge. Characters portrayed in them are unnatural and unimaginable and foreign not only to children but even to adults.
This teleserial was completed some time ago but the difficulty was getting a sponsor to telecast it. Although there are commercial banks advertising schemes beneficial to children, insurance companies propagating insurance schemes, they do not come forward to produce children's fare.
It could be suspected that vested interests provide these tele material to confuse the tender minds of children. He was happy that this children's teleserial is scheduled to go on the air during Universal Children's Day. He was thankful to Ceylon Biscuits Company for coming forward to sponsor this teleserial.
Rupavahini, the National television of the country, should encourage children's teleserial production by allocating more airtime.
He was glad the National Rupavahini allocated a prime time slot of half an hour, at 8.45 p.m. on Wednesdays to telecast this drama. He also hoped that this time would be reserved for the telecast of children's teledramas in the future.
Nadi Kahatapitiya plays the lead role with several other adult artistes and children in 'Sittara Pancha'
'Sittara Pancha' which is scripted by Ariyaratna Vithana is the story of the struggle of a poor boy born with a gift to draw and paint to improve his talents.
---
'Saroja': tale of two small girls
By Kumaradasa Wagista.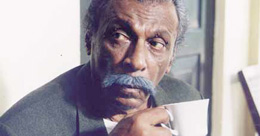 Sequence shooting in 'Saroja' termed a duel purpose feature film was completed recently in the Holy City Anuradhapura, and its suburbs. Suminda Weerasinghe was the cinematographer.
Nita Fernando best actress award winner and Joe Abeywickrema best actor award winner at Singapore International film festival are playing in this film.
Firstly 'Saroja' story speaks of ethnic unity and secondly it is mainly a children's film rarely produced in this country with adults too playing in it, production sources revealed.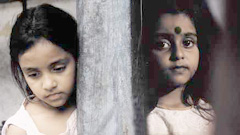 Saroja ( Nithyavani Kandaswamy ) is a Tamil girl. She is wounded in an army operation of a terrorist infested village. As there is no possibility of treating the wounded girl, Saroja's father runs away to the jungle with his daughter. They enter an adjoining Sinhala village to seek treatment for the eight year old Saroja whose leg is injured.
The father and daughter meets Varuni (Pramudi Karunaratna), the daughter of the village school teacher. Varuni is also of the same age as Saroja, but they cannot understand each other due to the language barrier.
Varuni noting the plight of the injured girl not only feeds her but also gradually builds up a strong bond of friendship between the them.
Varuni pleads with her parents and with much difficulty succeeds in providing accommodation to Saroja in their home. Later Saroja's father is also given shelter in the house. The injured girl is treated and gradually they start living like members of one family amidst objections from the villagers.
However, suspicions arise among Police and Army officers resulting the family been subject various types of obstacles from the forces.
Suddenly Saroja's father is killed by a terrorist who enters the village in disguise. Varuni's father is given a punishment transfer to another village school in a more remote area. The family too leaves the village along with Saroja who is now treated as a family member.
The story, screenplay and direction of 'Saroja' is by Somaratna Dissanayake, while Renuka Balasuriya is its producer. Although this is his maiden feature film he has dabbled in the art field since his graduation in Radiography from a London school.. On his return he was attached as a Radiologist at Colombo National Hospital, but his in born talents in art forced him to join the aesthetic field.
He studied stage craft under the guidance of Professor Sarachchandra Ediriweera and Dhamma Jagoda and produced his maiden drama 'Weddikkarayo' ( The Hunters , which was an instant success. He was away from this field when he migrated to Australia for employment but on his return to Sri Lanka he did another stage drama ' Meepura Wesiyo' (People of Meepura) which won him high praise from the critics.
While in Australia he joined New South Wales University where he read a post graduate degree on cinema and television. Later he entered the Sydney University and obtained a M.A.degree in film direction. He directed a short film while still a student.
Mr Dissanayake was first President of the Sinhala Cultural Society in Sydney. Film editor Stanley de Alwis is busy making arrangements for the voice dubbing of the film. and Rohana Weerasinghe is its music director. Tony Ranasinghe, Ravindra Randeniya play as guest artistes.
Janaka Kumbukage, Mervyn Mahesan, Mahendra Perera, Asoka Peiris, Wijeratna Warakagoda, Susantha Chandramali, Winnie Wettasinghe, Susil Gunaratna, Lalith Janakantha, Sampath Tennakoon, and Ranjini Rajamohan are also in the cast.
---
Swarna Oli beams Tamil onto world stage
By Sanath Weerasuriya
'Swarna Oli' beaming on 102.2 FM, the latest 'Tamil Language' Radio channel in Sri Lanka, was launched on Friday October 8 with a mega musical concert at BRC with top names in the Tamil Music scene.
Colombo Communication Limited, the holding company of 'Swarna Oli' is a member company of EAP Edirisinghe Group of companies.
Anuradha Sriram, Harini, Srinivas, Yogendaran and Mano together with top Indian Orchestra Balu Shruthi Music Group were featured on this mega concert at 'Swarna Oli' 102.2 FM launch
With the launch of Swarna Oli, Colombo Communications takes radio in Sri Lanka beyond the cutting edge and brings Tamil language programming in Sri Lanka dramatically onto the world stage.
Swarna Oli is the EAP Edirisinghe Group's first step on the road to revolutionising radio in Sri Lanka. Swarna Oli's programming and use of the latest technology have caught the attention of radio stations around the world during their test transmissions. Swarna Oli will be heard not just in Sri Lanka, but picked up and rebroadcast live by stations in Europe, Canada, India and Australia as well as worldwide via the internet.
Radio professionals and enthusiasts across the globe will tune into Swarna Oli for the world's first dual DJ and dual continent programme. Every Sunday Swarna Oli global DJs one in Sri Lanka and one in Canada will bring a joint dedication and request broadcast to listeners worldwide. This is the height of global radio programming and a technological breakthrough by Swarna Oli.
This kind of simultaneous broadcast from both sides of the globe at the same time has never been done before in the world. Regardless of the language they speak, radio professionals worldwide will be eagerly following the Swarna Oli breakthrough as it unfolds around the world.
'Swarna Oli' brings listeners the best DJs not only from Sri Lanka but also from Tamil speaking communities around the world.
Our cover this week features two top DJs attached to 'Swarna Oli' Gayathri and Parthi two popular DJs in Sri Lanka and in Singapore respectively.
Gayathri has just finished her school career at Holy Family Convent, Bambalapitiya.
Gayathri won the school's Tamil vocal music award in 91,92 and 95 and was the best Tamil debator in 1995. She has won the North Ceylon Musical Academy award in 1987, 1989, for her performance on 'Veena' and in '87, '88 and in '89 for Tamil vocal music.
She has worked as a DJ in Sooriyan, while she was doing her studies at school.
Parthi (27) is a Singaporean who worked for Singapore Radio Corporation as a Trainee Radio DJ till he joined 'Swarna Oli' last week.
He is a television actor and a host during the period of '97 to '99. Parthi has hosted various TV programmes including beauty pageants, dance competitions, shows and discs etc.
He was with a mobile DJ company in '93 and '94 attached to all the major discotheques.
Malene is another DJ from Singapore with years of experience behind her.
Malene voted as the most popular TV Host '99 at Pradhana Vizha in Singapore, also as a Best Presenter / News Reader in 97 and '99.
She won the 'Miss Tourism' title in '97 and 'Miss Singapore Model '95.
Sharthaar is a another experienced broadcaster who was with SLRC and Sooriyan FM.
Shekar, Sujee, Banu, Kanth, Riyaz, Krishna and SP are some of the other popular, DJs attached to 'Swarna Oli'.